TEN YEAR PLAN FOR the jamaica chess federation
TEN YEAR PLAN FOR THE JAMAICA CHESS FEDERATION
JAMAICA CHESS FEDERATION ("JCF")
PRESIDENT'S COUNCIL REPORT
  SATURDAY – February 24, 2018
INAUGURAL PRESIDENT'S REPORT - For several years I have done a monthly President's report for the Executive Council meetings. This report usually covered events in between the said meetings, particularly matters in which I had been involved directly. Having considered the matter carefully, I decided to do a report to the wider membership spanning events and decisions at the Executive Council level.
I thought that the wider membership should be informed more directly as to the work being done on its behalf by its elected officials. Such consultation/presentation is generally done annually at the General Meeting. This is the first of such reports to be done at least quarterly and published on the JCF's website - www.jamchess.com.
Kindly note that the matters dealt with herein are not placed in any particular order of importance. I welcome the feedback of members for improvement.
SHIRLEY CAMERON MEMORIAL SERVICE ON MAY 27- Mrs. Shirley Cameron, the widow of Mr. Frederick Cameron, one of the founding members of the JCF, died in the USA and was cremated there. A "Thanksgiving Service" was held in her honour at the Stella Maris Roman Catholic Church on May 27, 2017. Some members of the Chess fraternity attended and paid respects. Although I have done so in writing and verbally, again on behalf of the JCF I extend condolences to "Freddy", his son Mark, the rest of the family, friends et al on her passing.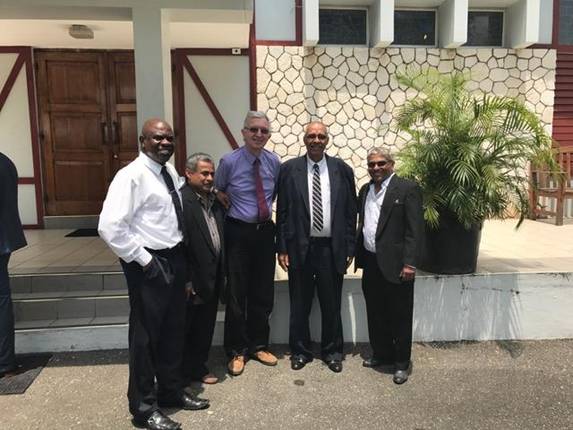 L-R: Ian Wilkinson, Sidley Matthews Jr., Robert Wheeler, Frederick Cameron and Shane Matthews at the Stella Maris Church May 27, 2017
The Council also extended condolences to new member Ms. Claudeen Panton who lost her father last year.
CAYMAN ISLANDS VISIT - I went to the Cayman Islands (at my personal cost) on Sunday May 28 and June 1 to attend the launch of the Cayman Chess Club ("CCC") Chess-In-Schools Programme.1993 English World Championship finalist GM Nigel Short was the CCC's special guest and did a simul etc. to assist with raising funds for the initiative. I had talks with members of the local chess fraternity and will be assisting them to establish a governing body.
EQUIPMENT RENTAL PROTOCOL - Due to the repeated demand by entities and individuals to "borrow" or "rent" JCF sets etc. an "equipment rental protocol" crafted some years ago was updated. Interested parties can obtain details of this from the Secretary (Mrs. Collette Chai) and/or the treasurer (Mr. Eton Chin).
MEMBERSHIP IN THE JAMAICA OLYMPIC ASSOCIATION - During August, 2017 the JCF received splendid news via a letter from Mr. Christopher Samuda, the President of the Jamaica Olympic Association ("JOA"). Our Federation's application was granted and, effective August 21, 2017 we became members of the JOA. This historic development after roughly fifty years of the JCF's existence, means that the JCF will now be entitled to the benefits and privileges of such membership including the right to a vote to elect the JOA leadership and access to JOA support, including funding. A formal admission ceremony is to be held. I will inform the membership of the details when they become available.
DEVELOPMENT PLAN - The JCF completed the 2018 Development Plan and submitted it to the Sports Development Foundation ("SDF") as required. This will facilitate funding from the SDF for events such as the Sub-Zonals and the World Chess Olympiad set to be held in Batumi, Georgia September-October.
SUB-ZONALS - Planning for the Sub-Zonals is well underway. The nine-round event is scheduled to be held in Kingston, Jamaica between June 19 (arrival of delegations and opening ceremony) and June 26, 2018 (departures). An advanced invitation ("save the date") was sent to stakeholders a couple months ago. The official invitation will be finalized and circulated shortly. Members are encouraged to participate in this event which will be held in Jamaica for the first time.
 "SUPER NATIONAL MASTER" - Congratulations to National Champion Shreyas Smith who has been awarded the title "Super National Master" ("SNM"). This title is conferred on a player based on the following criteria: (a) he/she does not have an international/FIDE (player's) title; (b) he/she attains a local rating of 2400; (c) he/she maintains the 2400 rating over his/her next two consecutive events; and (d) he/she has won the National (Absolute) Championship or the Masters Knock-out event.
IM JOMO PITTERSON MASTERS KNOCK-OUT - Congratulations to SNM Shreyas Smith who won the Proven-sponsored Pitterson MKO event by defeating the defending champion FM Damion Davy 2 1/12- 1 ½ to avenge his defeat in last year's final.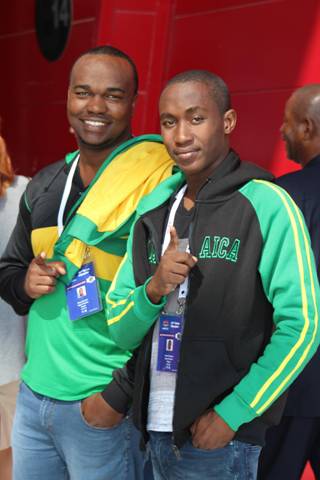 FM Davy (L) and SNM Smith before round 4
(Sep. 5) of the 2016 Baku Chess Olympiad
CANDIDATES KNOCK-OUT - Congratulations to Michael Christie who defeated Raheem Glaves in the final to win the Candidates KO event, played simultaneously with the IM Pitterson MKO.
AWARDS CRITERIA/PROTOCOL – This document was ratified by the Council at its meeting on Saturday, September 30, 2017 and published. Members are encouraged to check the website (www.jamchess.com) to familiarize themselves with the rules, make suggestions for improvement etc.
JOSHUA CHRISTIE - YOUNGEST "FM"! - As a result of his excellent silver medal performance in the Under-16 Absolute section at the Central American and Caribbean ("CAC") Youth Chess Championships in Panama (held August 10-15, 2017) St. Jago High School's Joshua Christie was awarded the "FIDE Master" title, thereby becoming Jamaica's youngest-ever "FM". Joshua scored 7/9, to tie with Cuba's FM Alfonso Amaro who ended first on tie-breaks due to his round 7 win with the white pieces over Christie, the Jamaican's only loss. Heartiest congratulations to "Prince Joshua", one of the most promising of the rising crop of junior players. In fact, the JCF Executive Council had approved the "National Master" title for Joshua at its meeting held on September 30, 2017. Jamaica's chess future is looking very bright.
ZAINA O'CONNOR - YOUNGEST WCM"! - Congratulations are also in order to Zaina O'Connor for her fantastic silver medal achievement in the Under-8 Girls section at the same CAC tournament in Panama. For her performance, Zaina was awarded the "Woman Candidate Master" title, creating history in becoming Jamaica's youngest-ever "WCM". Of course, both Joshua's and Zaina's results propelled Jamaica to a commendable bronze medal in the team event.
AKEEM BROWN - NATIONAL MASTER - At its meeting on August 26, 2017 the JCF Executive Council awarded the "National Master" title to St. Jago High School's Akeem Brown, the reigning Jamaica Junior Champion. Congratulations were extended to Brown who has established himself as one of Jamaica's best players.
WIM DEBORAH RICHARDS-PORTER SHINES AT ZONALS - Congratulations are still pouring in for WIM Deborah Richards-Porter who performed studendously at the Women's Zonals held in El Salvador, November 17-22, 2017. Deborah won three of her last four games to end on a bang. Her final score of 5 ½ points was good enough for 4th position, 5 places ahead of her starting rank, ending on +2 and gaining rating points. She narrowly missed qualifying for the Women's World Championship by a mere half point behind the winner Puerto Rican WIM Danitzka Vazquez with whom Richards-Porter drew in the 4th round.
Entering the ninth and final round on November 22, Richards-Porter was in ninth position on 4 ½ points from 8 games. She had the daunting task of facing the unbeaten joint leader Colombian International Master Paula Rodriguez who, at 2326 rating points, was by far the top seed and favourite in the event, rated over three hundred (300!!) points ahead of the Jamaican (2025). That did not matter as Richards-Porter wielded the black pieces with decisive effect to shatter the Colombian's unbeaten record, claim full honours and finish her tournament with a landmark victory.
The Zonals was a qualifier for the 2018 Women's World Chess Championship set to be held in Khanty-Mansiysk (Siberia) Russia. Twenty-two women competed from eight countries - Colombia, Costa Rica, Cuba, El Salvador, Guatemala, Jamaica, Mexico and Puerto Rico. Richards-Porter was the only player from the English-speaking Caribbean.
CARIBBEAN CUP - SNM Shreyas Smith and FM Malaku Lorne participated in the Masters Section of the BIIG Caribbean Cup held in Barbados November 28 to December 3, 2017. Both Jamaicans represented well and we are proud of them. They had major set-backs in the final round which prevented them from finishing in the top three. Had Shreyas (5th on 5.5/9) won his last round game against the rating favourite, Dominican Republic's FM Christopher Guzman (2346), he would have been first. Lorne lost to the eventual winner FM Jean Carlos Abreu (2281) from the Dominican Republic who ended clear first on 6.5/9. Had the rastaman won he would have been at least tied for second.
2017 WIM DEBORAH RICHARDS-PORTER Women's Chess Festival  - This female-only JCF event, named in honour of WIM Deborah Richards-Porter, was held in December, 2017 as a Rapid tournament at Campion College. WCM Melisha Smith won the main (FIDE Open) section with 5/6. The results for all the sections can be found at www.Chess-Results.com. 
HALL OF FAME – The Second Chess Hall of Fame induction is to be held with the Awards Ceremony for 2017 on March 25, 2018. Details of venue, ticket price etc. will follow. Please SAVE THE DATE.
CARIFTA 2018 - The CARIFTA Junior Championships are scheduled to be held in Paramaribo, Suriname March 29 - April 3, 2018. Jamaica has several defending championships from the event held in Kingston last April and they are hoping to participate. We wish for the organizers all the best for a successful event and for all participants good luck.
RJR/GLEANER SPORTSMAN/WOMAN PLAYER - OF THE YEAR AWARDS - These prestigious awards were held at the Jamaica Pegasus Hotel on Friday, January 19, 2018. WIM Deborah Richards-Porter was voted Jamaica's female Chess Player-Of-The-Year (her third straight award) while SNM Shreyas Smith was voted Jamaica's male Chess Player-Of-The-Year, his second award. Again, congratulations to these outstanding players.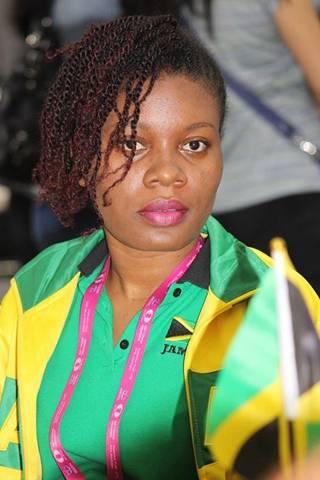 WIM Deborah Richards-Porter, Ten-time Jamaica
    Women's Champion and 2017 Female Player-Of-The-Year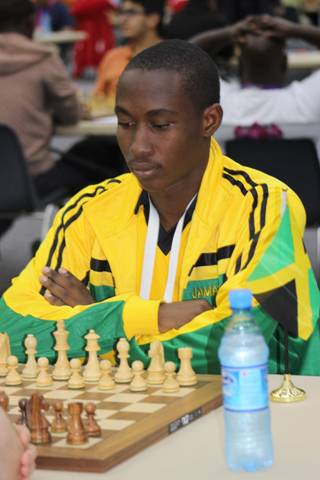 SNM Shreyas Smith - 2017 Jamaica Absolute
    Champion and 2017 Male Chess Player-Of-The-Year
2018 IA FM JOHN POWELL MEMORIAL - CAYMANIAN VISITORS - This first Grand Prix event was held at Liberty Academy January 18-21, 2018 and featured four overseas visitors who travelled from the Cayman Islands to play. They included Englishman Shaun Tracey (the head of the Cayman Islands Chess Club) and South African WIM Anzel Laubscher (1778) who played well to finish 12th (3.5/6 - only one loss in round 5 to Malik Curriah). They hope to return in greater numbers for the Wheeler Open in May. The winner of the FIDE Open section was SNM Shreyas Smith who was unbeaten on 5/6.
NEW NATIONAL CHAMPIONS - The Absolute and Women's Jamaica Championships were held simultaneously February 2 to 16, 2018. Congratulations to former winners FM Damion Davy and Krishna Gray, respectively, who were both unbeaten and won with the identical score - 8.5/11 - 6 wins and 5 draws. A new schedule was tried chiefly to facilitate overseas players who qualified and wished to play. CM Duane Rowe (coming from Oman) was the only such player. As indicated before the start of the events, prizes will be awarded at the Awards ceremony for 2017 set for March 25, 2018. These were crucial events to decide qualification for international representation, including team selection for the 2018 World Chess Olympiad scheduled to be held in Batumi, Georgia September/October. Members can check the website for the (updated) criteria for team selection published last year.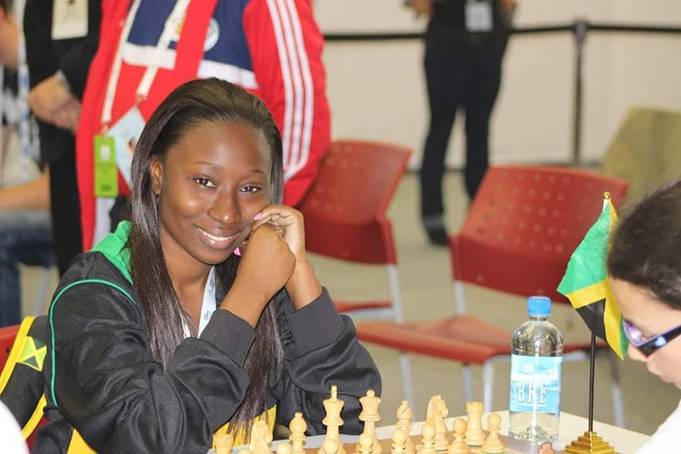 Krishna Gray on Olympiad duty for Jamaica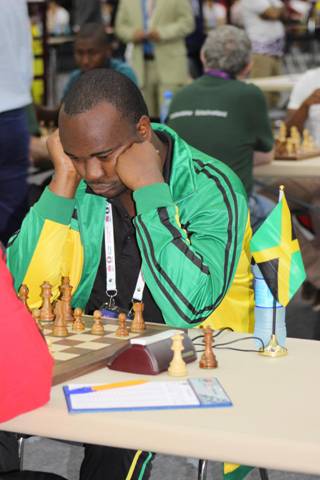 FM Damion Davy in round 2 (Sep. 3) action at
the Baku Olympiad
NATHAN HINDS WINS INAUGURAL HUMPHREY GAYLE MEMORIAL - The inaugural Humphrey Gayle Memorial for Candidate Masters was held February 2-11 alongside the National Championships. Congratulations to Nathan Hinds who won the four-player, double round-robin event ending unbeaten on 4/6 with two wins and four draws. Second was the legendary sexagenarian Michael Diedrick who scored 3.5/6, the same as Nathan Belinfante whose only loss was to Diedrick in round 5. Andre Soares propped up this historic field with 1/6.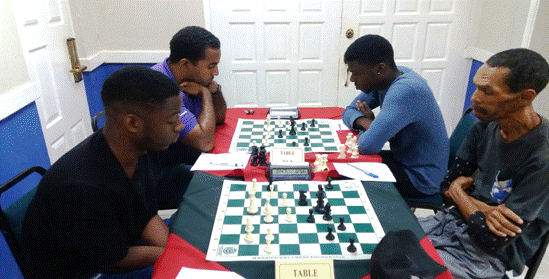 Soares - Belinfante (top of pic); Hinds - Diedrick in H. Gayle Memorial
NEW SELECTION COMMITTEE CHAIR - Honouring an earlier promise the President exited the Chair of the Selection Committee ("SC") last year and recommended FM Shane Matthews (seven-time Jamaica Absolute Champion) to succeed him. This decision was ratified by the Council. The SC is a crucial committee that chooses, among other things, the representatives for team events such as the World Chess Olympiad. We wish for the new Chairman a successful tenure.
NATIONAL JUNIOR COACH AND SENIOR COACH - Very soon advertisements for national coaches for junior and senior players will be published. The JCF is encouraging qualified persons who might be interested to submit applications as soon as possible.
NATIONAL SCHOOLS CHESS CHAMPIONSHIPS - The Petroleum Corporation of Jamaica ("PCJ") Group of Companies has partnered with the JCF again to sponsor the 2017/18 National Schools Chess Championships. We want to thank the PCJ Group for their vision and assistance and look forward to this alliance continuing for many more years to come. The National High Schools Finals (March 1 and 2) and the National High School Girls Chess Championships (for the Dr. Hope Anderson Memorial Trophy) will be held February 27 at the PCJ Auditorium. More information can be found on the JCF's website - www.jamchess.com.
NEW COUNCIL MEMBER- Last month the Executive Council ratified Ms. Rebecca Harper as its newest member after she had been approved by the Nomination Committee - chaired by WIM Deborah Richards-Porter. She attended her first Council meeting on January 27 and will be in charge of the fundraising committee. We wish for her a very successful tenure.
AGE GROUP CHESS CHAMPIONSHIPS - The 2018 Age group Chess Championships are scheduled to be held February 24 and 25 at the UTECH Auditorium. Once again Chess Unlimited (led by principals IM Jomo Pitterson and FM Warren Elliott) will be organizing the event. Best of wishes for a successful event to all concerned, especially the players.
JCF AND THE MEDIA –
Chess has been featured in the electronic and print media a lot recently covering, among other things, the CAC Youth Chess Festival in Panama; the IM Pitterson Masters KO; the Jamaica International Chess Festival; WIM Deborah Richards-Porter's participation in the Women's Zonals in El Salvador; the launch of the PCJ Group-sponsored National High Schools events; the (2018) IA FM John Powell Memorial and the 2018 Jamaica Chess Championships. Interviews were done with, and articles featured by, a number of media houses including the Gleaner/RJR Group, the Jamaica Observer, Hitz 92 FM, IRIE FM, Power 106 FM, CVM TV and TVJ. The JCF and players also got exposure on various Social Media platforms, especially the Face-Book pages for the JCF and my personal FB page.
Ian G. Wilkinson QC
President, Jamaica Chess Federation
2018 February 24
JAMAICA CHESS FEDERATION
2016 December 21