2021 panam chess youth festivOUP CHESS CHAMPIONSHIPS
Results - Report 1- Report 2 - Flyer - About Panam youth chess festival
2021 PANAM CHESS YOUTH FESTIVAL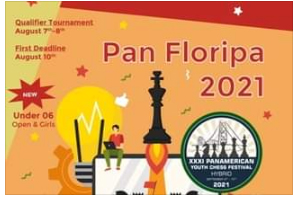 Jamaica was again well represented in a FIDE, the governing body for chess, tournament with 26 players, both boys and girls, in age groups from U-8 years old through U-16 years old.  This was another opportunity for our junior players to excel against regional opponents.
In the Blitz tournament, which was played on Saturday, September 11th, we had 6 representatives from U-10 through U-16. Jaheim Smart was our outstanding player, finishing second in the Open U-12 section, with 6/9 points behind the winner, Mauricio Emmanuel Marrujo Pardo, from Chile, who won with 8.5/9 points.
Good performances were also achieved by the following juniors:

In the Rapid tournament played yesterday, Sunday, September 12th, Ronak Shergil and Najae Powell were the outstanding players. Ronak played in the Open U-10 section and finished with 5/7 points, putting him 4th, from a field of 24 players. He defeated players from Peru, Chile, and Brazil.Mateo Henry Palomino Quispe, from Peru wonwith 6.5/7 points.
See Full press release
here