National high school chess championships
List of Past National High School Chess Champions/
Invitation | Kingston Zone- Middlesex Zone - North East Zone - Cornwall Zone - DOWNLOAD ENTRY FORM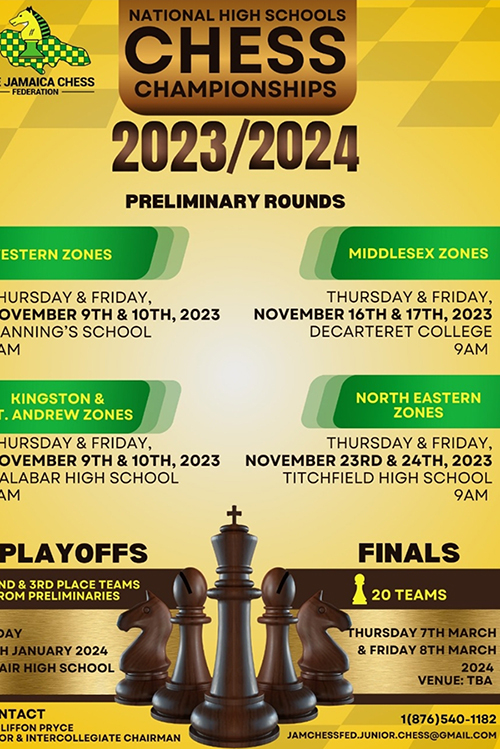 20232024 NATIONAL HIGH SCHOOL CHESS CHAMPIONSHIPS START NOVEMBER 2019
To: The Principals of All Secondary Level Educational Institutions in Jamaica. The Jamaica Chess Federation (JCF) invites all secondary level schools in Jamaica, to participate in the National High Schools Chess Championships - 2023/2024.
The Preliminaries will take the form of a two-day zonal round robin or Swiss event. Friday, January 26th, 2024 will see the staging of a one-day playoff for teams that finished second and third in the Preliminaries.
The twenty (20) best teams in the country will come together on Thursday, March 7th and Friday, March 8th, 2024 for a two-day six-round final. ENTRY REQUIREMENTS In order to enter one or more teams (maximum four teams per school), each school must submit the following to the Jamaica Chess Federation:
1. Name of School Team, (e.g. School A, B etc), names of players, board order of players, Date of Birth (required) and contact number to jamchessfed.junior.chess@gmail.com . You Must Use Entry form attached.
2. Entry fee of J$5,000 for each team being entered; and
3. JCF membership fee of J$15,000 per annum. Schools that have already paid the membership fee, or whose team members are currently members of the JCF, will only be required to pay the entry fee at two (2) above.
All team details should be e-mailed by 1 st November 2023 to jamchessfed.junior.chess@gmail.com and Entry fees, membership fees and payments made at any BNS Branch or directly transferred to the Jamaica Chess Federation, BNS New Kingston, Current Account# 010315516, Branch code # 50575, by 3rd November, 2023.
Please note that teams are not required to bring sets. The JCF will provide adequate numbers of sets and clocks for the Preliminaries, Playoffs and the Finals.
FORMAT
The Championship is scheduled to begin with the Western and Kingston Zone & St Andrew Zone Preliminaries on November 9th & 10th, 2023. All teams from the Middlesex Zones will have their Preliminaries on November 16th & 17th, 2023 starting at 9:00 am each day. The North Eastern Zone will play on November 23rd & 24th.The playoffs and finals will be FIDE rated and the Time Control will be G30 with a 30 second increment in the Preliminaries and playoffs while G60 with a 30 second increment in the Finals.
Board order once established cannot be changed in any round or section.
Substitutes will play on board 4.
The winner of each Zone will move automatically to the finals, while the second and third place teams will advance to a playoff tournament, where they will compete to qualify for the finals. NB In the event that a zone does not contain enough teams/too many teams then zones may be merged/split or the number of teams qualifying for the playoffs may increase or decrease.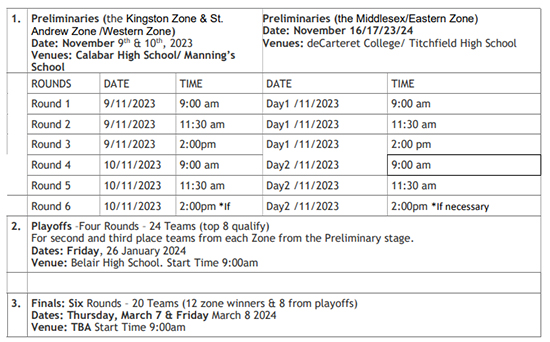 PRIZES Prizes, trophies and medals will be awarded to the top five teams. Medals and trophies will be awarded to the top players on boards one to four, the top reserve player, the top rural & urban team, and the top female team. Best regards, NA Cliffon Pryce Chairman, Junior & Intercollegiate Chess Committee Jamaica Chess Federation Cell – 876- 540-1182
E-mail: - JamChessFed.Junior.Chess@gmail.com