The jamaica chess federation
12TH IA FM JOHN POWELL MEMORIAL OPEN 2019 ANNOUNCED!!

JAMAICA'S HISTORIC FIRST WORLD CHESS FEDERATION INTERNATIONAL CHESS ORGANIZERS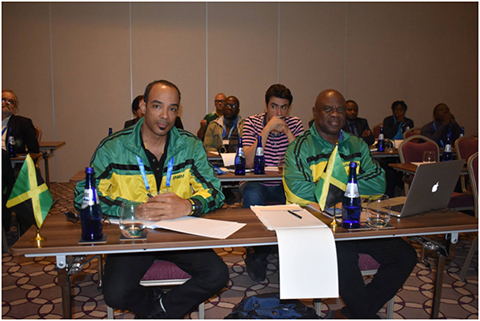 President of the Jamaica Chess Federation (JCF) Ian Wilkinson QC and Terence Lindo, Chairman of the JCF Tournaments Committee,made history for Jamaica when they became the country's first Chess international Organizers (IO) last month. See details..
16TH FREDERICK CAMERON OPEN ANNOUNCED!!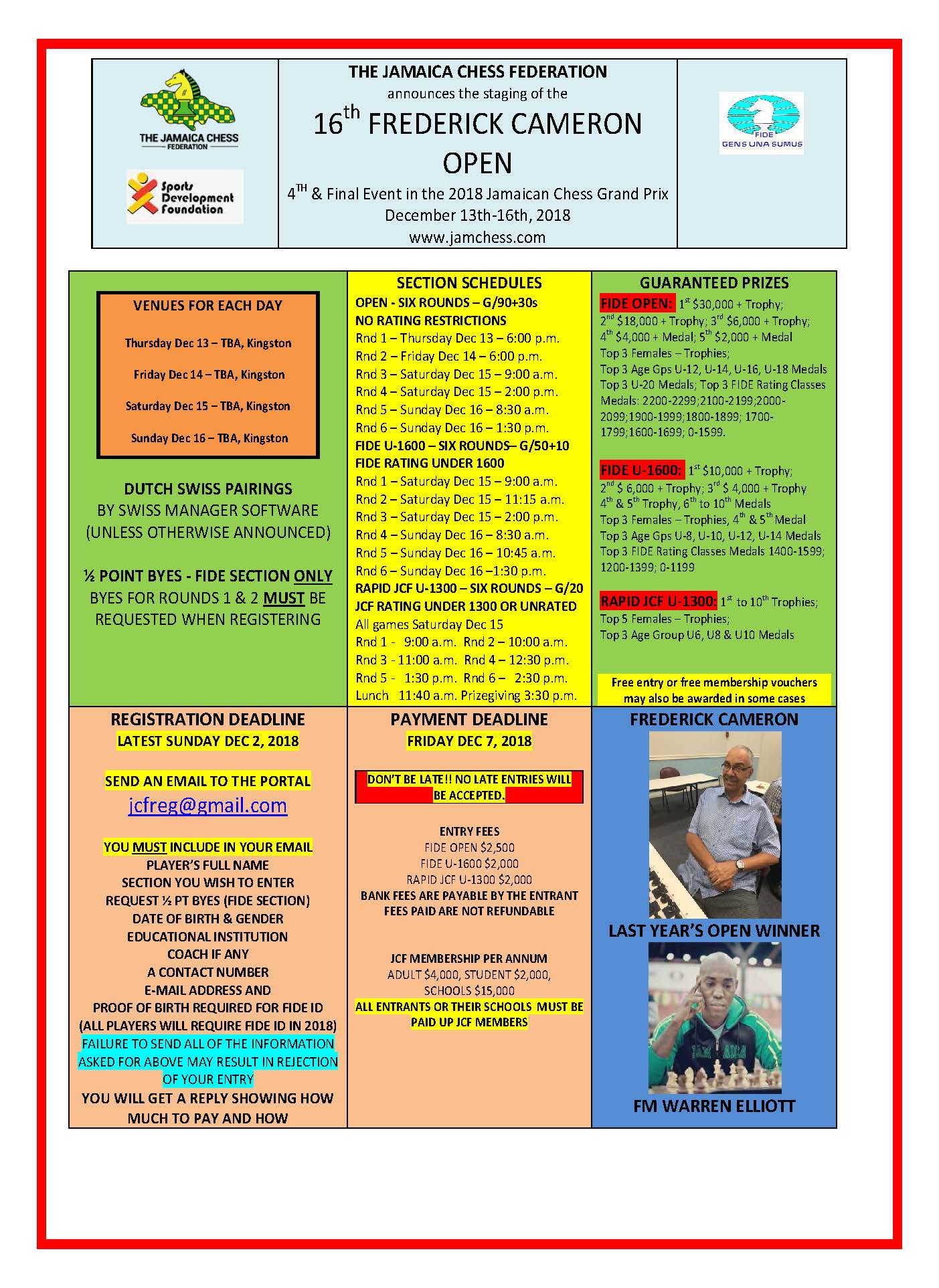 2018/19 NATIONAL HIGH SCHOOL CHESS CHAMPIONSHIPS.. PLAYOFFS SET!!
IN NOVEMBER OVER 80 TEAMS FROM 40 HIGH SCHOOLS COMPETED IN THE PRELIMINARIES. 12 ZONE WINNERS ARE NOW IN THE FINALS, TO BE PLAYED FEB 28 & MAR 1ST, 2019 AT THE PCJ AUDITORIUM. THEY WILL BE JOINED BY 8 OTHERS FROM THE PLAYOFFS TO BE HELD ON JANUARY 25TH, 2019 AT ST. CATHERINE HIGH SCHOOL.
CALL TOURNAMENT CHAIRMAN IO NI TERENCE LINDO, AT 876-804-3728 FOR INFORMATION.
CLICK LINKS BELOW FOR RESULTS ON CHESS-RESULTS.COM
Ian G. Wilkinson QC, the long-time President of the Jamaica Chess Federation (JCF), made history for Jamaica on Thursday October 4, 2018 when he was made an Honorary Vice-President of the World Chess Federation (FIDE) during the FIDE General Assembly held in Batumi, Georgia... read more..
HAROLD CHAN CHESS OPEN SET FOR EDEN GARDENS OCT 18TH-21ST!!
THE Jamaica Chess Federation (JCF) will be staging the 2018 edition of the National Master Dr. Harold Chan Chess Open this month Starting Thursday October 18th, 2018 at the the Eden Gardens on 39 Lady Musgrave Rd Kingston 5, at 6pm.Read more.
JAMAICA IN GOLD MEDAL HUNT IN BATUMI, GEORGIA!!
Jamaica's women rebounded from two consecutive losses (to France and Estonia, in rounds 7 and 8, respectively) to crush European team Kosovo 3 ½ - ½ in round 9 play today at the 43rd Chess Olympiad in Batumi, Georgia. Read more.
JAMAICA STUPENDOUS AT 43RD CHESS OLYMPIAD  IN BATUMI, GEORGIA!!
Jamaica had yet another unbeaten day at the 43rd World Chess Olympiad being held in Batumi, the second largest city in Georgia, once part of the former Union of Soviet Socialist Republics (USSR).
As play returned in today's sixth round, after yesterday's rest day, Jamaica's "Chess Queens" played stupendously to draw 2-2 with Bangladesh - a team ranked 39 places ahead of the West Indians!. Read more.
JAMAICA DOMINANT IN ROUND 5 OF 43RD CHESS OLYMPIAD - BATUMI, GEORGIA!!
Both Jamaican teams were successful in frenetic round 5 action at the 43rd Chess Olympiad in Batumi, Georgia. The women's team defeated its second straight higher rated opponents, the Dominican Republic 2 1/2 - 1 1/2 with WCM - elect Krishna Gray (the reigning Jamaica Women's champion), CM Rachel Miller and debutante WCM Adani Clarke all drawing on boards 1, 3 and 4, respectively. Read more.
JAMAICA'S WOMEN "UPSET" NIGERIA AT 43RD WORLD CHESS OLYMPIAD IN BATUMI, GEORGIA
Jamaica's Women's team registered its second win after four rounds with a 4-0 demolition of the much higher rated Nigerian team. The women from "..the land of wood and water" rebounded from their loss to Tajikistan in the previous round behind wins from Krishna Gray, Ariel Barrett, Adani Clarke and Margoe Williams, respectively. The margin of victory was especially surprising as Marcus Garvey's young women were outranked on all four boards. ..Read more..
JAMAICA REGISTER "PERFECT" WINS IN SECOND ROUND PLAY AT 43RD CHESS OLYMPIAD IN BATUMI, GEORGIA
At approximately 7 pm local (Batumi, Georgia) time after roughly 4 hours of play, Jamaica's FM Ras Malaku Lorne defeated Gambia's CM Ousainou Garber to complete Jamaica's 4-0 rout of the men from Banjul!
Earlier Jamaica's Women's team had quickly dispatched their Gambian opponents by the same margin... .. Read more
FIDE World Cadet Chess Championships November 3rd-16th, 2018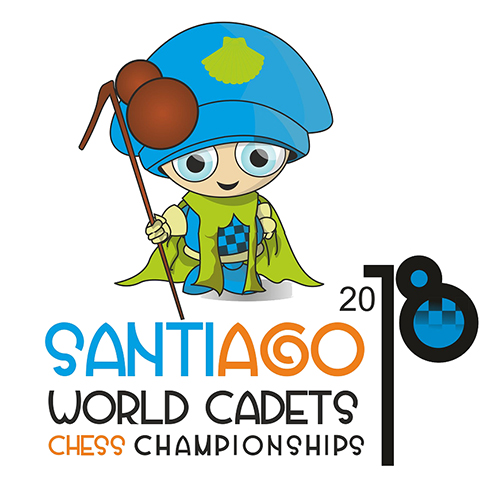 Venue: Santiago de Compostela, Spain.
Dates: November 3rd, 2018 (arrival) - November 16th, 2018 (departure).
Information: info@wccc2018.com
Website: https://www.wccc2018.com
FM Shreyas Smith wins 2018 MKO e winning it 2 years in a row
Reigning Masters Knockout Champion, Fide Master (FM) Shreyas Smith, shook off a strong challenge from Candidate Master (CM) Mellace to defend his MKO title, by defeating CM Mellace 3-1 in this year's finals. FM Shreyas Smith first won the title last year when he defeated FM Davy in the 2017 finals.. .. Read more
Jamaica's players do battle in Chile
Jamaica's top junior chess players are currently in search of chess glory in Chile as they do battle 2018 Pan American Youth Chess Festival currently being held in CHile. Twenty four Jamaican Chess players, are competing in The gruelling nine round tournament which runs from July 21, to July 29, 2018, and Jamaica will be represented in the Absolute and Female categories, from Under-8 to Under-18. .. Read more
FM Shane Matthews and WCM Jennifer Vasquez Secure Subzonal 2.3.5 Victories
After 5 days of competitive heart pacing games, FIDE Master (FM) Shane Matthews and Dominican Republic Woman's Candidate Master (WCM) Jennifer Maria Almanzar Vasquez created history in winning the Absolute and Female Section's of the 2018 Subzonal 2.3.5 recently held at the Knutsford Court Hotel. .. See details
2018 ENOS GRANT BLITZ June 30th 2018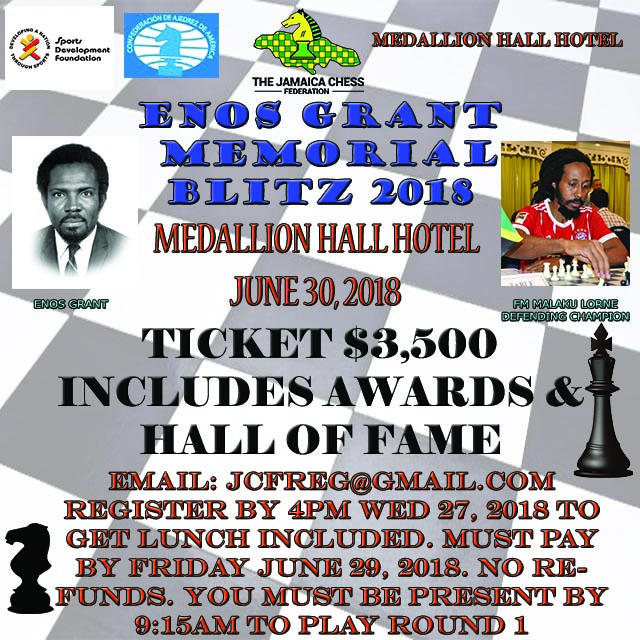 2018 Fide SUB Zonals now playing in Jamaica June 19 - 26th 2018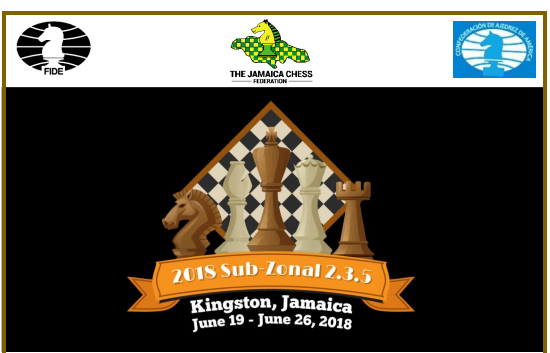 The Jamaica Chess Federation (JCF) wishes to welcome you to the beautiful island of Jamaica, one of the most diverse and colourful countries in the Caribbean. Our history, our culture and our people have propelled this small island of just 4,111 square miles to the international stage for many reasons. Jamaica, the birthplace of the great Bob Marley and reggae music, is the home of the fastest man and woman on the track, Usain Bolt and Shelly Ann Fraser Pryce; some of the most beautiful beaches in the region, and some of the best cuisine the world has ever tasted... See Invitation
See Local Entry Form
See FIDE Regulations for Direct Titles
SNM SHREYAS SMITH IS 2018 ROBERT WHEELER OPEN CHESS CHAMPION
The 2018 Robert Wheeler Open chess tournament concluded last weekend with newly titled FIDE Candidate Master (CM) Shreyas Smith winning the championship trophy, in his second open tournament win for the year.... See Details
Malik Curriah on a roll, wins 2018 President's Invitational
Malik Curriah, who was named Jamaica's National Junior (Under-20) Chess Champion earlier this year, emerged victorious in the 2018 President's Invitational that concluded last weekend at Jamaica Olympic Association compound...See details
JOA opens arms to new members
The official membership of the Jamaica Olympic Association (JOA) swelled to 41 after four new sports were inducted into the organisation on Friday at the Olympic Manor at 9 Cunningham Avenue in Kingston....See details
Curriah and WCM Clarke Secure National Junior (U20) Titles
University of the West Indies, Mona Student Malik Curriah and St. Jago student Woman's Candidate Master (WCM) Adani Clarke captured their respective Absolute and Female Junior (Under 20) titles last weekend at Liberty Academy. See details
Save the Date!!! JCF 2017 Awards & Hall of Fame Induction Ceremony June 30th, 2018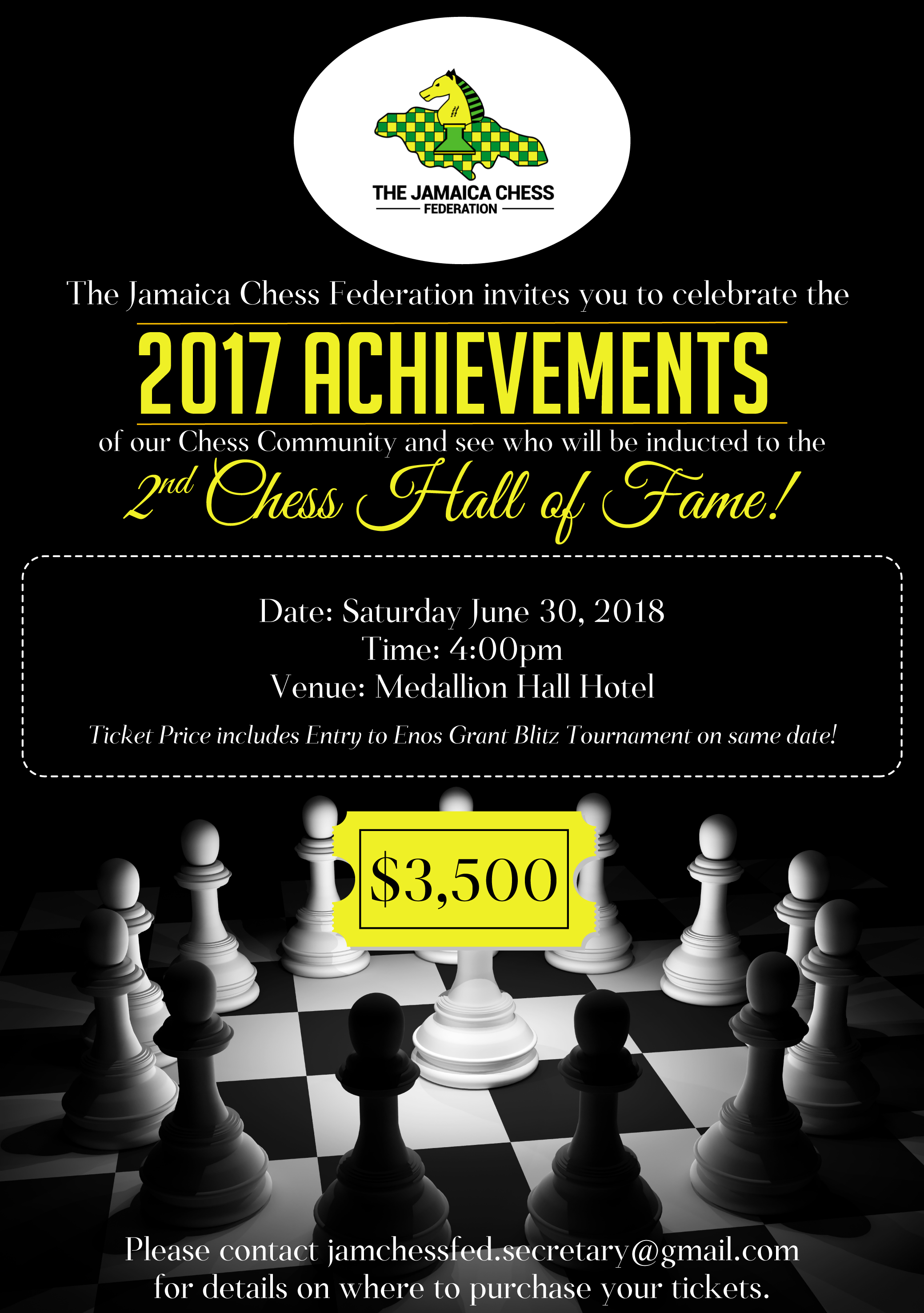 See President's mesage on Awards Ceremony
Junior Players Dominate at Carifta Chess in Suriname!
Jamaica produced a brilliant showing at the recently concluded seventh staging of the Carifta Chess Championships held in Suriname. The small 10 member team captured 3 gold and 2 silver medals in the official categories, and two gold and one bronze medal in the unofficial sub-categories. Jamaica also came away with silver for the country trophy.... READ MORE
St. Jago Underline Chess Royalty Status with 5th straight 2018 High School Chess Title
The Absolute 2018 All Island High School PCJ sponsored, Chess Tournament champions from St Jago High School (from Left), team coach NM Mikhail Solomon, Tajae Morgan (board 4), Jaleel Thorpe (reserve), NM Akeem Brown (board 2) FM Joshua Christie (board 1) and Michael Christie (Board 3), pose with their trophies at the Petroleum Corporation of Jamaica auditorium in New Kingston after their victory for a fifth consecutive year and nine titles overall last week... ... READ MORE
FM Davy recaptures 2018 Absolute National Chess Title
The 2018 Absolute National Chess Championship came to a thrilling conclusion last weekend at the Christar Villas Hotel with Fide Master (FM) Damion Davy capturing his fourth national title. This year's championship was a true spectacle with the standings coming down to the wire in the last round, as players fought valiantly for the title and a possible spot on the national team which will participate at the 43rd Chess Olympiad later this year in Batumi, Georgia. ... READ MORE
Krishna Gray is Jamaica's Female National Chess Champion for 2018
The 2018 National Chess Championship of Jamaica ended last weekend at the Christar Villas Hotel, with Krishna Gray capturing the National Female Champion title for the first time since 2012. Gray was strong from the start, leading the tournament at the midway point on 5 points from 6 games. She continued her performance until the end, not losing one round in the 11-round Round Robin Tournament. .... Read more..
Nathan Hinds captures inaugural Humphrey Gayle Memorial Chess tourney
After six rounds, the 2018 Humphrey Gayle Memorial Candidates Chess Tournament (HGM) came to a close at the Jamaica Olympic Association recently, with Nathan Hinds finishing on four points..... Read more..
2018 AGE GROUP CHAMPIONSHIPS... GET READY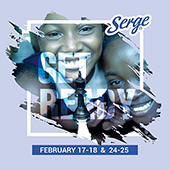 February 17-18 and February 24-25th, 2018
FM ELLIOTT IS BACK
Jamaica's highest ranked chess player, Fide Master (FM) Warren Elliott, signaled his return to active play, with an emphatic first place finish at the 2017 edition of the Frederick Cameron Chess Open, which ended last weekend at the Liberty Academy.... Read more..
Ladies Chess Showcased at 2017 WIM Deborah Richards-Porter Ladies' Chess Festival
The 2017 staging of the WIM DRP Ladies Chess Festival saw many new faces, and further achievements by some of the top rated females in the island over 6 rounds at Campion College on December 2, 2017.   The Under 8 winner of the tournament was Seanna Palmer who with five points was able to edge out Jamaica's Under 8 Female National Champion, Women's Candidate Master (WCM) Zaina O'Connor... read more..
Jamaican Chess Stars perform well at The 2017 Caribbean Chess Cup
Two of Jamaica's Chess stars, Super National Master (SNM) Shreyas Smith (who is currently Jamaica's National Champion) and FIDE Master (FM) Malaku Lorne, finished among the top players and were "in the money" at the recently concluded 2017 Caribbean Cup. .. read more..
JAMAICAN QUEEN DEFEATS TOP SEED IN FINAL ROUND TO FINISH STRONGLY IN EL SALVADOR ZONALS
Jamaica's and the English-speaking Caribbean's top female player, Woman International Master (WIM) Deborah Richards Porter, ended her campaign to qualify for the 2018 Women's World Chess Championship on a high, when she defeated the top seed International Master (IM) Paula Andrea Rodriguez Rueda in the final round of the FIDE Zonal 2.3 Tournament... Read more..
JAMAICAN QUEEN BATTLES LATIN AMERICA
After six rounds of play, Woman International Master (WIM) Deborah Richards Porter was tied in seventh place with 3.5 points from her six games at the Women's 2.3 Zonal Tournament currently taking place in El Salvador. Richards Porter is only one point behind the tournament leader Woman Grand Master (WGM) Maritza Arribas Robaina, who was the sole leader with 4.5 points.. Read more..
NM SHREYAS SMITH WINS PROVEN MASTERS KO TITLE
National Master (NM) Shreyas Smith shook off a poor start, when he rallied back from a game one loss to win two back to back games, and drawing the 4th to capture the 2017 Proven Investments sponsored, Masters Knockout Championship held at the Jamaica Olympic Association (JOA). Read more..
2017 National Blitz and Rapid Chess Championships
On Saturday, November 4 and Sunday November 5, 2017 THE JAMAICA CHESS FEDERATION will host the National Blitz & Rapid Chess Championships. The two championships, renamed as the NM Thomas Figueroa Memorial BLITZ CHAMPIONSHIP and the CM Neil Fairclough RAPID CHAMPIONSHIP will take place at Liberty Academy, 32 Hope Road, Kingston 10.. read more
NM Shreyas Smith takes 2017 Harold Chan Open
National Master (NM) Shreyas Smith finishing undefeated with 5.5 points from 6 games at Liberty Academy to take top honors in the 2017 Dr. Harold Chan Chess Open. Read more
2017 MASTERS KO TOURNAMENT SEP 30 2017
The 2017 IM Pitterson Masters Knockout Tournament takes place on September 30, 2017 at the Jamaica Olympic Association on Cunningham Avenue... See Flyer
JAMAICA INTERNATIONAL CHESS FESTIVAL OCT 13-15TH, 2017
The Jamaica International Chess Festival is a three-day celebration of chess geared towards increasing the reach and appeal of chess in Jamaica, while inspiring players towards greater achievement. ..See Details
2017 FREDERICK CAMERON CHESS OPEN DEC. 7-10TH, 2017
The 2017 Frederick Cameron Chess Open takes place on December 7-10th at the Liberty Academy...See Details
THE MAGICIAN IS THE NEW VETERANS CHAMPION
FIDE Master (FM) Shane 'The Magician' Matthews, signaled his return to active chess, when he secured his first hold on the title of Veteran Chess Champion, after the final round of the Seniors and Veterans Championship, which ended last weekend at the Headquarters of the Jamaica Olympic Association (JOA).. Read more..
JAMAICA CAPTURES BRONZE IN CAC TEAM CHESS
Jamaica secured the bronze trophy at the 16th Annual Central American and Caribbean Youth Chess Tournament, hosted in Panama, with a dramatic finish during the last round yesterday.
Entering the ninth and final round behind regional chess powerhouses Cuba and Colombia, and needing additional points to secure its podium spot, the Jamaican team delivered with scintillating performances across all divisions... See details
2017 JAMAICA SENIORS AND VETERANS CHAMPIONSHIPS (WILLIAM ROPER MEMORIAL) HEADING FOR EXCITING FINISH!!
After six enthralling rounds, the 2017 Jamaica Seniors and Veterans Championships (William Roper Memorial trophies) are heading for a bang-up finish.. See details
MARKLAND "DOUGNIK" DOUGLAS TAKES TAKES EARLY LEAD IN SENIOR NATIONAL CHAMPIONSHIPS
After two rounds of the 2017 Jamaica Seniors/Veterans Chess Championships (the William Roper Memorial) played at the Jamaica Olympic Association ("JOA"), Markland "Dougnik" Douglas has taken the early lead with two wins, defeating Eton Chin and Terence Lindo, respectively. See details
JAMAICANS SHINE AT AMERICAN YOUTH CHESS FOUNDATION GRAND CHAMPIONSHIP
Eighteen juniors from the Chess Whiz Kids Academy, represented Jamaica at the American Youth Chess Foundation Grand Championship held at the Hyatt Regency Hotel in Orlando, Florida from 15-16 Jul7, 2017. The diverse team, with players aged 7 to 15 years, led and coached by National Master Ryan Blackwood, entered 8 of 9 sections and came out overall winners of 7 of the sections.... See details
CM Miller Third at CAC Under 20 Girls Chess Championship
Jamaica's number two ranked female player, Candidate Master (CM) Rachel Miller, continued her effort to garner much needed international experience, when she copped third-place at the 2017 Central American and Caribbean Championship for Under 20 Girls. Miller's teammate and former schoolmate, Sheanel Gardner, finished tied for 7th (8th on tiebreak)... See details
WCM Clarke Off to Annual SPF Girls' Invitational Chess Tournament
Jamaica's number two ranked junior female player, Woman Candidate Master (WCM) Adani Clarke, left the island on Saturday (22 July), to represent Jamaica at the 14th staging of the Annual Susan Polgar Foundation (SPF) Girls' Invitational Chess Tournament. .. See details
FIDE WORLD JUNIOR CHESS CHAMPS SET FOR NOVEMBER 12TH-16TH 2017
This is the official invitation to all National Chess Federations for participation in the FIDE World Junior Chess Championships 2017 (for boys & girls under 20) which will be held in Tarvisio, Italy from November 12th to 26th. 
.. See details
2017 TRINIDAD AND TOBAGO CHESS OPEN
This is the official invitation for participation in the Trindad And Tobago International Chess Open,  which will be held in Port of Spain , Trinidad from August 27 to September 2, 2017. 
See details
JAMAICAN CHESS PLAYERS REPRESENT AT 28th PANAMERICAN YOUTH CHESS FESTIVAL
Jamaicans reresented their country proudly at the 28th PanAmerican Youth Chess Championships held in San Jose Costa Rica. A team of 5 Jamaicans competed amongst close to 500 youth across 25 different countries from the PanAmerican region. Read more
FM RAS MALAKU LORNE OFF TO WINNING START AT THE ZONALS!
Jamaican FIDE Master ("FM") Ras Malaku Lorne pawned off his historic Chess (Absolute) Zonals debut with a win against El Salvador's Camilo Medrano in the first round held on Friday May 26 in El Salvador. In the second round scheduled for today (10 am local time) Lorne will have the black pieces against Nicaraguan FM Rene Lacayo... read more..
WELCOME TO THE JAMAICA CHESS FEDERATION NEWSLETTER!
Welcome to the Jamaica Chess Federation Newsletter.. For the latest on chess events in Jamaica... See the February 2017 issue here..
JAMAICA CHESS FEDERATION 49TH ANNUAL GENERAL MEETING AND ENOS GRANT MEMORIAL BLITZ SET FOR JUNE 17TH AT LIBERTY
The Jamaica Chess Federation wll be holding its 49th Annual general Meeting on June 17th at the Liberty Academy on 32 Hope Road. The annual Enos Grant Memorial Blitz Tournament will also be held on the same day, also at Liberty, with the Blitz tournament starting at 10:00am and the Agm starting at 1pm. read more
18TH CHESS SCHOLASTIC CHESS TOURNAMENT SET FOR JUNE 3-4TH AT UTECH AUDITORIUM!
The 18th Scholastic team chess tournamnet for Prep and Primary schools will take place next month June 3-4th at the Utech Auditorium. Read more
Pan American Youth Festival , Costa Rica June 30 to July 7, 2017. 
The 28th staging of the Pan American Youth Festival will take place in San Jose, Costa Rica June 30 to July 7, 2017.  The event brings together one of the largest and strongest contingents of young chess players (up to 18 years) in the Western Hemisphere.  This year the Costa Rican Federation will host GM Susan Polgar as the special guest for the event, a former women's world champion, and famous chess coach and author.  A series of workshops, simultaneous games and book-signings will be organised. ChessKid.com is one of the official sponsors.read more
CAC Panama Youth Festival , Panama ,Aug. 9-17th, 2017. 
The 2017 Youth Chess Festival of Central America and the Caribbean will be staged in Panama City, Panama between August 9 and August 17, 2017.  The CAC typically attracts Federations from all over the Americas, and was held last year in Caracas Venezuela. The tournament is a nine round Swiss (or Round Robin depending on number of participants) format, with pace of play at 90 minutes plus 30 second increments.  Trophies and Titles can be won in 12 age and gender categories.  In 2015, Jamaica sent a large contingent to Port of Spain Trinidad, and came away as the tournament champions.  Several young Jamaicans also gained FIDE titles..read more
2017 R&D Chess Academy Showdown & Invitational JUNE 24th, 2017
The R and D Chess Academy is proud to present the 2017 edition of their end of year Chess Tournament, the R&D Chess Academy Showdown & Invitational "Where Every Child is a Winner!!". read more
2017 Central American & Caribbean U 20 Chess champs
The 2017 Central American and Caribbean U 20 Chess championships takes place in Barbados on June 21-28, 2017.. Read More.. ... See registration form
PLAY-OFFS FOR THE 2017 JAMAICA WOMEN'S CHAMPIONSHIP!
The top three finishers in the 2017 Jamaica Women's Championship are scheduled to battle for the national title in a double-robin Play-offs. These are defending Champion WCM Annesha Smith and former Women's champions WCM Ariel Barrett and Krishna Gray. Read more..
NM SHREYAS TAKES 2017 NATIONAL CHESS CHAMPIONSHIPS
After one month of a keenly contested tournament ,Jamaica gained a new National Chess Champion when NM Shreyas Smith defeated WIM Deborah Richards-Porter in the final round to take the title. read more