JAMAICA CHESS OPEN ONLINE INTERNATIONAL CHESS TOURNAMENT
Register here- Report 1 - About Jamaica Open
2021 JAMAICA CHESS OPEN ONLINE TOURNAMENT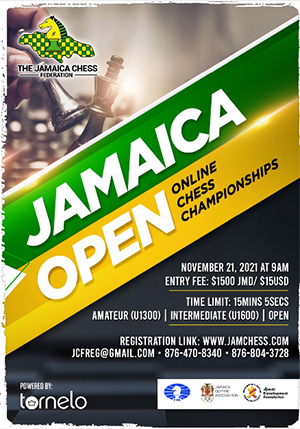 Anadkat Kartavya from India takes Jamaica Chess Open !!

Anadkat Kartavya from India defeated FM Joshua Christie in round 6, to win the Jamaica Open absolute section with with 5.5/6 points.
FM Joshua Christie, FM Ryan Harper and WCM Raehanna Brown finished with 5/6 points.
In the U1300 Absolute section, Ajax Tennant wins with 5.5/6 points, followed by a 4 way tie for second through fifth.
The Jamaica Open was the Jamaica Chess Federation's flagship tournament in its first year back in 1969. This is the first year the prestigious open event will be online! Let's keep the tradition going in this modern era! Lots of prizes to be won!
DETAILS below: 1) Tournament: Jamaica Open Online Chess Championships 2021
2) Date: November 21, 2021 (Sunday)
3) Sections: Open for all, with 4 section choices - Open, Intermediate (U1600 rated), Amateur Absolute (Under 1300 rated) and Amateur Female (Under 1300 rated)
4) Venue - ONLINE using the TORNELO.com platform (ZOOM details will be sent after registration)
5) Time: - 9:00AM (Announcements and tournament guidelines) Opening Ceremony at 9:30AM
6) Registration: - For easy registration, go to: https://forms.gle/bk3TX66Bh72yxncK8
7) Contact: 876-804-3729 or 876-470-8340 / jcfreg@gmail.com
8) Entry Fee: $1500 JMD before November 18, 2021 or $15USD Deposit to Jamaica Chess Federation (Scotia Bank) JMD Chequing Account 315516 Cross Roads Branch 80135 PayPal for International players... Please contact us directly for the info.
9) Prizes: 1st to 5th in all sections will receive prizes plus additional prizes for the best female in each section. Best School prize!
The open section will have cash prizes (JMD) of 1st - $15000, 2nd 10,000 and 3rd $5000
10) Social Media and registration: Follow us on instagram at https://www.instagram.com/jamaicachess/ and on Facebook at https://www.facebook.com/jamchess and online at http://jamchess.com/ REGISTRATION: https://forms.gle/bk3TX66Bh72yxncK8
See you there!