JAMAICA CHESS OPEN ONLINE INTERNATIONAL CHESS TOURNAMENT
Register here- Report 1 - About John Powell
2022 JOHN POWELL CHESS OPEN ONLINE TOURNAMENT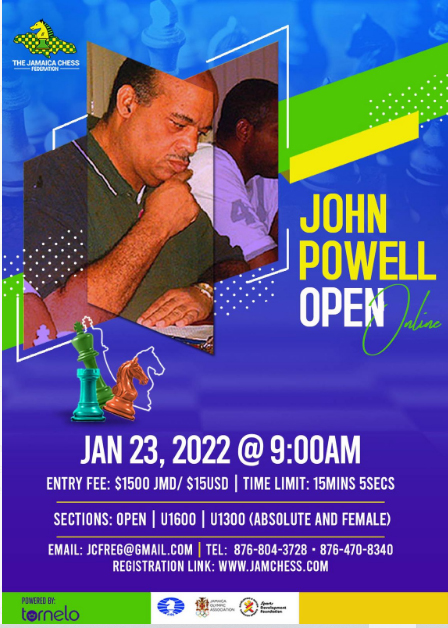 The Jamaica Chess Federation (JCF) will be staging the innaugural John Powell Memorial Chess Open online on January 23. 2022. The tournament will be divided into three sections, an Open section in which anyone can play, an Intermediate section for entrants with a JCF rating under 1600 and an Amateur section for entrants with a JCF rating under 1300.
Prizes will be awarded to the top three players in each section
The tournament, which was previously called the New Year's Open, was renamed in honour of National Master John Powell, a founding member of the JCF and former President, who passed away in October of 2007.
Powell was considered to be an extraordinary chess administrator who was one of the catalysts for the growth and development of the sport in Jamaica, particularly at the secondary school level during the 1980s and early 1990s.
NM Powell is regarded as the strongest Jamaican player never to have won the national title. Powell finished 2nd in the national championship on three occasions.
Powell was one of the strongest players in Jamaica at the height of his chess-playing career during the 1970s and 1980s, achieving the title of National Master in 1975. He was widely considered to be the strongest Jamaican player never to have won the National Championships outright. He tied for first three times, 1973, 1980 and 1988, however he lost on tiebreak to NM Harold Chan in 1973, NM Robert Wheeler in 1980 and NM Robert Wheeler again in 1988.
NM John Powell represented Jamaica at nine World Chess Federation (FIDE) Olympiads winning a silver medal for Jamaica on board 4 in the Olympiad of 1984, which was held in Thessaloniki, Greece.
The olympiiads included (Argentina 1978, Malta 1980, Switzerland 1982, Greece 1984, Dubai 1986, Greece 1988, Yugoslavia 1990, Philippines 1992, and in Russia 1994). He was also a member of the Jamaica team to the 1974 Central American and Caribbean Chess Championship in El Salvador, and a member of the Jamaica team at the 23rd World Students' Chess Olympiad in Caracas, Venezuela in 1976.
At the Greece 1986 Olympiad, Powell scored 7/9 points for Jamaica, and was awarded the Board 4 Silver Medal. It was a remarkable achievement for Jamaican chess as at that time, it was only the second international acclaim in chess for the tiny Caribbean Island of 2½ Million people. Previously, in 1976 at the 15th World Junior Chess Championships in Groningen, Holland, Sheldon Wong capped a brilliancy prize for his second round Grunfeld win against the Israeli Nir Grinberg. And, at the 1990 Olympiad in Yugoslavia, Jamaica's Christine Bennett was awarded the Board 4 Silver Medal after registering a remarkable 6/7 points.
Jamaica national chess team to the Central American & Caribbean Chess Championship in El Salvador 1974. From Left are – NM Robert Wheeler (deceased), 1975 joint-Jamaica champion, NM Thomas Figueroa (deceased), the then President of El Salvador, NM Neil Fairclough (Caribbean chess champion in 1993-94), John Powell (Bd. 4 Silver Medalist at the 1984 Olympiad in Greece), and Attorney-at-Law, Dr. Enos Grant, the 1st President of the JCF (deceased). Picture submitted by Rennie Phillips.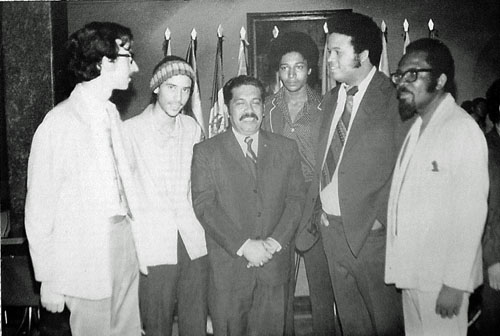 John was also a FIDE Arbiter, and served Jamaica's chess as Secretary and later as the President of the JCF from 1989-90, and 1993-1994. After migrating to the USA in 1995, John started the USA-Jamaica Chess Association, which reported in its July 1996 Newsletter the unanimous nomination of GM Maurice Ashley as its first president.
John Powell returned home to Jamaica in 2005 where he resumed playing in local chess competitions.
Powell was still actively playing up to his untimely passing in 2007.