2023 CAC AMerican youth CHESS FESTIVAL
Invitation - Results
JAMAICA SWEEPS 2023 CAC YOUTH CHESS FESTIVAL IN TRINIDAD
Jamaica top CAC Youth Chess Festival - Jamaica Observer
Jamaica to CAC youth Festival - TVJ News video footage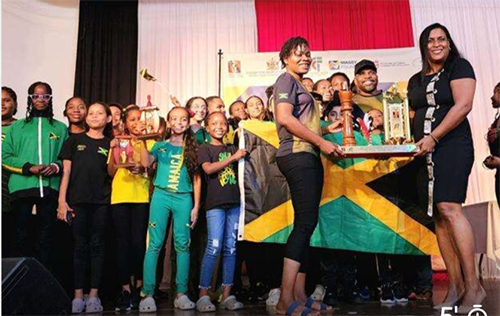 Team Jamaica overcame 14 other countries, including the strength of host country Trinidad and Tobago (second place), and third-place Cuba to become the 2023 champions of the recently concluded Central American & Caribbean Youth Chess Festival held in Port of Spain.
There were strong performances from all of Jamaica's players to bring home the winners' trophy, and several players shone on the podium at the end of the six-day tournament which had over 230 players, from 15 different countries across the region.
Candidate Master (CM) Jaden Shaw blew away the field in the Under-16 Open section with a perfect 9 out of 9 points for the gold trophy. Shaw is poised to be named FIDE Master (FM) as he will reach the rating bar of 2100, as a result of this tournament. He also earns his second norm towards becoming an International Master (IM). This means there is only one norm left for Shaw to become Jamaica's third-ever IM, after IM Jomo Pitterson, and IM Shane Matthews
Candidate Master (CM) Jaden Shaw (U 16 Open)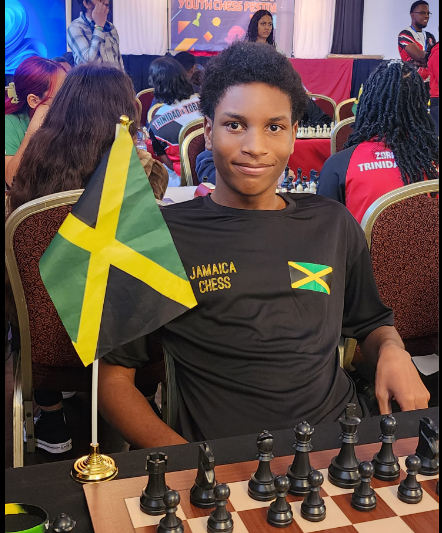 Woman Candidate Master (WCM) Raehanna Brown also had a phenomenal tournament, winning gold with 7 points and 2 draws for a total of 8 points. With this excellent performance she now qualifies for the Woman International Master (WIM) title, subject to a rating of 2000. She also gained a massive 60 rating points from this tournament towards this goal. This would make Brown the third woman in Jamaica's history to achieve this title, after WIM Deborah Richards-Porter, and WIM Rachel Miller.
(WCM) Raehanna Brown (U 18 Female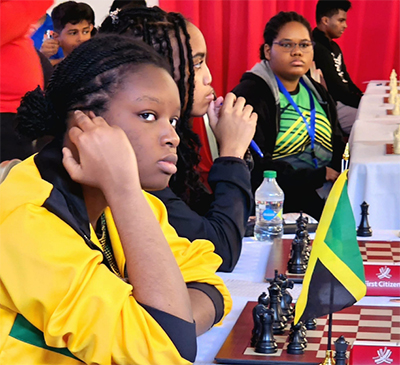 Another amazing performance for gold was that of Emilia Rose-Leake in the Under-10 female section. She had no losses and won her age group with a score of 8.5 out of 9 points. Going forward she will be working on gaining rating points to gain the WCM or CM titles that she is already entitled to, subject to an 1800 rating for the WCM title, and 2000 rating for the CM title.
(Emilia Rose-Leake - Under 10 Female)
Newcomer Rajvir Shergil also had an excellent performance in the Under-8 Open section with 8 points overall, suffering only one loss to Bahamian Caerwyn Turnquest in the sixth round. Shergil, who entered the tournament unrated, will now qualify for the Candidate Master title subject to achievement of a rating of 2000.
Other noteworthy performances include those of Gabriella Watson in the Under-16 Female section, Aaron McKoy in the Under-12 Open section, and Dayna-Simone Swasey and Leah Logan in the Under-8 Female section. Watson scored 6.5 points, beating top seed Bajan Hannah Wilson. But Watson suffered two losses and a draw to come out with the silver medal, behind Wilson. This performance entitles Watson to the WCM title for a second time, subject to achievement of the 1800 rating bar. Aaron McKoy also placed second with 6.5 points, losing only to the two highest rated players in the section — Cuban Osiel Alberto Alonso Orta and Sahiean Polanco Fernandez of the Dominican Republic, and having a draw with the 3rd rated seed for the section. This performance entitles McKoy to a Candidate Master title, subject to achievement of the 2000 rating bar. Dayna-Simone Swasey and Leah Logan competed in the Under-8 Open section based on a merging of the boys and girls for Under-8. Overall, Dayna-Simone had 5 points which made her second among the Under-8 Females, just ahead of Leah Logan, who also had 5 points, and placed third on tie-break.
The success of the team would not have been possible without the support of the individual sponsors, parents, coaches IM Jomo Pitterson, FM Warren Elliott, Troy McKoy and the Jamaica Chess Federation head of delegation WIM Deborah Richards-Porter, who was also coach to several students.
RESULTS
• Under-18 Open (20 players) — Darren McKennis (6th with 5 points), Aayush Jain (7th with 5 points) John Stephenson (13th with 3.5 points)
• Under-18 Female (11 players) — WCM Raehanna Brown (1st with 8 points), Amy Stephenson (5th with 5.5 points), Kaity Gayle (9th with 3 points)
• Under-16 Open (29 players) — CM Jaden Shaw (1st with 9 points), JLoy Chin (6th with 5.5 points)
• Under-16 Female (18 players) — Gabriella Watson (2nd with 6.5 points), Suraiya Matandara-Clarke 8th with 5 points)
• Under-14 Open (33 players) — Cameron Coe (8th with 5.5 points), Corbin Harvey (9th with 5 points)
• Under-14 Female (13 players) — Kaia Gayle (7th with 5 points) • Under-12 Open (29 players) — Aaron McKoy (2nd with 6.5 points), Ronak Shergil (5th with 6 points), Vaishnav Gali (9th with 5 points), Khaleel Bartlett (12th with 5 points), Liam Logan (13th with 5 points)
• Under-12 Female (11 players) — Victoria Salazar (4th with 5.5 points), Tsahai Clarke (6th with 4 points), Kayla Moses (7th with 4 points)
• Under-10 Female (15 players) — Emilia Rose-Leake (1st with 8.5 points), Elisha Patel (4th with 6 points), Esther Mullings (9th with 4.5 points)
• Under-8 Open (23 players) — Rajvir Shergil (1st with 8 points)
• Under-8 Female (8 players) — Dayna-Simone Swasey (2nd with 5 points), Leah Logan (3rd with 5 points), Rhea Gardener (6th with 4 points)