ARTICLES
Jamaican WCM, Raehana Brown sweeps first Margaret Prince Memorial Female Tournament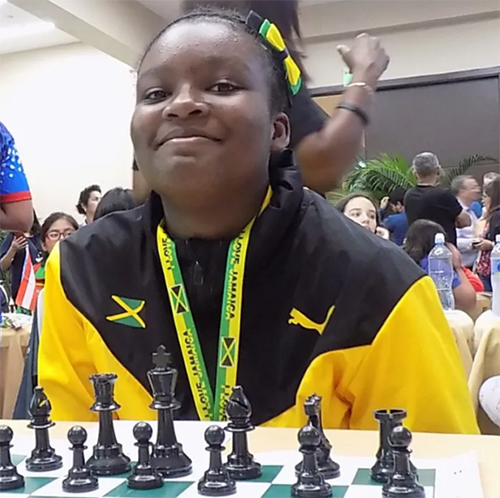 Jamaican Raehanna Brown completed a clean sweep of the boards to win the inaugural Margaret Prince Memorial Rapid Online Female Chess Tournament over the weekend.
The 16-year-old no. 6 seed upstaged the top two seeds, fellow Jamaican Rachel Miller and Barbados' Julissa Figueroa to take the honours in the two-day event with a maximum seven points.
The event, which was organised by the Women's Chess Sub-Committee of the Barbados Chess Federation, attracted 58 players from six countries, including Jamaica, Guyana, Trinidad and Tobago, Curacao and Cayman Islands.
It was played in honour of Margaret Prince, Barbados' first ever women's chess champion who was one of the most vocal advocates for women's chess and a founding member of the Barbados Ladies Chess Association
See full story on Barbados Chess Website
SEE PRESS RELEASE BELOW
FOR IMMEDIATE RELEASE      
September 22, 2021
Contact: Mark Cameron
Jamaica Chess Federation
www.jamchess.com
PRESS RELEASE – JAMAICA'S RAEHANNA BROWN WINS MARGARET PRINCE MEMORIAL FEMALE ONLINE RAPID CHESS TOURNAMENT
Kingston, Jamaica – Woman Candidate Master (WCM) Raehanna Brown from Jamaica won the Margaret Prince Memorial Female Online Rapid Chess Tournament over the weekend, Sept. 18-19. She won with a perfect 7 wins from 7 games. Woman FIDE (the governing body of chess) Master (WFM) Ailen Mena was second with 6/7 points and third place on tie break wasWoman International Master (WIM) and Jamaica's number 1 ranked female player Rachel Miller, who finished with 5.5/7 points.  Jamaica's Aulanni Kidd and Cayman Islands' Laia Swaminathan also finished on 5.5/7 points. Players from Jamaica, Barbados, Trinidad & Tobago, Guyana, Cayman Islands and Curacao participated in this event.

The tournament was hosted by the Barbados Chess Federation and named in honour of female chess pioneer and the first female chess champion of Barbados. Margaret Prince was also an outstanding member of the Barbados Chess Federation Executive Committee.
Jamaica's top two seeds, WCM Raehanna Brown and WIM RachelMiller were off to a fast start, with both securing wins in their first 3 games. However, they had to face off in round 4, with Rachel being the prohibitive favourite to win thematch. However, in a dazzling display of rook and pawn endgame strategy, Raehanna upset Rachel, to end the first day as one of only 4 players with 4 points.
Day 2 of the event was also full of fireworks and exciting play. Jamaican players, WIM Rachel Miller, Gabrielle Watson, Aulanni Kidd, NicaylahCurwin, and Kahli Campbell all played well and overcame most of their challengers.

Round 6 presented WCM Raehanna Brown with a great challenge from WFM Ailen Mena. Both players were on 5 points from 5 games. In a do or die battle, Raehanna played the Sicilian Defense, Alapin Variation. In a high-quality match, Raehanna defeated Ailen to go 6/6 to become the sole leader.
Jamaica's FM Mala Lorne, WIM Deborah Richards-Porter and FM Justin Blackman from Barbados provided expert tournament commentary on Twitch.TV, especially in Round 7. It was an especially combative round with Jamaican players playing well enough to have 6 females finishing in the top 10.
Team Captain, NA Terence Lindo NI, IO commented, "Our team was made up of 29 smart and talented females, who put on a great show for Jamaica. "
FIDE Vice President Ian Wilkinson, a former President of the Jamaica Chess Federation, Candidate Master (CM) Mark Cameron and the Jamaica Chess Federation sponsored registration of the Jamaican team of 29 female players,who participated in the 58-player event.
.
Photo 1 – WCM Raehanna Brown
Photo 2 – CM, WIM Rachel Miller
###
About the Jamaica Chess Federation
The Jamaica Chess Federation (JCF) was founded in 1969 and has been affiliated with FIDE, the governing body for chess, since 1972. In its capacity as the governing body for chess in Jamaica, the JCF is devoted to extending the role of chess in the Jamaican society.
For more information about the Jamaica Chess Federation, please visit www.jamchess.com or contact Mark Cameron at jamchessfed.public.relations@gmail.com or 713-591-1153.