jamaica chess federation olympiad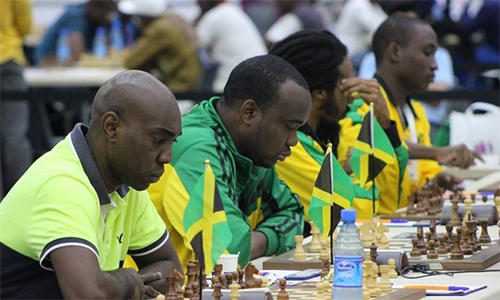 Jamaica first participated in the Chess Olympiad in Buenos Aires 1978. In 1984 at the Thessaloniki Olympiad NM John Powell won a silver medal on board 4 with a score of 7/9. In 1990 at the Novi Sad Olympiad Christine Bennett brought the women firmly to the fore by scoring 6/7 to win a silver medal on board four.
In the 1992 Olympiad (Manila, Philippines), Kingston College past student then NM Dr. Kevin Brown, playing with the Black pieces, became the first home grown Jamaican chess player to defeat an International Grandmaster when he beat the Philippines' Grandmaster-elect, Rogelio Antonio Jnr. with the black pieces in a Scotch.
Jamaica's men's chess team produced what was termed an "epic" upset during the fourth round in the Open Section of the 42nd World Chess Olympiad in Baku, Azerbaijan. The battle involved Jamaican's current champion, FM Warren Elliott, who defeated FM Bomo Kigigha on Board One. Brandon Wilson made a recovery from the previous day's round, using a chess master class called Benko (Volga) gambit on Board Four, which his opponent Ochuko Emuakpeje could not answer. First-time Olympiad player NM Shreyas Smith, who was promoted on Board Three to replace veteran FM Malaku Lorne, suffered the only defeat among the Jamaicans.