JUNIOR CHESS IN THE jamaica chess federation
School Chess | Top Juniors | Junior Events | Legendary Juniors | Archives | Gallery | Articles on Junior Chess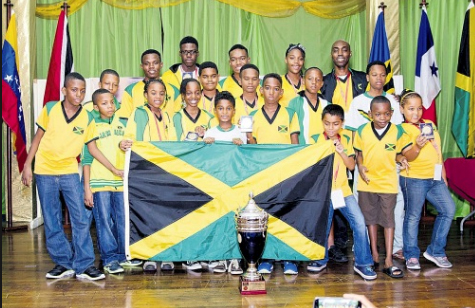 JUNIOR CHESS IN JAMAICA
"I love chess because it helps me think in school.." ---- Eight year old Tewana Mellace in an interview with the Gleaner in 2004.
The future of Junior chess no doubt lies in the hands of young Jamaican talents like Shreyas Smith, and Rachael Miller. Historically, the Jamaica Chess Federation has had some very promising and accomplished juniors and female chess players in its chess history which spans nearly forty years.
Tewana Mellace in 2004
Then, at only eight years of age, Tewana captured the Under-10, Under-12 and Under-14 chess titles at the National Junior Age Group Chess Champs hosted by the Jamaica Chess Federation. The youngest participant in the event, Mellace emerged victor over seven of the best players from across Jamaica between the ages of eight and 14, after beating last year's U-12 champion, Brian Ewbank, to capture the U-14 title. About his phenomenal win, the soft-spoken second grader says he feels good. He says participating in the game helps with his concentration, problem-solving and thinking skills.
Sheldon Wong in 1976
In 1976, a 16 year-old junior chess player named Sheldon Wong won the National Chess Championships and then represented Jamaica in the same year at the 15th World Junior Chess Championships in Groningen, The Netherlands; winning a brilliancy price for his second round win against Israel's Nir Grinberg. Wong became a National Master in 1977 and retained his National title the same year.
FM Shane Matthews in 1982
Another past junior Shane Matthews, who is now a National master, he also represented Jamaica in 1982 in the Chess Olympiad in Lucerne, and then went on to win the National Championships for a record Seven times.
IM Jomo Pitterson
National Master Jomo Pitterson, who is arguably the greatest and most successful junior chess player that Jamaica has ever produced, holds the distinction of being the first player to win Junior titles in three caribbean Countries within a single year. He helped his school Campion College to win three successive School chess titles in the then Workers Bank National High Schools Chess Championships, and won his first National Championship title in 1992, while he was still in high school!