2016 NATIONAL JUNIOR CHESS CHAMPIONSHIPS
THE 2016 JOHN POWELL MEMORIAL OPEN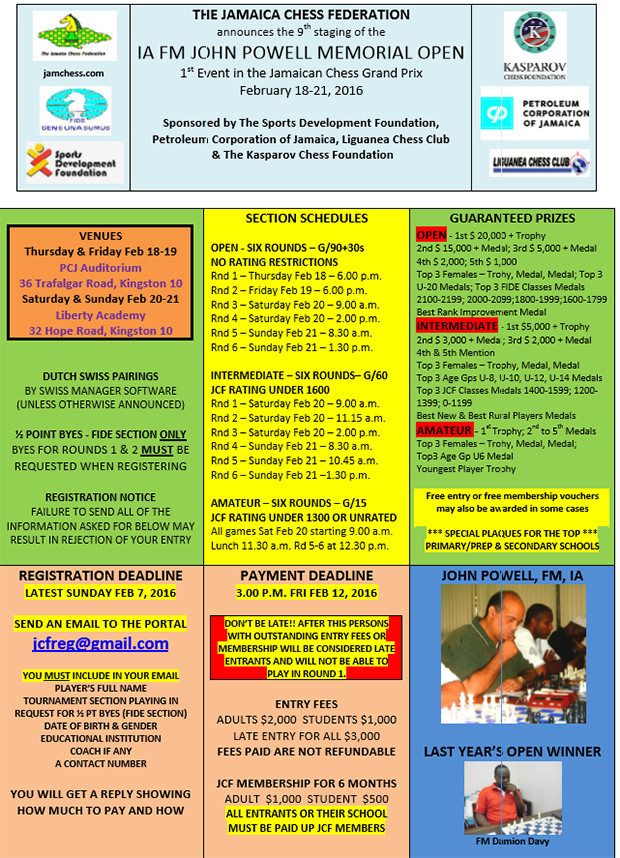 THE Jamaica Chess Federation (JCF) will be staging the ninth edition of the NM John Powell Memorial Chess Open this month on february 18th, 2016 at the PCJ Auditorium on 36 Trafalgar Road in Kingston.
For the Open Section, Round one will begin at 6pm on Thursday February 18th and Round 2 will be on Friday february 19th also at 6pm, at the PCJ Auditurium.

The tournament will resume on the weekend on February 19th at the Liberty Academy on 32 Hope road with round 3 starting at 9am and Round 4 starting at 2pm. The Intermediate and amateur sections will begin on Saturday at 9am.
Round 5 will begin on Sunday at 8:30am and the final round 6 will begin at 1:30pm.
The tournament will be divided into three sections, an open section in which anyone can play, an intermediate section for entrants with a JCF rating under 1600 and an amateur section for entrants with a JCF rating under 1300.
Prizes will be awarded to the top three players in each section, the best Under 10, 12 and 14-year-old players, best rural player, best female player, best junior and best new player.
The open section will be rated by the World Governing Body for Chess, FIDE.
The tournament, which was previously called the New Year's Open, was renamed in honour of National Master John Powell, a founding member of the JCF and former president, who passed away in October of 2007.
Powell was considered to be an extraordinary chess administrator, who was one of the catalysts for the growth and development of the sport in Jamaica, particularly at the secondary school level during the 1980s and early 1990s.
Powell was also one of the strongest players in Jamaica at the height of his chess-playing career during the 1970s and 1980s, achieving the title of National Master in 1975. He was widely considered to be the strongest Jamaican player never to have won the National Championships outright. He tied for first three times, 1973, 1980 and 1988, however, he lost on tiebreak to NM Harold Chan in 1973, and NM Robert Wheeler in 1980 and 1988.
Powell represented Jamaica at many Chess Olympiads, winning a silver medal for Jamaica on Board Four in the Olympiad of 1984, which was held in Thessaloniki, Greece.
Powell was still actively playing up to his untimely passing in 2007.