PRESIDENTS INVITATIONAL CHAMPIONSHIPS 2016
MERRITT TAKES DIGICEL PRESIDENT'S CHESS INVITATIONAL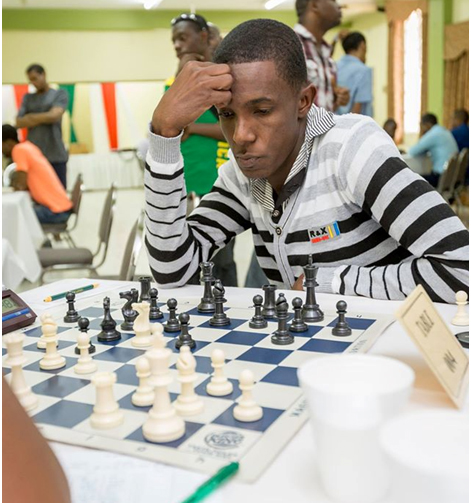 Kevin Merritt, Western Jamaica's top chess player, produced a late burst of four straight wins to cop the top prize in the Jamaica Chess Federation's (JCF's) Digicel President's Invitational Chess Tournament, played over three weekends from April 9 to April 24.
The tournament featured several strong players including three National Masters (NMs) and a Woman Candidate Master (WCM). The field of twelve played a round-robin, ensuring that everyone got tested by his/her peers.
Merritt, apparently playing for the full point in every match, outscored the field with a respectable 8 points out of a possible 11, despite trailing the leaders with only 4 points at the end of the 7th round. Merritt won his last four games in fine fashion to overhaul the leaders and walk away as the President's top invitee. Merritt's most notable victories were against NM Paul Brooks and NM Peter Thomas, seasoned masters who he will be seeking to join at the master level.
2015 National Women's Champion  WCM Ariel Barrett, the only female in the 12-player group, overcame a large rating difference of over 200 points to hand Merritt one of his few defeats of the tournament. Interestingly, the top 6 players all ended with 3 losses. However, Merritt's all or nothing approach to playing for the full point, saw him edging out NMs Thomas and Wisdom, who both finished on 7.5/11, having had one draw each.
Merritt now needs to maintain his rating through another tournament, to qualify himself for the award of the National Master title.
The final standings were as follows: 1 Kevin Merritt - 8.0, 2. NM Peter Thomas - 7.5, 3. NM Daren Wisdom - 7.5, 4. Lucien Rowe - 7.0, 5. NM Paul Brooks - 6.5, 6. Kevron Campbell - 6.5, 7. Ian Wilkinson - 6.0, 8. Miguel Asher - 3.5, 9. WCM Ariel Barrett - 3.5, 10. Andre Soares - 3.5, 11.  Michael Diedrick - 3.5 and Terence Lindo - 3.0.
The tournament was sponsored by Digicel Jamaica, the Jamaica Olympic Association, the Kasparov Chess Foundation and the Magnificent Chess Foundation.
END
To Interview Kevin Merritt, he may be contacted at 539-1742 


Jamaica Chess Federation