The jamaica chess federation
JAMAICANS BATTLE AT 2015 WORLD YOUTH CHESS CHAMPIONSHIPS IN GREECE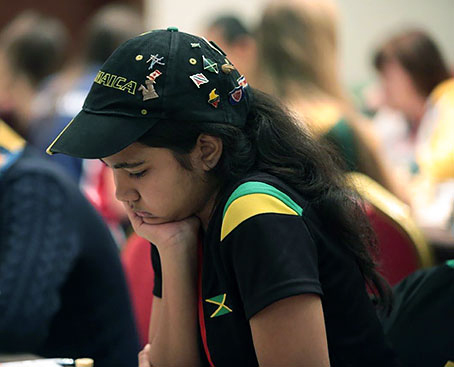 JAMAICANS BATTLE AT 2015 WORLD YOUTH CHESS CHAMPIONSHIPS IN GREECE
By Ian Wilkinson, President Jamaica Chess Federation
Jamaica is participating in the World Youth Chess Championships being held in Porto Carras, Halkidiki, Greece from October 24 to November 6, 2015.
After being absent from this level of competition for two decades, Jamaica has two entrants in this prestigious event.
Fifteen year-old Rachel Miller, Jamaica's 2014 Women's Champion, is playing in the very tough Under-16 Female section with ninety-five competitors from approximately ninety countries.
Miller, getting better as the tournament has progressed, has notched three wins and two losses after five rounds and isin the top half of the standingson a positive score.
In the 6th round she will play on board 14 against Spain's much higher-ranked WFM Marta Garcia who is also on three points. The current leader of the 11-round tournament is Uzbekistan's WFM BakhoraAbdusattorova who has won all her five games.
Miller, widely regarded as the future of Jamaica's Women's Chess,is the only player from the English-speaking Caribbean in the event. She has the distinction of being awarded both the Women's FIDE Master title ("WFM") and Candidate Master ("CM") title by the World Chess Federation.
Jamaica's Rachel Miller at the  2014Tromso, Norway Chess Olympiad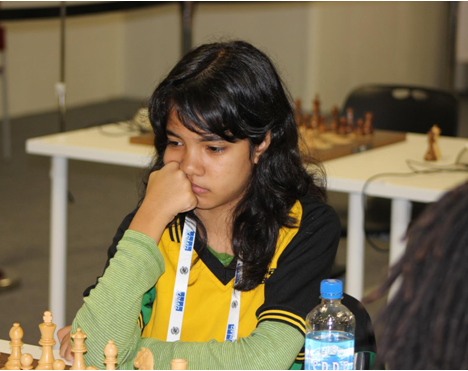 Jamaica is also represented by Kishan Clarke who is playing in the Open Under-8 section with one hundred and thirty-four players from approximately ninety countries.
After five rounds of intense battle, Clarke is on an even score after two wins, two losses and a draw. He is in the middle of the pack with 6 more rounds to go. In the 6th round Clarke will have the black pieces on board 32 against India's SaxenaMedhansh who is also on 2 ½ points.
This section is being jointly led by Kazakhstan's CM AldiyarAnsat and India's CM Shah Devwho are tied on a perfect five points having won all their games. They will face each other in the 6th round in a top-of-the-table clash. Clarke, who turned eight on the 30th October, is the only player from the English-speaking Caribbean in this section. He is the current Under-8 Jamaica champion as well as the defending two-time Under-8 CARIFTAJunior Chess champion.
Kishan Clarke receiving his prize after copping gold (U-8 category)
in the CARIFTA Junior Chess Championships in Barbados, April 2015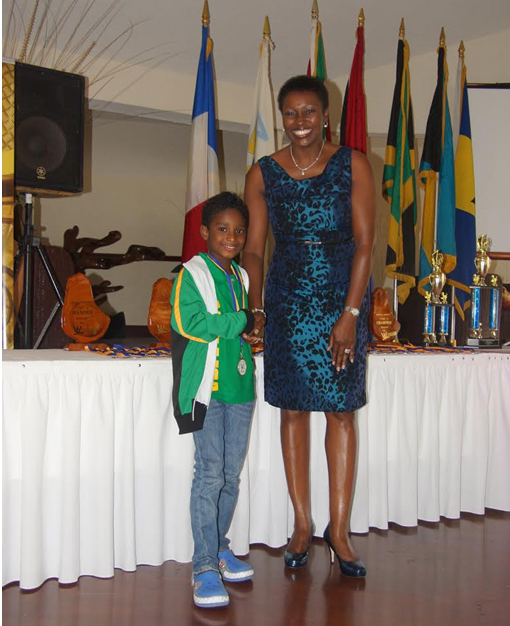 Photographs courtesy of the Jamaica Chess Federation.
Ian G. Wilkinson QC
President
Jamaica Chess Federation