The jamaica chess federation
JAMAICA NOTCHES FIRST WIN AT WORLD SENIOR CHESS CHAMPIONSHIPS IN ITALY!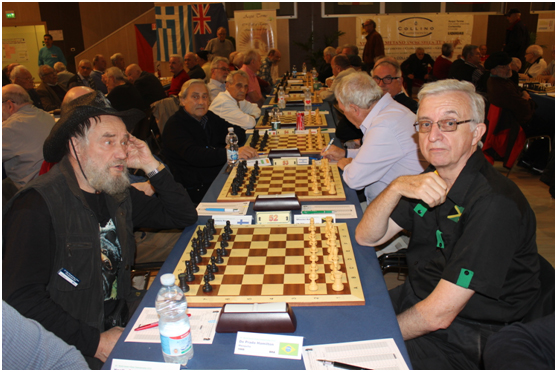 CM Robert Wheeler (R), Jamaica Seniors Champion, about to face Finland's Raine Heikkila in round 2 action
Report 1 -
REPORT 2
World Chess Federation (FIDE) Candidate Master Robert Wheeler, Six-time Jamaica Chess Champion and reigning Jamaica Seniors Champion, produced a positional gem with the white pieces to defeat Finland's Raine Heikkila in today's second round of the 65 year-old and over section of the 25th World Senior Chess Championships being held in Acqui Terme, Italy November 9-22, 2015. This was Jamaica's first win at the event, after play started yesterday.
Wheeler shrugged off the effects of his marathon 95-move draw against Italy's Luigi Catalano in yesterday's first round to outclass his opponent and set up an interesting encounter in tomorrow's third round against the Brazil-based Dutch International Master Herman Van Riemsdijk who, curiously, visited Jamaica and gave a simultaneous exhibition forty years ago!
In the fifty year-old and over section Jamaica Chess Federation ("JCF") President and reigning Jamaica Veterans Champion, Ian Wilkinson, recovered from his first round loss to Monaco's Karl Johann Ribbegren to register a hard-fought 40-move draw with the black pieces against his much higher rated Italian opponent Marcello Astengo. In tomorrow's third round he will have the white pieces against Sweden's Peter Korning.
The championships are being staged by the Italian Chess Federation in association with FIDE and will be held over eleven rounds. The respective winners will be awarded the title of International Chess Grandmaster. Over three hundred players from more than thirty countries are participating in the event. This is the first time that Jamaica is being represented in this prestigious tournament, another sports landmark for the country.
Jamaica'sparticipation was made possible by sponsorship from the Sports Development Foundation ("Developing the Nation throughSports"), Supreme Ventures Limited("Gamespeople love to play…and more"), General Accident Insurance Company Limited, Kasparov Chess Foundation, the JCF and the Magnificent Chess Foundation("Building a nation of thinkers").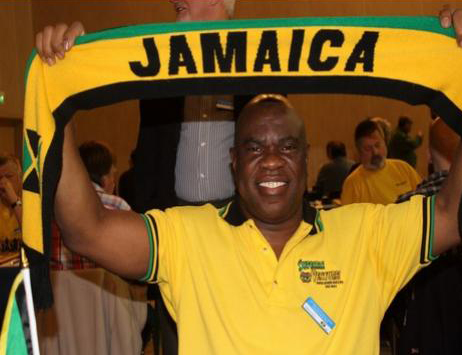 Ian Wilkinson QC, proudly displaying Jamaica, before his round 2 clash with Italy's Marcello Astengo.
Jamaica Chess Federation
2015 November 11