senior chess championships in italy
JAMAICA "LUCKY" IN ROUND FOURACTIONAT WORLD SENIOR CHESS CHAMPIONSHIPS IN ITALY!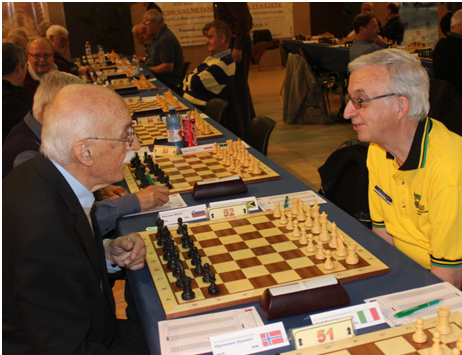 CM Robert Wheeler (R), Jamaica reigning Seniors Champion,about to face Slovenia's Nikola Hocevar in their drawn round 4 game
REPORT 3
Today, Friday November 13, was a good ("lucky"?) one for Jamaica at the 25th World Senior Chess Championships being held in AcquiTerme, Italy November 9-22, 2015. The very beautiful ("bellissima"!)"land of wood and water" ended the day unscathed, registering another important win and a draw in round four action.
Jamaica Chess Federation ("JCF") President and reigning Jamaica Veterans Champion, Ian Wilkinson QC, recovered from his third round loss to Sweden's Peter Korning yesterday to produce a brilliant rearguard action with the black pieces and defeat one of Italy's masters, FM FedericoCiribasiin a blood-curdling Sicilian Smith-Morra in which the more fancied Italian "threw the kitchen sink" at the Jamaican who thwarted wave after wave of attack.
Of the fifty games in the section this one was the second to last to finish, lasting a marathon seventy (70) moves in more than five (5) hours, the Jamaican emerging victorious in a Queen and pawns ending! In tomorrow's fifth round Wilkinson will have the white pieces against yet another Italian,Marco Venturino who is rated almost 300 points higher!
After his first loss of the event yesterday to the Brazil-based Dutch International Master Herman Van Riemsdijk, CM Robert Wheeler, Jamaica's reigning Seniors Champion, played out a draw with Slovenia's Nikola Hocevar to calm the waters.Wheeler will have the black pieces in the 5th round against Finland's AntiPihlajamaki.
The championships are being staged by the Italian Chess Federation (FederazioneScacchisticaItaliana)in association with FIDE and will be held over eleven rounds at a time control of forty moves in ninety minutes with thirty minutes to complete the game. There are increments of thirty seconds per move from the first move.The respective winners will be awarded the title of International Chess Grandmaster. The games start at 3:00 pm local time (Italy is six hours ahead of Jamaica) except for the final round on November 22 which will start earlier at 2:00 pm to facilitate the closing ceremony.
Over three hundred players from more than fifty (50) countries are participating in the event. This is the first time that Jamaica is being represented in this prestigious tournament, another sports landmark for the country.
Jamaica'sparticipation was made possible by sponsorship from the Sports Development Foundation ("Developing the Nation throughSports"), Supreme Ventures Limited("Gamespeople love to play…and more"), General Accident Insurance Company Limited, Kasparov Chess Foundation, the JCF and the Magnificent Chess Foundation("Building a nation of thinkers").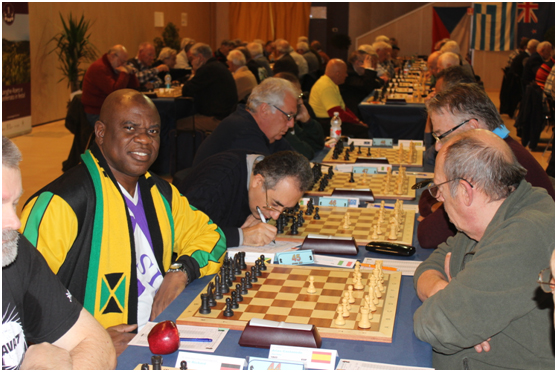 Ian Wilkinson QC (L), Jamaica's reigning Veterans Champion, is draped in Jamaica's national colours, before his round 4 victory against Italy's FM Federico Ciribasi who has just played 1.e4!.
Jamaica Chess Federation
2015 November 13