Back to Senior National Champs Tournament Page
THE MAGICIAN IS THE NEW VETERANS CHESS CHAMPION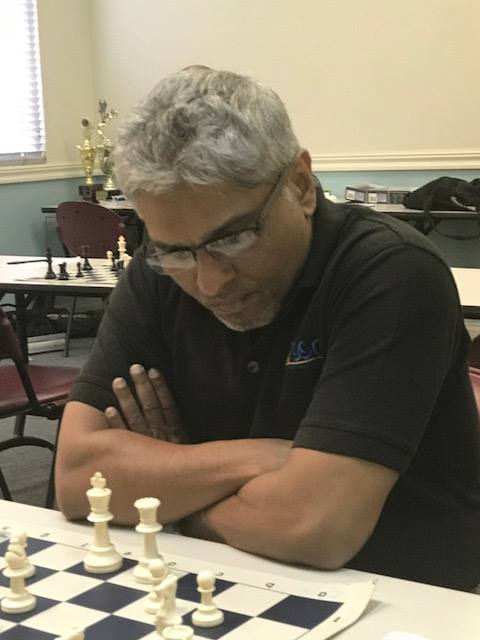 THE MAGICIAN IS THE NEW VETERANS CHESS CHAMPION
FIDE Master (FM) Shane 'The Magician' Matthews, signaled his return to active chess, when he secured his first hold on the title of Veteran Chess Champion, after the final round of the Seniors and Veterans Championship, which ended last weekend at the Headquarters of the Jamaica Olympic Association (JOA).
After eight rounds of play 'The Magician,'who has been known to get out of seemingly impossible situations on the chessboard, finished undefeated on 7 points with 6 wins and two draws.Throughout the tournament, Matthews drew on the vast experience he garnered in winning seven National Championship titles, to finish atop one of the strongest Veterans fields to date.
National Master (NM) Geoffrey Byfield and defending Veterans Champion QC Ian Wilkinson, both finished close behindin second and third with 6.5 points and 5.5 points respectively.
In the Seniors category, International Arbiter (IA) and Candidate Master(CM) Robert Wheeler successfully defended his title, churning out 5 points from 8 rounds. Wheeler also placed fourth  in the combined event, only conceding victory to Veteran Eton Chin in the final round.Wheeler, a six-time National Chess Champion of Jamaica, fought with great tenacity tostave off his much younger rivals, including two thrilling draws against more fancied opponents in Byfield and Matthews. This kept him in contention for a podium finish in the Veterans event up to the final round.
Finishing second in the Seniors event was former Jamaica Chess Federation (JCF) President and JCF founding father Frederick Cameron, who ended on 1 point.
Both Matthews and Wheeler will represent Jamaica at the World Senior Chess Championships in AcquiTerme, Italy in November 2017.
The Veterans' Championship is staged annually for players 50 years of age and over alongside the Seniors Championship for players 65 and over, in honour of Jamaica Chess Federation founding father William Roper.
This year's staging was sponsored by the Sports Development Foundation, the Kasparov Chess Foundation, the JOA and the JCF.
END