senior chess championships in italy
BITTER-SWEET ROUNDS FOR JAMAICA AT THE WORLD SENIOR CHESS CHAMPIONSHIPS IN ITALY!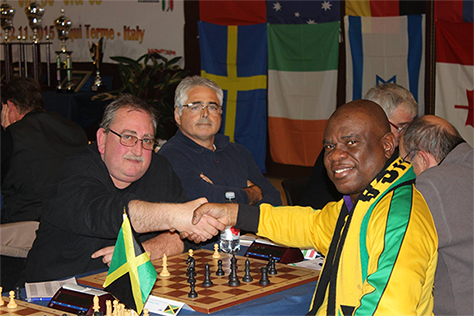 Italy's Federico D'aste (L) shaking hands with Jamaica's Ian Wilkinson after their game.
ROUND 5 AND 6
The last three rounds have been "bitter-sweet" for Jamaica at the 25th World Senior Chess Championships being held in Acqui Terme, Italy November 9-22, 2015
In rounds 5 and 6 in the 65 years old and over section (played November 14 and 15, respectively), the calm ("tranquilo") CM Robert Wheeler, Jamaica's reigning Seniors Chess Champion, registered draws against Finland's Antti Pihlajamaki and France's Dominique Metras, respectively.
Jamaica Chess Federation ("JCF") President and reigning Jamaica Veterans Champion, Ian Wilkinson QC, suffered two disheartening set-backs in the 50 years old and over section, snatching defeat from the jaws of victory twice against Italians Marco Venturino (after Wilkinson was two pawns up) and Angelo Benazzo (Wilkinson missing a forced mate/win!).
ROUND 7 ACTION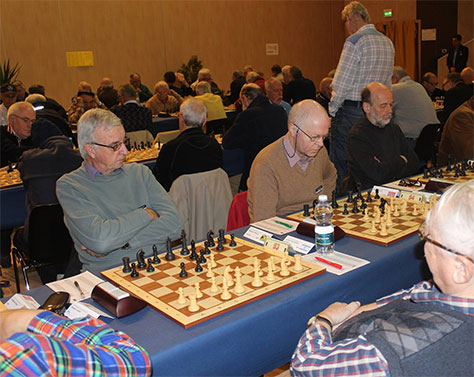 Jamaica's CM Robert Wheeler (L) facing Israel's Avraham Lotsov.
In today's round seven action, Wheeler fought doggedly with the black pieces in a French Defence (Tarrasch variation) but blundered in a promising position and eventually succumbed to Israel's Avraham Lotsov after 80 moves and five hours play. Wheeler will have the white pieces in tomorrow's 8th round against Ireland's Patrick Daly. .
Yesterday's rest day served Wilkinson well as he rebounded in today's 7th round, renewing his love for "Italian cuisine", by wielding the black pieces in a Modern Defence to defeat yet another Italian Federico D'aste in 35 moves in just under three hours. Prior to today's round, Wilkinson had played four games of five hours or more against four different Italians!
In tomorrow's 8th round Wilkinson will have the white pieces against the higher rated Brazilian Roberto Sopko.
The championships are being staged by the Italian Chess Federation (Federazione Scacchistica Italiana) in association with FIDE and will be held over eleven rounds at a time control of forty moves in ninety minutes with thirty minutes to complete the game. There are increments of thirty seconds per move from the first move.The respective winners will be awarded the title of International Chess Grandmaster. The games start at 3:00 pm local time (Italy is six hours ahead of Jamaica) except for the final round on November 22 which will start earlier at 2:00 pm to facilitate the closing ceremony.
Over three hundred players from more than fifty (50) countries are participating in the event. This is the first time that Jamaica is being represented in this prestigious tournament, another sports landmark for the country.
Jamaica'sparticipation was made possible by sponsorship from the Sports Development Foundation ("Developing the Nation throughSports"), Supreme Ventures Limited("Gamespeople love to play…and more"), General Accident Insurance Company Limited, Kasparov Chess Foundation, the JCF and the Magnificent Chess Foundation("Building a nation of thinkers").
Jamaica Chess Federation
2015 November 17