2018 ABSOLUTE NATIONAL CHAMPIONSHIPS
FM Damion Davy Recaptures National Champion Title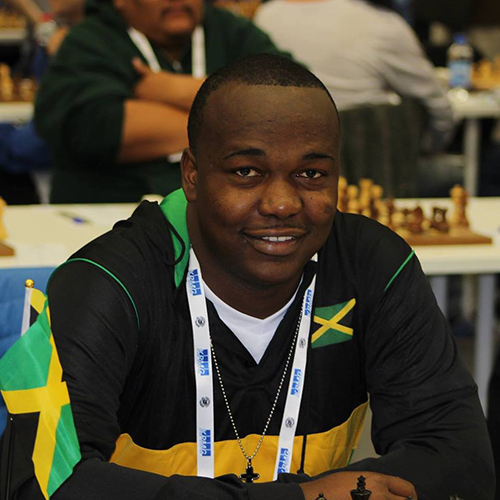 The 2018 Absolute National Chess Championship came to a thrilling conclusion last weekend at the Christar Villas Hotel with Fide Master (FM) Damion Davy capturing his fourth national title. This year's championship was a true spectacle with the standings coming down to the wire in the last round, as players fought valiantly for the title and a possible spot on the national team which will participate at the 43rd Chess Olympiad later this year in Batumi, Georgia.
FM Davy, who took the tournament lead from as early as round 4 in the 11-round tournament, never let go of his position, and secured the national title with a round to spare. While the national title was secure, Davy still played his last game against National Master (NM) Stuart James carefully, and drew in 22 moves after a 3-move repetition. This gave him an 8.5 point finish undefeated, while his opponent, NM James, finished in fifth place with 6 points.
Defending Champion had rough start
The 2017 champion, and newly titled Candidate Master (CM) Shreyas Smith couldn't reproduce his performance of last year, and finished tied on second after suffering some unexpected losses to Raheem Glaves and NM Akeem Brown early on in the tournament. CM Smith fought until the end, with his final game against NM Paul Brooks also being a tricky affair. The game constantly swung in each player's favour due to time trouble experienced on both sides, along with positional complications. After 4 hours and 38 minutes and 69 moves, both players agreed to a draw, in what was the longest game of the final round of the tournament. Both CM Smith and NM Brooks finished on 6.5 points, with Smith placing second overall, and Brooks fourth after tiebreaks.
Lorne moves up stealthily
After a lacklustre start, being on only 1 point after 5 rounds of play, FM Malaku Lorne made a remarkable recovery and surged until the end, finishing on 5.5 points from the next 6 games, to finish tied second overall on 6.5 points. His final game against NM Brown displayed his passion for an aggressive game, accurate play and calm demeanour despite the stakes at hand. This final victory put FM Lorne on third place after tiebreaks, secured his spot on the National team, and put NM Brown tied at tenth place with 4 points.
Other notable performances
The 4-time national champion CM Duane Rowe finished his return to Jamaica on a high after defeating young FM Joshua Christie in his specialized line of the Benoni defence. He left no room for error and won after FM Christie resigned at move 45. Apart from finishing tied for seventh (eighth on tiebreaks) with 5.5 points, CM Rowe was also the only player to defeat the solid play of NM Stuart James in the tournament. James will come out of the tournament with a FIDE rating over 2000 after his solid performance, as will NM Paul Brooks for his impressive play.
FM Joshua Christie could be touted as the tournament's most decisive player given that he did not draw a single game. Although his dream of making the National team this year was crushed, the rising star had a respectable performance overall, and tied for fifth place (sixth on tiebreak) on 6 points.
Another rising star, Raheem Glaves, who is yet to achieve a title, had a tournament start that could be described as nothing short of astounding. Beginning the tournament as the lowest rated player, Glaves showed his potential by upsetting several experienced players, and also achieving the 'live' National Master rating during the tournament. This trajectory came to a halt however, and Glaves lost his final 4 games to the FM's and NM Kevin Merritt, which led to a 5.5 point finish in seventh place. Despite a disappointing end to the tournament, this was Glaves' first time competing in the Nationals, and one can only expect greater things to come.
The final standings for the championship is as follows:
FM Damion Davy (8.5 points)

CM Shreyas Smith (6.5 points)

FM Malaku Lorne (6.5 points)

NM Paul Brooks (6.5 points)

NM Stuart James (6 points)

FM Joshua Christie (6 points)

Raheem Glaves (5.5 points)

CM Duane Rowe (5.5 points)

NM Kevin Merritt (5 points)

NM Akeem Brown (4 points)

NM Andrew Wallace (4 points)

Malik Curriah (2 points)
The sponsors of the 2018 Absolute National Chess Championship included the Sports Development Foundation, Jamaica Olympic Association, Christar Villas Hotel and Magnificent Chess Foundation.
Pictures attached:
FM Damion Davy, the 2018 National Champion of Jamaica

FM Davy faces NM James in final round

Defending Champion CM Shreyas Smith faces NM Paul Brooks in 11th round for a draw and 2nd place.

FM Malaku Lorne secures 3rd place and spot on National Team.

END