2018 national chess championships
Nathan Hinds captures inaugural Humphrey Gayle Memorial Chess tourney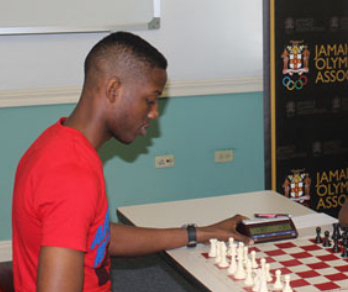 After six rounds, the 2018 Humphrey Gayle Memorial Candidates Chess Tournament (HGM) came to a close at the Jamaica Olympic Association recently, with Nathan Hinds finishing on four points.
Hinds had the goal of finishing undefeated in his final-round game against another Nathan - the talented junior Nathan Belinfante. With Belinfante trailing by a half point, this game was the climatic finale of the event, with the result deciding the overall winner of the tournament. What started out as a quiet line of the Semi-Slav soon evolved into a battle for the open file and superiority over central squares. After the smoke cleared the game was drawn at move 41, with opposite coloured bishops and no progress from either side. This allowed Hinds to win the title and continue his excellent performance for the year so far.
The other game between Michael Diedrick and Andre Soares was over in a heartbeat after Soares made a miscalculation in his accelerated dragon variation. Diedrick capitalised on this error which resulted in a 19-move win after Soares resigned in the face of losing one of his pieces. This victory catapulted Diedrick to the same 3.5 points as Belifante with the former placing second on tiebreak due to more victories in the event. Soares finished in fourth place on one point after returning to chess from an almost two-year hiatus.
The HGM was a closed double-round robin tournament, with each person playing their opponent twice in the event. It was open to players without a title who had a Jamaica Chess Federation rating between 2001 and 2099.
This tournament which was previously called the Council Candidates tournament was renamed in honour of the Jamaican Olympian, legend and 'Stonewall' proponent Humphrey Howard Gayle who passed away in 2016. Gayle's achievements for chess in Jamaica were numerous.
He represented Jamaica at the Olympiad in Greece in 1998. He was a vice-president of the Kingston and St Andrew Chess Association, and he served in helping the Jamaica Ambassadors Chess Academy get more of Jamaica's players internationally rated and to become National Masters. He was also awarded several JCF Awards including most active player in 2001, and during this year also captured what was known as the Easter Open.
The sponsors of the tournament included the Sports Development Foundation, Jamaica Olympic Association, and Magnificent Chess Foundation.

END