2018 national high school chess tournament
St. Jago Underline Chess Royalty Status
http://jamaica-gleaner.com/article/sports/20180306/st-jago-underline-chess-royalty-status
St. Jago Underline Chess Royalty Status
Published by Jamaica Gleaner:Tuesday | March 6, 2018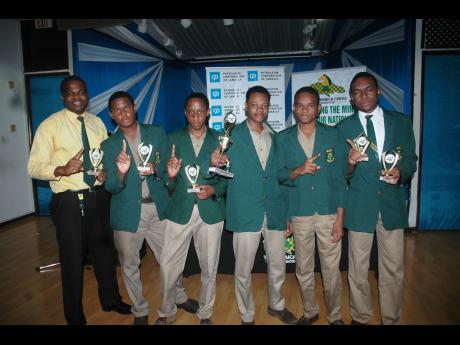 The Absolute 2018 All Island High School Chess Tournament champions from St Jago High School (from left), team coach National Master Mikhail Solomon, Tajae Morgan (board 4), Jaleel Thorpe (reserve), National Master Akeem Brown (board 2) FIDE Master Joshua Christie (board 1) and Michael Christie (Board 3), pose with their trophies at the Petroleum Corporation of Jamaica auditorium in New Kingston after their victory for a fifth consecutive year and nine titles overall last week.
History was made in Jamaica last week as one school triumphed both at the Dr Hope Anderson All Island High School Girls Chess Tournament and the Absolute All Island High School Chess Tournament.

The teams from St Jago High School were dramatically crowned chess kings and queens for the 2018 high school chess season, all within four days.
Both events are fully sponsored by the Petroleum Corporation of Jamaica (PCJ), who provided the venue, trophies, and cash prizes for these tournaments, with all games being played inside the PCJ auditorium in New Kingston.

Comprised of Woman Candidate Master Adani Clarke, Johmoi Blake, and Jeshana Vincent, and playing six rounds of chess over two days in two weeks, the St Jago High girls' team dethroned Campion College, who had held the title since the inception of the tournament in 2016.
The St Jago High School girls ended with the same scores as Campion College, and were declared the victors based on the tiebreak for the tournament.
The St Jago team was entering the Girls Chess High School Tournament for the first time, and was up against 14 teams from 10 schools.

Campion College, coached by National Master Ryan Blackwood, came second, and Wolmer's Trust High School for Girls, coached by National Master Russell Porter, placed third.
The victory for the girls was a perfect set-up for the fourth consecutive title-defence encounter for St Jago High in the Absolute High School Chess Tournament, where St Jago had an A and B team, which included Clarke and Blake from the champion girl team.
Intense Chess
The Absolute St Jago A team of FIDE Master Joshua Christie, National Master Akeem Brown, Michael Christie, Tajae Morgan, and reserve Jaleel Thorpe were unbeaten in six rounds of intense chess last Thursday and Friday, playing amongst a field of 16 teams from 10 schools that made it to the final round.
Critical results on St Jago's trek to the top were the 4 - 0 trouncing of Campion College in Round 4 and then the 2 - 2 draw against St Catherine Neal (St Catherine High), who had drawn with Wolmer's A earlier and had to beat St Jago to remain in contention for the title. St Catherine High, coached by Troy Leachman, placed second, and Excelsior High School, coached by Equittable Brown, came third.
This 2018 win by the St Jago High Absolute team further cements their pedigree in the annals of Jamaican high school chess history. They are the winningest school, with nine titles. Next in line is Campion College, with seven. They have five consecutive wins, which surpasses Jamaica College, who have four, and they are the first school to enter and win the title with a mixed team. Next to achieve this was Campion College. St. Jago are also the first to field two national masters on a single team and the first team to have a internationally rated FIDE master.

END