jamaica chess federation 2018 olympiad
Related Links
Back to Olympiad Tournament Page
JAMAICA REGISTER "PERFECT" WINS IN SECOND ROUND PLAY AT 43RD CHESS OLYMPIAD IN BATUMI, GEORGIA
By Ian Wilkinson QC

The Jamaican Male and Female Olympiad chess Team rebounded from a round one loss to Peru and and England respectively , to beat defeat both the Gambia's Male and female chess team.
At approximately 7 pm local (Batumi, Georgia) time after roughly 4 hours of play, Jamaica's FM Ras Malaku Lorne defeated Gambia's CM Ousainou Garber to complete Jamaica's 4-0 rout of the men from Banjul!
Earlier Jamaica's Women's chess team had quickly dispatched their Gambian opponents by the same margin (4-0) as the chess gladiators from the "land of wood and water" rebounded from their first round losses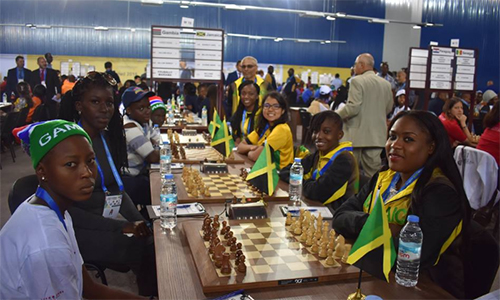 Jamaica, represented by a 17 member delegation, is currently participating in the the 43rd World Chess Olympiad in Batumi Georgia. The delegation, which includes, A male and Female Chess team, departed the Island on September 21, 2018. Two of Jamaica's promising young players AULANNI KIDD and MALIK CURRIAH are also included in the delegation and will be attending the Olympiad as researchers and "assistant coaches.
The Full Delegation includes;
ABSOLUTE/OPEN TEAM
1. IM JomoPitterson (Captain/Coach)
2. FM Warren Elliott;
3.FM Malaku Lorne;
4.FM-elect Shreyas Smith;
5.FM Joshua Christie
6)CM Duane Rowe
WOMEN'S TEAM
7.IM-elect Shane Matthews (non-playing Captain/Coach)
8. CM Rachel Miller,
9.WCM-elect Krishna Gray
10.WCM Ariel Barrett
11.WCM Margoe Williams
12.WCM Adani Clarke
13. Terence Lindo, Manager and Head of Delegation,debuting in this capacity at an Olympiad.
14. Ian G. Wilkinson QC (the President of the Jamaica Chess Federation - JCF), who is the JCF's Delegate to the World Chess Federation ("FIDE") Congress - the "United Nations of Chess".
15. International Arbiter ("IA") Donald Miller (who will debut as an arbiter at the Olympiad, replacing the convalescing IA Robert Wheeler)
16. AULANNI KIDD, Researchers and Assistant Coach
17. Malik Curriah, Researcher and Assistant Coach
This prestigious tournament, the chess world's marquee team event, will be held between September 23 and October 6. Expectations are high for a grand opening ceremony on the official commencement day - September 23.
Ian G. Wilkinson QC..
President, Jamaica Chess Federation
(Jamaica'sDelegate to FIDE General Assembly)
Press Centre, Sports Palace
Batumi, Georgia.
2018 September 25