jamaica chess federation 2018 olympiad
Related Links
Back to Olympiad Tournament Page
JAMAICA'S WOMEN "UPSET" NIGERIA AT 43RD WORLD CHESS OLYMPIAD IN BATUMI, GEORGIA
By Ian Wilkinson QC
REPORT FOUR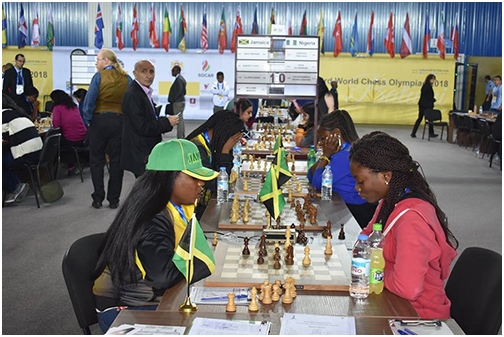 5.Jamaica-vs Nigeria in above picturw; (In foreground on the Left is WCM Margoe Williams)
On Thursday, September 27 Jamaica's Women's team registered its second win after four rounds with a 4-0 demolition of the much higher rated Nigerian team. The women from "..the land of wood and water" rebounded from their loss to Tajikistan in the previous round behind wins from Krishna Gray, Ariel Barrett, Adani Clarke and Margoe Williams, respectively. The margin of victory was especially surprising as Marcus Garvey's young women were outranked on all four boards. Jamaica will next face the tough, higher rated Dominican Republic in round 5 on Friday September 28 before Saturday's rest day.

Jamaica Absolute Team go down 3-1 to South Africa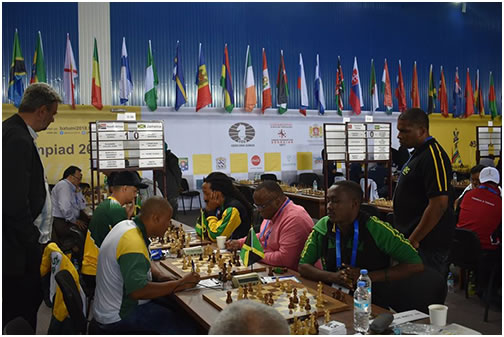 Jamaica's men did not fare as well succumbing 1-3 to South Africa, Nelson Mandela's men notching two wins and two draws. CM Duane Rowe and FM Malaku Lorne spared the Jamaicans' blushes with the said draws. The "Reggae Chess Ambassadors" were losing their second match in a row after a third round loss to Turkmenistan and will face Rwanda in round 5.


Jamaica, represented by a 17 member delegation, is currently participating in the the 43rd World Chess Olympiad in Batumi Georgia. This prestigious tournament, the chess world's marquee team event, will be held between September 23 and October 6, 2018


Batumi will host teams from 150 nations in both an Absolute and Women's tournament. Members of the Absolute team include FM Warren Elliott, FM Joshua Christie, FM Malaku Lorne, CM Duane Rowe and CM Shreyas Smith, with Team Captain being IM Jomo Pitterson. Members of the Women's team include Krishna Gray, WCM Ariel Barrett, WCM Margoe Williams, WFM Rachel Miller, Aulanni Kidd and Team Captain FM Shane Matthews. Other members of the delegation include Terence Lindo (Head of Delegation) and Ian Wilkinson QC, Fide Delegate and President of the Jamaica Chess Federation.

Jamaica's participation in the Chess Olympiad is made possible by sponsorship from the Government of Jamaica through the Sports Development Foundation; the Jamaica Olympic Association; the Jamaica Tourist Board; and Magnificent Chess Foundation.

Ian G. Wilkinson QC (President, Jamaica Chess Federation)
2018 September 28
Sheraton Hotel, Batumi, Georgia
SEE OTHER PICTURES BELOW;
2.Jamaica-Tajikistan -Captain IM Shane Matthews watching;






3. Jamaican Females vs Tajikistan;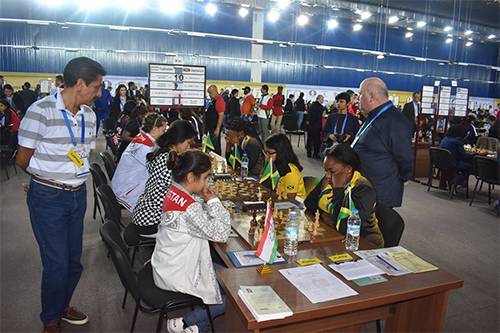 4.Jamaica-Turkmenistan;



5. Jamaica(absolute male team) vs Turkmenistan - Captain IM Jomo Pitterson looks on;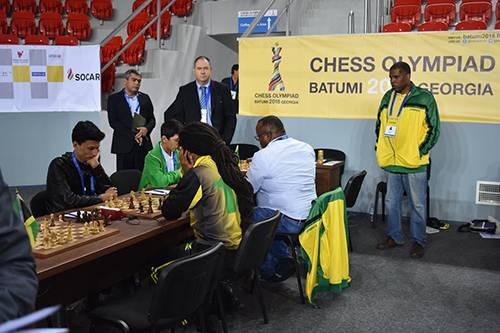 6.Jamaica(absolute male team) vs -South Africa;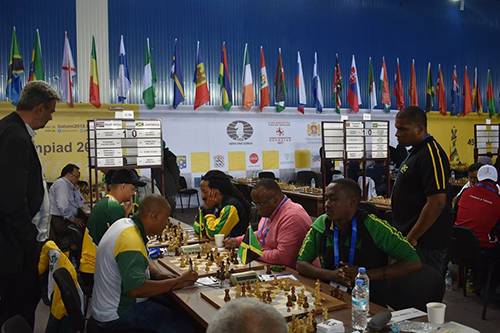 7.Jamaica-S.Africa - Lorne makes a move while Rowe draws;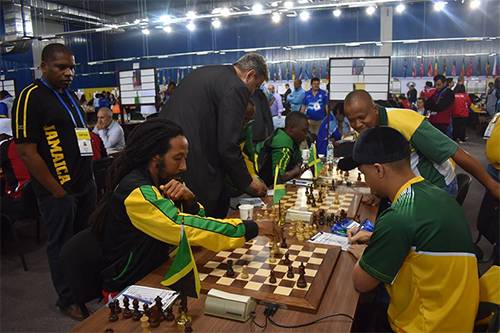 8.Jamaicans in the Expo Centre;(L-R is Im Jomo Pitterson, WCM Krishna Gray,
Margoe Williams, Adani Clarke, Aulanni Kidd and WCM Ariel Barrett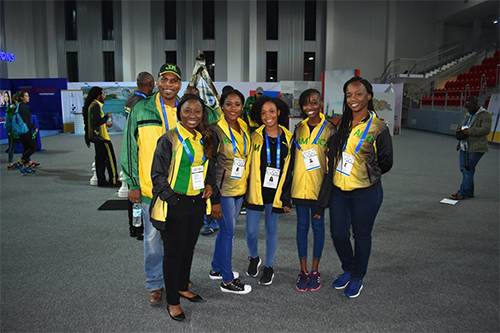 9. Ian Wilkinson QC, Fide Delegate and President of the Jamaica Chess Federation. in the Press centre.