jamaica chess federation 2018 olympiad
Related Links
Back to Olympiad Tournament Page
JAMAICA DOMINANT IN ROUND 5 OF 43RD CHESS OLYMPIAD - BATUMI, GEORGIA!!
By Ian Wilkinson QC
REPORT FIVE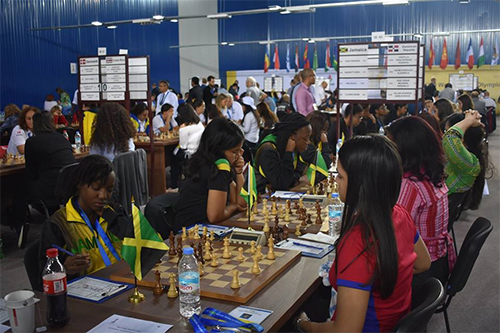 5.Jamaica-vs Dominican Republic in above picture; (In foreground on the Left is WCM Adani Clarke)
WOMEN SCORE FIGHTING VICTORY!!
Both Jamaican teams were successful in frenetic round 5 action at the 43rd Chess Olympiad in Batumi, Georgia. The women's team defeated its second straight higher rated opponents, the Dominican Republic 2 1/2 - 1 1/2 with WCM - elect Krishna Gray (the reigning Jamaica Women's champion), CM Rachel Miller and debutante WCM Adani Clarke all drawing on boards 1, 3 and 4, respectively.

The "young veteran" WCM Ariel Barrett brought home the spoils on board two with a commanding performance with the black pieces to vanquish WCM Elizabeth Gonzalez.
Jamaica's Caribbean female neighbours did not fare as well. Bahamas lost 1-3 to Paraguay; Guyana perished 1-3 against Tunisia; Barbados succumbed to Netherlands Antilles 1-3; and Trinidad & Tobago lost 3 1/2 - 1/2 to South Africa.
Jamaica, with a starting rank of 99, has soared to 66 (!) on 6 points The 150-team section is led by the USA (10), with China and Ukraine rounding out the podium positions on 9 points each.
After Saturday's rest day the event will enter its second half with Sunday's 6th round where Jamaica will face Bangladesh (rated 60!).
The reward for success is a tough team but as Jamaicans would say - "ah dat we want"!!
MEN SCORE SECOND VICTORY
Former National champion and newly minted FIDE Master ("FM") Shreyas Smith notched his first victory as Jamaica routed Rwanda 4-0. FM Warren Elliott, FM Malaku Lorne and CM Duane Rowe also entering the winners' enclosure against outclassed opponents from Kigali.
With a starting rank of 109 (of 185 countries) the men are now # 140 and have a lot of work to do to climb the standings. They will face Mauritius in round 6.
Jamaica's participation in the 43rd Chess Olympiad has been made possible via sponsorship from the Government of Jamaica through the Sports Development Foundation; the Jamaica Tourist Board; the Jamaica Olympic Association and Magnificent Chess Foundation.
GEORGIA "TIDBIT": Georgia lies in the Caucasus region and is bounded to the west by the Black Sea, to the north by Russia, to the south by Turkey and Armenia, and to the southeast by Azerbaijan. It covers roughly 69,700 square kilometres (26,911 square miles) and has a population of roughly 3.8 million persons.
.
Ian G. Wilkinson QC
President Jamaica Chess Federation
(Jamaica's Delegate to the FIDE Congress/General Assembly - the "United Nations of Chess").
2018 September 28
(Sheraton Hotel, Batumi, Georgia)