jamaica chess federation 2018 olympiad
Related Links
Back to Olympiad Tournament Page
JAMAICA STUPENDOUS AT 43RD CHESS OLYMPIAD  IN BATUMI, GEORGIA
By Ian Wilkinson QC
REPORT 6
JAMAICA STUPENDOUS AT 43RD CHESS OLYMPIAD  IN BATUMI, GEORGIA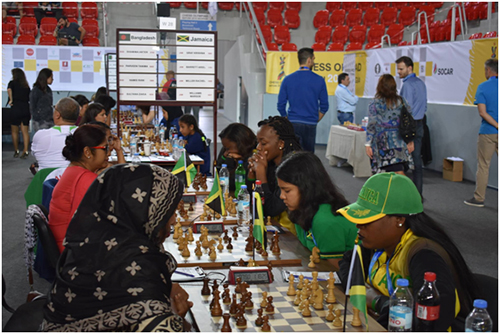 Jamaica had yet another unbeaten day at the 43rd World Chess Olympiad being held in Batumi, the second largest city in Georgia, once part of the former Union of Soviet Socialist Republics (USSR).
As play returned in today's sixth round, after yesterday's rest day, Jamaica's "Chess Queens" played stupendously to draw 2-2 with Bangladesh - a team ranked 39 places ahead of the West Indians!
The first game to end was on board 3 where Jamaica's CM Rachel Miller lost a Ruy Lopez to the 74 year-old legend WIM Rani Hamid.

WCM Ariel Barrett (former Jamaica Women's champion) deployed the English opening magnificently on board 2 to level the match by crushing WFM Tanima Parveen. The Jamaican's emphatic win in 30 moves was particularly impressive as her opponent is rated more than three hundred (300) points) above her!! That is akin to a flyweight boxer defeating a heavyweight!

WCM-elect Krishna Gray, the reigning Jamaica Women's Champion, played enterprisingly in a Queen's Gambit Declined on the top board to draw an exciting game against WIM Akter Shamima rated an astronomical 459 (!!) points over her. A fantastic effort by the Jamaican Champion.

In the last game of the match WCM Margoe Williams also fought hard for her country, defending her Queen's pawn opening stoutly against WFM Zakia Sultana's attack before taking the initiative. A draw was accepted when the lady from Dacca made the offer after her 52nd move. Again, this was a strong performance from Williams who was out-rated by 221 points!
JAMAICAN FEMALES  MOVE UP IN RANKINGS AND NOW FACE FRANCE IN ROUND 7
With this result Jamaica's female chess team  continues to move up in points and rankings and the females now stand on seven (7) match points and 12 ½ board points. After starting ranked # 99, Jamaica is now # 63 in the standings of 150 countries. This is the same number of points as "traditional" chess countries such as England (position # 39), France (# 40) and Spain (# 41), just to name a few.
The Jamaicans will face France who started the competition as the seventh ranked country.
Three teams are tied on 11 points atop the leaderboard. They are the USA, Georgia # 1 and Armenia. In round 7 Armenia will face USA and Georgia # 1 will face India (10 points).
JAMAICA'S MEN DISH OUT 4-0 DRUBBING!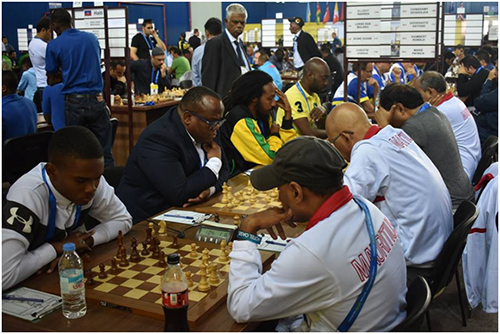 In the Open section Jamaica's men notched their third 4-0 victory, this time their victims were Mauritius, after wins by FM Warren Elliott, FM Ras Malaku Lorne, CM Duane Rowe and FM Joshua Christie, on boards 1-4, respectively.
Jamaica is now on 6 match points (13 board points) and # 107 of 185 countries. In tomorrow's 7th round they will face Palestine.
This section is being led jointly by Azerbaijan and Poland tied on 12 points. They will face each other in a big round 7 clash. The defending champion USA is in clear third on 11 points and will battle Croatia (10) next.
JAMAICA'S SPONSORS
Jamaica's participation in the 43rd Chess Olympiad has been made possible via sponsorship from the Government of Jamaica through the Sports Development Foundation; the Jamaica Tourist Board; the Jamaica Olympic Association and Magnificent Chess Foundation.

Ian G. Wilkinson QC
President Jamaica Chess Federation
(Jamaica's Delegate to the FIDE Congress/General Assembly - the "United Nations of Chess")
2018 September 30