jamaica chess federation 2018 olympiad
Related Links
Back to Olympiad Tournament Page
JAMAICA'S WILKINSON MADE HONORARY VICE-PRESIDENT OF WORLD CHESS FEDERATION
RELEASE: JAMAICA CHESS FEDERATION
JAMAICA'S WILKINSON MADE HONORARY VICE-PRESIDENT OF WORLD CHESS FEDERATION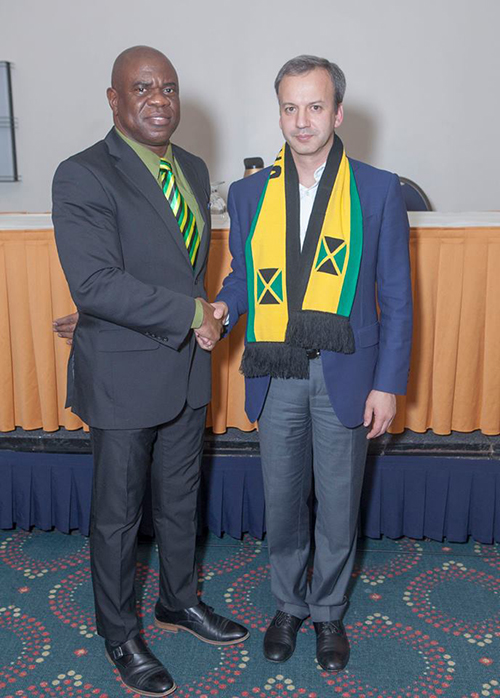 Ian G. Wilkinson QC, the long-time President of the Jamaica Chess Federation (JCF), made history for Jamaica on Thursday October 4, 2018 when he was made an Honorary Vice-President of the World Chess Federation (FIDE) during the FIDE General Assembly held in Batumi, Georgia.
Wilkinson's appointment by Arkady Dvorkovich, a day after the Russian was elected the new president of FIDE, was ratified by the FIDE General Assembly. FIDE has 189 members. The Jamaican will now sit on the Presidential Board with a number of persons including executive officers and presidents of various continental associations.
Dvorkovich, a former deputy Prime Minister of Russia, was the head of Russia's Organizing Committee for the immensely successful 2018 FIFA World Cup, widely regarded by many as the best ever. He had visited Jamaica on July 30 as part of his campaign for the FIDE presidency. Wilkinson, Jamaica's delegate to the FIDE Congress, supported Dvorkovich after the Executive Council of the JCF voted to do so.
During the said sitting of the General Assembly Wilkinson was also entrusted with another important position. He was elected to serve on the Constitutional Commission of FIDE, a crucial arm of the governing body of chess. Of more than twenty persons seeking appointments to several Commissions, Wilkinson was the only candidate who was elected on the first day of voting, having received more than fifty percent of the votes cast.
October 5, 2018