2023 harold chan chess open
Register- Report 1 - - About Dr. Harold Chan
RAEHANNA BROWN WINS HAROLD CHAN CHESS OPEN
REPORT 2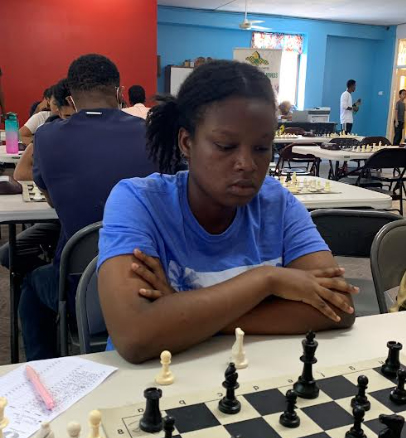 FOR IMMEDIATE RELEASE
October 09, 2023
Contact: Mark Cameron or Richard Shaw
Jamaica Chess Federation
www.jamchess.com
PRESS RELEASE – WOMAN CANDIDATE MASTER RAEHANNA BROWN WINS NM DR. HAROLD CHAN CHESS OPEN 2023
Kingston, Jamaica – One of Jamaica's leading players, Woman Candidate Master (WCM) Raehanna Brown handily won
the NM Dr. Harold Chan Open Chess Tournament this past weekend with an excellent 5.5 points. The six round
tournament was played from September 30 to October 1. Jhustice-Dimonte McDonald finished in second place on tie-
break with an impressive 4.5 points, and third belonged to John Stephenson, who also finished with 4.5 points. Fourth
and fifth places went to FDE Master (FM) Raheem Glaves and Geordan Sinclair who both gained 4.0 points.
In the Open section, Brown's only setback was a draw in the final round with second finisher, McDonald. The section
provided several hotly contested matches, with a few upsets.
The exciting U1600 Intermediate Section was won by Zuberi Edwards with 5.5 points. Second place went to Terence
Lindo on tie break with 4 points, followed by Kaia Gayle and Arena Candidate Master (ACM) Christopher Davis, who both
also finished with 4 points.
The U1300 Absolute section was very competitive, with Maurice Gayle emerging victorious with a perfect 5 points from
5 games. Ajani McClean was second with 4.5 points. Third place on tie break went to Brian Thompson, who finished with
4 points, followed by Alwyn Sterling, Simon Lamm and Nathan Smith, who all finished with 4 points.
The U1300 Female Section, played over 5 rounds produced several outstanding winners. They are as follows:
1st place: Victoria Aung – 4.5 points
2nd place: Elisha Patel – 4 points
3rd place: Tsahai Clarke – 4 points
4th place: Emilia-Rose Leake - 3.5 points
This tournament with approximately 100 participants is named in honour of a Jamaican chess pioneer and one of our greatest champions. Dr. Harold Chan, a five (5) time Jamaica Chess Champion, who was one of Jamaica's first National Masters and one of the Founders of Jamaican Chess. Originally from Guyana, he settled in Jamaica and studied to become a Pathologist at the University of the West Indies.
Jamaica Chess Federation Chair of the Tournament Committee, FM Warren Elliott commented, "It was a great event.

Congratulations to the winners. Special thanks to the Tournament Committee, Arbiters, and other JCF Executive members who offered support and assistance in different ways, to ensure a successful tournament."
REPORT 1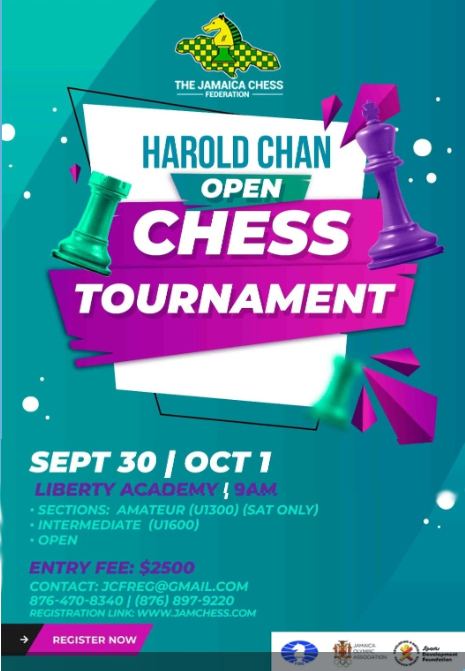 Jamaica will host its annual "Harold Chan Chess" Open in honor of one of the Jamaica Chess Federation's legendary players, and one of the first ever National Chess masters.
The Tournament, formerly called the Summer Open, was renamed in 2003 in honour of the Guyanese-born, now deceased, medical practitioner who, along with the late National Master Robert Wheeler and the late Thomas Figeroa, became Jamaica's first-ever National Masters in 1975.
The NM Dr. Harold Chan Open 2023 will have three sections and be played OTB (Over-The-Board) at The Liberty Academy in Kingston, Jamaica.
Open Section (FIDE Under 2400): Saturday, September 30th to October 1st, 2023 at 9:00am
Time Control: Game in 60 minutes + 30 seconds Increment from move 1 (6 Rounds)
Saturday 3 Rounds, Sunday 3 Rounds.
Intermediate Section (FIDE Under 1600): Saturday, September 30th & October 1st, 2023 at 9:00AM
Time Control: Game in 40 minutes + 30 seconds Increment from move 1 (6 Rounds)
Amateur Sections (Under 1300 ABS & FEM) : Saturday, September 30th- 9:00AM (One day)
Time Control: Game in 30 minutes + 30 seconds Increment from move 1 (5 Rounds)
For queries, contact Tournament Chairman FM Warren Elliott (876) 470-8340, Chief Arbiter Malaku Lorne, at (876) 897-9220 or email jcfreg@gmail.com Entry fee and JCF Membership will be required. If your membership is not paid up, you can pay the non-member entry fee. E-mail required is for the PLAYER
Doctor Chan, whose favourite chess player was Grand Master Alexander Alekhine, also won the Jamaica National Chess Championship titles from 1972-74, and 1978-79
Doctor Harold Chan in Picture below;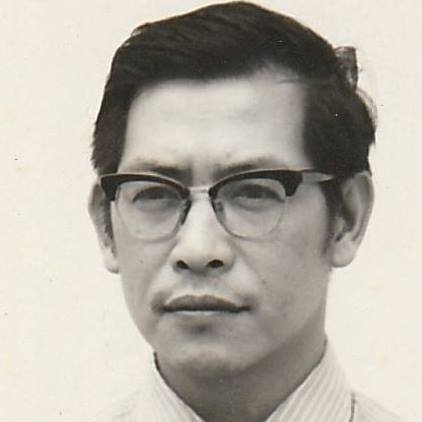 •