jamaica chess federation international tournaments
Back to International Tournaments / Download Invitation
28th PANAMERICAN YOUTH CHESS FESTIVAL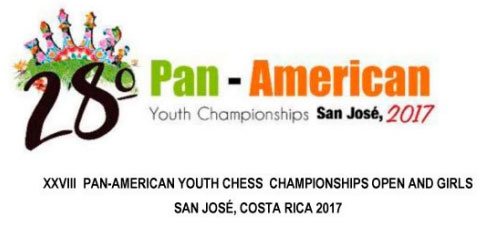 Today marks the final day of the 28th PanAmerican Youth Chess Championships being held in San Jose Costa Rica. A team of 5 Jamaicans are competing amongst close to 500 youth across 25 different countries from the PanAmerican region.
David Thomas on 5.5 points has a chance today, to capture a Top 3 spot and trophy in the Under 12 category in this prestigious event - known as the most competitive chess tournament for youth in the Western Hemisphere. David with a FIDE rating of 1492 faces Peruvian Diego Flores (otherwise known by his teammates as "The Beast") with a FIDE rating of 1881.
Going into the 9th and final round we also see Rachel Miller representing Jamaica in the Under 18 Female category with 4.5 points, Cameron Coe with 4 points in the Under 08 category, and Krish Khemlani and Kishan Clarke with 4 points each in the Under 10 category.
The 28th staging of the Pan American Youth Festival will take place in San Jose, Costa Rica June 30 to July 7, 2017.  The event brings together one of the largest and strongest contingents of young chess players (up to 18 years) in the Western Hemisphere.  This year the Costa Rican Federation will host GM Susan Polgar as the special guest for the event, a former women's world champion, and famous chess coach and author.  A series of workshops, simultaneous games and book-signings will be organised. ChessKid.com is one of the official sponsors. See details in PDF Invitation here..