robert wheeler open 2016
SUPREME VENTURES WILLIAM ROPER MEMORIAL (JAMAICA VETERANS CHESS CHAMPIONSHIPS
THE DEFENDING CHAMPIONS TIED AT THE TOP!!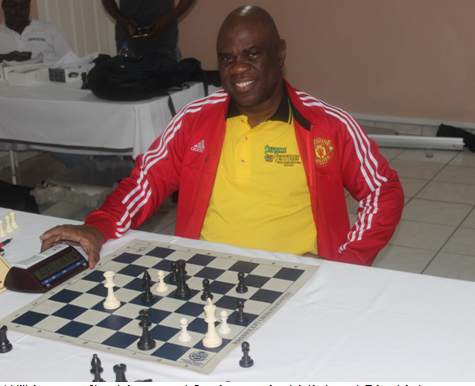 (Ian Wilkinson after his round 2 win against Michael Diedrick)
After four rounds of the 2016 Jamaica Veterans Chess Championships, the William Roper Memorial, there is a tense battle for first place. Tied at the top of the standings on 3.5 points after four rounds with three wins and a draw are Jamaica Chess Federation President Ian G. Wilkinson QC and World Chess Federation Candidate Master Robert Wheeler. The joint leaders drew their 3rd round clash in 54 moves after four hours of play, a blood-curdling clash that saw fortunes swaying back and forth as players and spectators stood rapt.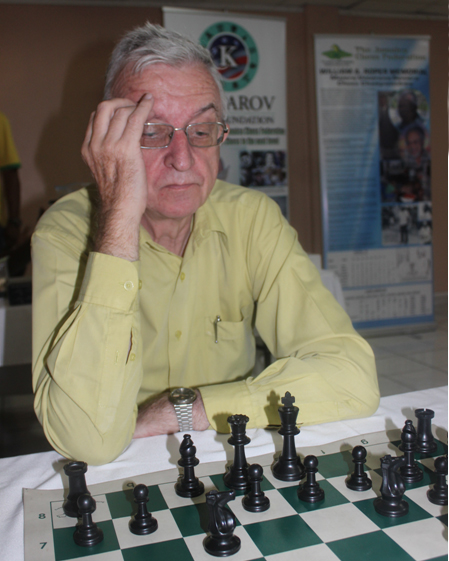 CM Robert Wheeler showing his class in the above picture
Wheeler, a six-time Jamaica Chess Champion, is the defending National Seniors Champion for players sixty-five years and older and the favourite to win the event. Wilkinson is the defending National Veterans Champion for players fifty years and older.
The remaining places are occupied by the experienced tactical wizard, Michael Diedrick (2/4); Terence Lindo (1.5/4); Eton Chin (1/4) and Markland Douglas (0.5/4);
In the fifth round set for 2:00 pm on Saturday, July 16 at the Medallion Hall Hotel, Diedrick faces Wheeler; Wilkinson tackles Lindo; and Douglas matches wits with Chin. The players with the white pieces are named first.
The tournament is a double round-robin over ten rounds with each player facing the other twice. The time control is game in 90 minutes with increments of thirty seconds per move from the first move. It runs from July 9 to 23, the first eight rounds at Medallion Hall Hotel and the last two rounds (July 23) at Shirley Retreat Hotel. The pairings, schedule and results can be found at the Federation's website (www.jamchess.com) or www.chess-results.com.
The winner will be Jamaica's official representative at the World senior Chess Championships set for the Czech Republic in November, 2016.
The event is sponsored by Supreme Ventures, the Kasparov Chess Foundation Association and the Medallion Hall Hotel.
Jamaica Chess Federation
2016 July 14