robert wheeler open 2016
SUPREME VENTURES WILLIAM ROPER MEMORIAL (JAMAICA VETERANS CHESS CHAMPIONSHIPS
WHEELER TRIUMPHS!!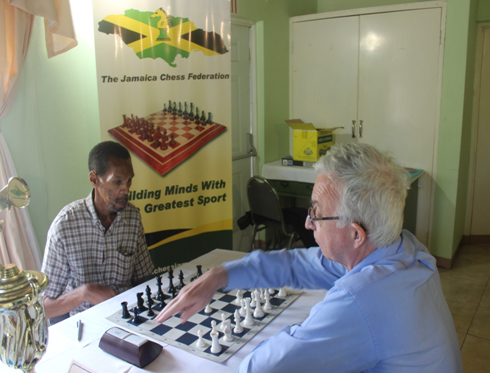 (CM Robert Wheeler (R) en route to victory over Michael Diedrick in their decisive final round game at Shirley Retreat Hotel on Saturday, July 23, 2016)
World Chess Federation Candidate Master Robert Wheeler won the 2016 Supreme Ventures William Roper Memorial Chess tournament that ended on Saturday, July 23 at the Shirley Retreat Hotel after two final, thrilling rounds.
Wheeler, the six-time Jamaica Chess Champion and defending Jamaica Seniors Champion, survived a difficult position in round 9 against Markland Douglas to salvage a draw. In the decisive final round Wheeler produced sparkling Chess to defeat co-leader Michael Diedrick to end on seven points from a possible ten.  Diedrick, who drew with Terence Lindo in round 9, ended on six points.
Ian Wilkinson, the defending Jamaica Veterans Champion and the only other person in with a chance of winning the event, faltered in round 9 with a loss to Eton Chin but rebounded with victory over Terence Lindo in the final round. He also ended on six points but in second place on tie-breaks ahead of Diedrick.
Eton Chin defeated Douglas in the final round to be clear fourth (five and a half points); Terence Lindo was fifth (four points) and Markland Douglas (one and a half points) took home the "wooden spoon".
By virtue of his victory Wheeler retained his Jamaica Seniors' title and qualified to be Jamaica's official representative in the 65 + year-old section at the World Seniors Chess Championships set for the Czech Republic in November, 2016.
Wilkinson and Diedrick will contest a four-game play-off match for the Jamaica Veterans' title for players 50 + years old. Details of this will be announced soon.
The tournament was a double round-robin over ten rounds with each player facing the other twice. The time control was game in 90 minutes with increments of thirty seconds per move from the first move. It ran from July 9 to 23, the first eight rounds being held at Medallion Hall Hotel. The pairings, schedule and results can be found at the Federation's website (www.jamchess.com) or www.chess-results.com.
The event was sponsored by Supreme Ventures, the Kasparov Chess Foundation and the Medallion Hall Hotel.
Jamaica Chess Federation
2016 July 26