robert wheeler open 2016
SUPREME VENTURES WILLIAM ROPER MEMORIAL (JAMAICA VETERANS CHESS CHAMPIONSHIPS
THE PLAY-OFFS BEGIN!!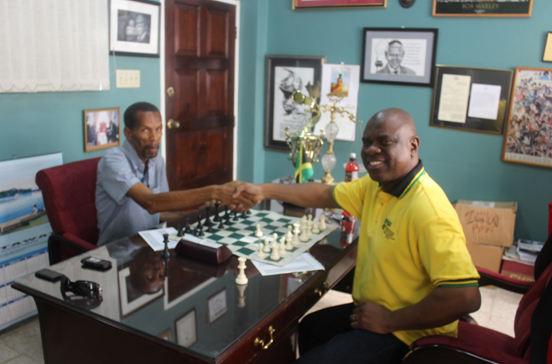 Michael Diedrick (L) and Ian Wilkinson shake hands before the start of game 1.
The four-game Play-off match for the 2016 Jamaica Veterans Chess Championship between defending champion Ian Wilkinson and Michael Diedrick began with a bang yesterday (Thursday, July 28) at the Magnificent Chess Foundation building with a victory for Wilkinson in game one. After more than four hours of an exciting King's Indian Defence Wilkinson, wielding the white pieces, forced Diedrick's resignation on move 79 to take the lead in what is likely to be an enthralling match between two uncompromising players.
The Play-off became necessary after both men ended on six points in the 2016 Supreme Ventures William Roper Memorial Chess tournament (Jamaica Seniors Championships) that ended on Saturday, July 23.  The overall event was won by World Chess Federation Candidate Master Robert Wheeler (seven points), the 65 + year-old Jamaica Seniors Champion.
The remaining three games of the Play-off are scheduled to be held at the Sports Development Foundation headquarters on Phoenix Avenue, St. Andrew on Saturday July 30 (9:00 am) and Sunday July 31 (9:00 am and 2:00 pm), respectively. The time control is game in 90 minutes with increments of thirty seconds per move from the first move.
The winner will be Jamaica's official representative in the 50 + year-old section at the World Seniors Chess Championships set for the Czech Republic in November, 2016. The tournament (including the Play-off) is sponsored by Supreme Ventures, the Kasparov Chess Foundation, Medallion Hall Hotel and the Sports Development Foundation.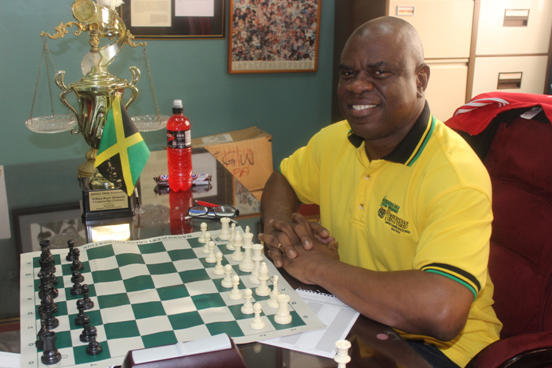 Ian Wilkinson, the defending champion, before the start of game 1 of the four-game Play-off on Thursday, July 28.
Jamaica Chess Federation
2016 July 29