2016 chess olympiad
JAMAICA DEFEAT NIGERIA!
Round 4 Report, September 6, 2016


Jamaica's men, playing in the 4th round of the Open section of the 42nd World Chess Olympiad in Baku, Azerbaijan, produced a fighting performance to defeat the higher rated favourites Nigeria 2 ½ - 1 ½.
Jamaica's reigning Chess Champion FM Warren played with surgical precision to vanquish FM Bomo Kigigha on board 1. CM Brandon Wilson quickly recovered from his poor showing in yesterday's previous round, unleashing the Benko (Volga) gambit on board 4 to which a hapless Ochuko Emuakpeje had no answer.
Olympiad debutant NM Shreyas Smith was promoted to board 3 as FM Malaku Lorne was given a brief "holiday". Tragedy struck (from the Jamaican perspective!) as Smith was cruising to victory having totally outplayed CM Adeyinka Adesina on the white side of a Sicilian Dragon and was up material. He got careless, however, and was ruthlessly punished by a deadly left-right uppercut combination that saw him being checkmated. He was distraught well into the evening.
The fate of the match was left up to the fierce, intriguing board 2 game between Kenya's FM Daniel Anwuli and three-time Jamaica Chess Champion FM Damion Davy. This game went into the evening as the Nigerian tried everything possible to win and tie the match but could not pierce Davy's armour. The peace treaty was signed after more than 80 moves.
Jamaica's victory was all the sweeter as the Caribbean men were avenging their loss to Nigeria at the 2008 Olympiad in Dresden, Germany. Revenge is indeed a dish best served cold!
Bubbling with confidence, the Jamaicans will tackle Uruguay in match 47 in the 5th round set for Tuesday, September 6 (starting 3:00 pm Baku time). The South Americans are likely to prove tough opponents as they are ranked 42 places above Jamaica and boast a Grandmaster and International Masters in their line-up.
Jamaica will have the white pieces on boards 1 and 3 and Black on boards 2 and 4, respectively, and will be motivated by Jamaican Reggae icon Bob Marley's song as the "small axe" is ready to cut down the "big tree"!
CHINESE TAIPEI HOLD JAMAICAN WOMEN TO A DRAW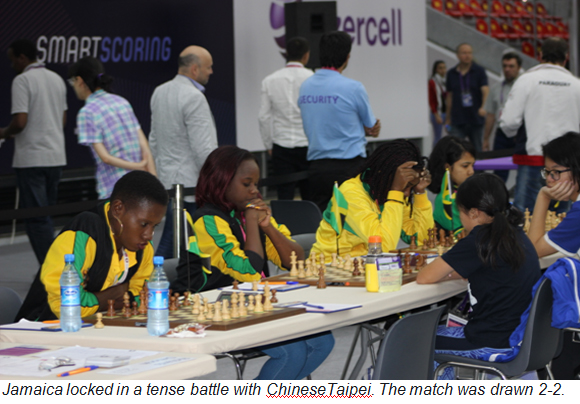 There was disappointment in the Jamaican camp as the Women's team was held to a 2-2 draw by Chinese Taipei ranked 125, significantly lower than the West Indians (ranked 75). With WIM Deborah Richards-Porter being rested, CM Rachel Miller moved up to board 1 and she levelled the match in the final game to finish, overwhelming Hung-Ling Cho in an Italian game as Jamaica had to rally from 1-2 down.
Earlier, Chinese Taipei's WCM Ching-An Shih and Linda Jane Wong upset WCM Ariel Barrett and WCM Melisha Smith on boards 2 and 4, respectively. After a couple of rounds off, Jamaica's reigning Women's Champion WCM Annesha Smith returned to battle and easily outclassed Ingrid Wu on board 3 delivering checkmate.
In the fifth round Jamaica will have a chance to go into the rest day with a good position in the standings when they face Zambia (ranked lower at 90) in match 50. The Jamaicans will have the black pieces on boards 1 and 3 and White on boards 2 and 4, respectively.
TOURNAMENT FAVOURITES SURPRISED!
At the business end of the table Russia, the rating favorite in the Open section, was beaten 2 1/2 - 1 1/2 by former Champion Ukraine. Although the tournament still has some way to go, this loss has dented Vladimir Putin's men's chances to claim top honours which they last enjoyed at the 35th Olympiad in Bled Slovenia, 2002 when led by the 13th World Champion Grandmaster Garry Kasparov, long "retired".
WOMEN'S WORLD CHAMPION UPENDED!
Although former Champion China managed to defeat Latvia 2 1/2 - 1 1/2, Women's World Champion Grandmaster Hou Yifan (rated 2658 - by 1,000 miles the highest rated female player in the world!!) suffered a shock defeat to Latvia's WGM Dana Reizniece-Ozola (2243), rated more than 400 points lower. Jamaicans take note! Anything is possible if one only believes!
Each player has 90 minutes for the first 40 moves, an additional 30 minutes thereafter, plus 30 seconds per move from move 1. A point is awarded for a win; a half point for a draw and zero for a loss on each board. When the points are tabulated the team with more will be declared the winner and awarded match points. No player is allowed to offer a draw until after 30 moves have been completed.
Jamaica's participation was made possible chiefly by sponsorship from the Government of Jamaica (via the Sports Development Foundation), the Jamaica Chess Federation and the Kasparov Chess Foundation.
Ian G. Wilkinson QC
President, Jamaica Chess Federation
Baku, Azerbaijan
2016 September 6 (Tuesday)
All photographs courtesy of the Jamaica Chess Federation unless indicated otherwise.