2016 HAROLD CHAN CHESS OPEN
FM DAVY TAKES 2016 HAROLD CHAN CHESS OPEN!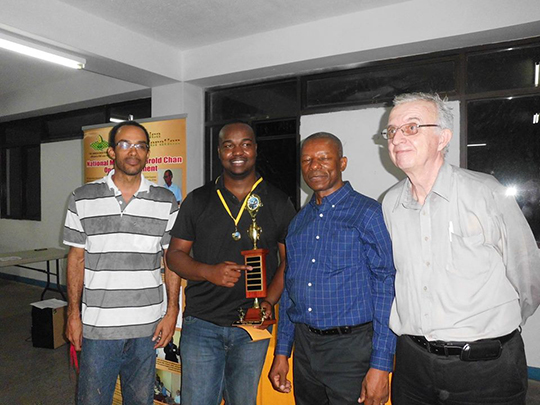 Davy shows his award. Looking on are past associates of the late Dr. Chan, Terence Lindo, NM Geoffrey Byfield and IA CM Robert Wheeler.

FM Damion Davy won the the 2016 edition of the the Jamaica Chess Federation's Harold Chan Chess Open, which concluded on Sunday at the Liberty Academy on 32 Old Hope Road, the home of the Liguanea Chess Club.
The tournament, which was sponsored by the Petroleum Corporation of Jamaica, the Sports Development Foundation and The Liguanea Chess Club is the third Grand Prix event on the local chess calendar.
It was named in honour of Dr Harold Chan, a founding father of the local chess community. Just over 90 chess players participated across three divisions -- Open, Intermediate and Amateur. In the Open division, FM Davy, defeated JCF President Ian Wilkinson in the final round to place first ahead of FM Malaku Lorne who placed second and young Rashade Lungrin of St. Catherine High who ended in third