2016 WIM DEBORAH RICHARDS PORTER CHESS FESTIVAL
2016 FREDERICK CAMERON OPEN SET FOR LIBERTY!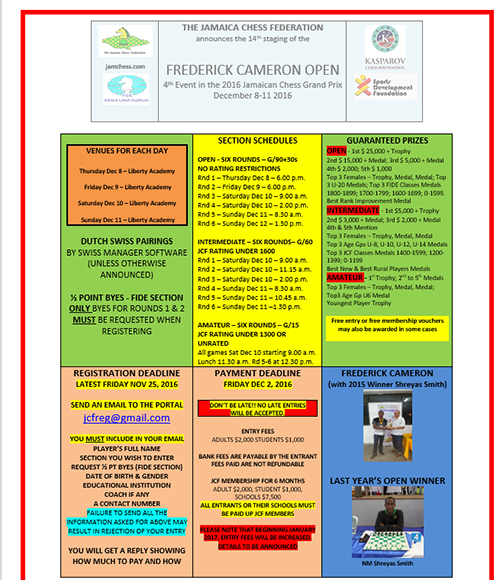 REPORT 1
The Jamaica Chess Federation (JCF) will be staging the 14th edition of the FREDERICK CAMERON CHESS OPEN on Thursday December 8 at the Liberty Academy on 32 Hope Road.
The Tournament is a Six round event spanning four days, with the Open Section starting with the first two rounds being played at the Liberty Academy on Thursday December 8 starting at 6pm , and Friday December 9 starting at 6pm, and culminating with the final four rounds being played this Weekend,Saturday and Sunday, also at the Liberty Academy at the Priory, located at 32 Hope Road, beside the Ranny Williams Entertainment Centre. Round 3 begins on Saturday December 10 at 9 am and round 4 will be played afterwards on the same Saturday. Round 5 begins on Sunday December 11 at 8:30am sharp and then the 6th and final round being played afterwards.
The Intermediate Section will also be a Six round event for players with a JCF RATING UNDER 1600. The Intermediate section will start on Saturday December 10 at 9 am at The national Housing Trust, with the first three rounds being played on the Saturday and the final three rounds being played on Sunday December 11, with Round 4 starting at 8:30am on Sunday.
The Amateur section is also a SIX ROUND event - G/15 for JCF players RATED UNDER 1300 OR UNRATED And all games will be played on Saturday with Round 1 starting at 9.00 a.m..
GUARANTEED PRIZES INCLUDE for the OPEN SECTION 1st $ 25,000+Trophy; 2nd $ 15,000+Medal; 3rd $ 5,000+Medal;4th $ 2,000; 5th $ 1,000, Top 3 Females; Top 3 U-20; FIDE Classes 2100-2199; 2000-2099;1800-1999;1600-1799; Best Rank Improvement INTERMEDIATE 1st $5,000+Trophy; 2nd $ 3,000 + Medal 3rd $ 2,000 + Medal; 4th & 5th Mention Top 3 Females; Age Groups U-8, U-10, U-12, U-14; JCF Rated 1400-1599;1200-1399;0-1199; Best New & Best Rural Players AMATEUR 1st Trophy; 2nd & 3rd Medal;
The tournament, which was formerly called the Christmas Open, was renamed 12 years ago in honour of former president of the JCF, Frederick Cameron.
The Tournament is sponsored by The kasparov Chess Foundation, The Sports Development Foundation, the National Housing Trust and the Exim Bank.