national chess championships 2017
CURRIAH AND GRAY LEAD 2017 JAMAICA CHESS CHAMPIONSHIPS!!
By Peter Myers
(Pictures courtesy of Jamaica Chess Federation)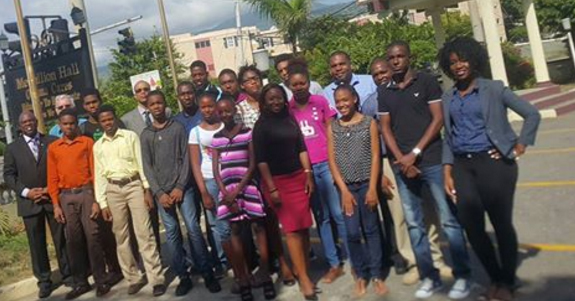 Group Picture taken just before the start of the 2017 National Chess Championships
CURRIAH AND GRAY LEAD JAMAICA CHESS CHAMPIONSHIPS AFTER TWO ROUNDS
By Vice President JCF, Peter Myers
Jamaica College's Malik Curriah has taken sole leadership of the 49th staging of the National Chess Championships of Jamaica, which got under way on Saturday at the Medallion Hall Hotel in Kingston.
Curriah, who is playing in his first senior championships and is one of a record five junior players in the event, took the early lead with wins over Terence Lindo and Rashade Lungrin.
Curriah is closely followed by tournament favourite National Master Shreyas Smith, Woman International Master Deborah Richards-Porter and another first-timer St. Jago's Michael Christie, each of whom are tied in second place on 1.5 points each.
Five players are tied in fifth place on one point, they include Lungrin, Joshua Christie, Akeem Brown, National Master Stuart James and National Master Kevin Merritt.
The field of twelve is completed by Nathan Hinds on 0.5 and Lindo and Ian Wilkinson who are yet to get on the scoreboard.
So far there have been no upsets, but sparks are expected to fly when the juniors meet more of the senior players later in the tournament.
GRAY LEADS WOMEN'S CHAMPIONSHIP
In the Women's Championship which is taking place concurrently with the main event, 2012 Women's Champion Krishna Gray, carved out wins over Woman Candidate Master (WCM) Ariel Barrett and Aulani Kidd, to take pole position in the Women's event.
Second place is held by St. Jago High's Adani Clarke, who has shown that she will be a force to be reckoned with in her first Women's Championship. Clarke secured a draw against Kidd and big win over the defending and two-time champion WCM Annesha Smith, to hold second place with 1.5 points.
The rest of the standings are: WCM Margoe Williams, Nickaylah Curwin and Melisha Smith tied in third on one point each, Kidd, Ashanti Blackwood and WCM Annesha Smith are each on 0.5 tied in sixth place and rounding out the eight-woman field is Barrett who is yet to score.
Both Championships are sponsored by the Jamaica Olympic Association, the Sports Development Foundation, the Kasparov Chess Foundation and the Magnificent Chess Foundation. The venues will alternate between the Jamaica Olympic Association, Shirley Retreat Hotel and Christar Villas Hotel.
END
2017, January 12
Jamaica Chess Federation