national chess championships 2017
NM SHREYAS SMITH IS 2017 NATIONAL CHESS CHAMPION OF JAMAICA
2 FEBRUARY 2017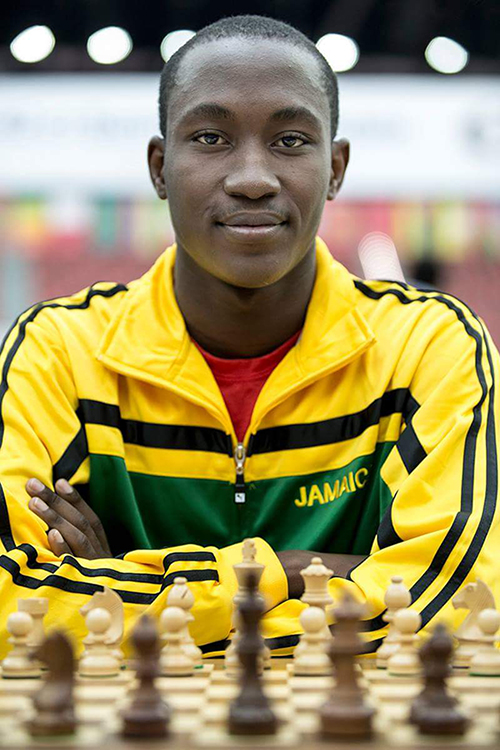 "The race is not for the swift but for those who can endure"
SPORTS NEWS RELEASE FOR IMMEDIATE RELEASE FOR THE JAMAICA CHESS FEDERATION
2 FEBRUARY 2017
NM SHREYAS SMITH IS 2017 NATIONAL CHESS CHAMPION OF JAMAICA
Despite an inauspicious start, scoring only 4.5 from his first 7 games, tournament favourite National Master (NM) Shreyas Smith recovered in time to secure his first hold of the coveted title of National Chess Champion of Jamaica.
After recovering from a poor start, Smith went into the 11th and final round of the Championship on Sunday, tied in first place with Woman International Master Deborah Richards-Porter. He needed to win to avoid a play-off and prevent Richards-Porter from becoming one of only a few women ever to have won their country's premier Chess title.
The game between Smith and Richards-Porter was even for much of the way, until Smith placed a number of complications on the board which caused Richards-Porter to end up in severe time pressure. Smith took advantage and went on to win the game and the Championship. Smith ended on eight points, one point ahead of Richards-Porter who had to settle for second place on seven points.
Also on seven points was NM Kevin Merritt, who won his final round game against St. Jago's Akeem Brown to secure a place on the podium. Brown shared fourth place with NM Stuart James as both players ended on 6.5 points.
Rounding out the rest of the standings were Joshua Christie and Ian Wilkinson on 6 points, Malik Curriah on 5.5, Nathan Hinds 4.5, Rashade Lungrin 4, Michael Christie 3.5 and Terence Lindo 1.5.
THREE-WAY TIE FORCE WOMEN INTO PLAY-OFF
Taking place simultaneously with the National Championships was the National Women's Championship. Three players, Woman Candidate Master (WCM) Ariel Barrett, WCM Annesha Smith and Krishna Gray, each ended tied in first place on 6 points, which means there will be a three-way playoff to determine the 2017 National Women's Chess Champion of Jamaica.
Barrett and Annesha Smith defeated Adani Clarke and Nickaylah Curwin respectively in the final round to join Gray atop the standings. Gray had already finished her fixtures the previous round.
The playoffs will take place on dates to be announced.
Completing the rest of the standings are WCM Melisha Smith and WCM Adani Clarke in fourth place on 5 points each, Aulani Kidd ended in sixth place with 3 points, Nickaylah Curwin finished seventh with 2 points, Ashant Blackwood was eighth with 1.5 and WCM Margoe Williams ended in ninth place on one point.
The championships were sponsored by Christar Villas Hotel, Medallion Hall Hotel, the Kasparov Chess Foundation, the Jamaica Olympic Association and the Sport Development Foundation.
END
For Interviews you can contact Shreyas at 420-8478 or JCF President Ian Wilkinson at 322-2143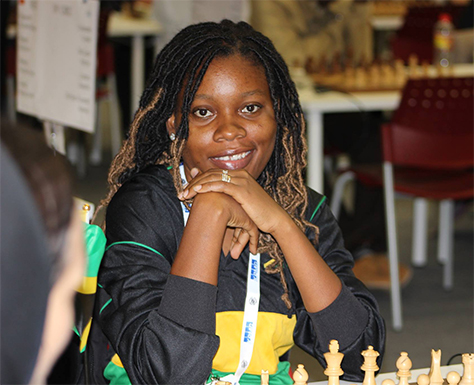 WOMAN INTERNATIONAL MASTER RICHARDS-PORTER LEADS NATIONAL CHESS CHAMPIONSHIPS

After 5 rounds in the Absolute National Chess Championship, Woman International Master Deborah Richards-Porter undefeated with 4 points takes what may prove to be an early psychological lead. The previous leader 17-year Malik Curriah recorded his first loss as he crumbled under persistent endgame pressure from NM Kevin Merritt, the island's Western top player. 
In a disappointing round but still good enough to hold slightly to the second position is undefeated National Junior champion Shreyas Smith now on 3-½ points. National Master Smith was held to a draw by upcoming junior Michael Christie despite having nearly 26 minutes clock advantage at the start of the game. Michael, nearly 300 rating points below NM Smith, will happily pocket a good jump in his rating at the expense of NM Smith.
Young Rashade Lungrin will likely be considering how he may have better deployed his first 90 minutes to capitalize on WIM Richards-Porter spending perhaps too much time working through the intricacies of the strongest attacking moves in the critical mid game tactical battle. This placed her under undue pressure to meet the 40th move time control. Her considerable experience paid dividends as she outmaneuvered her less experienced opponent.
Narrowing the gap on the 3-pack leaders, young Akeem Brown gutted his higher rated opponent NM Stuart James despite ceding a 26 minute clock advantage in the earliest stage of the match. He shares the 3rd position with Kevin Merritt and veteran champion Ian Wilkinson. Wilkinson had to battle to maintain his dominance over fellow veteran Terence Lindo.
The Nationals continue at the Christar Villas at 6 pm on Friday evening.
CURRIAH AND GRAY LEAD JAMAICA CHESS CHAMPIONSHIPS AFTER TWO ROUNDS
By Vice President JCF, Peter Myers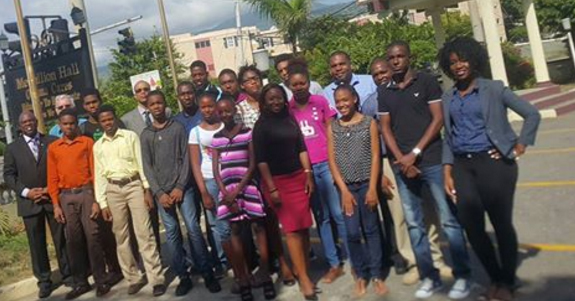 Jamaica College's Malik Curriah has taken sole leadership of the 49th staging of the National Chess Championships of Jamaica, which got under way on Saturday at the Medallion Hall Hotel in Kingston.
Curriah, who is playing in his first senior championships and is one of a record five junior players in the event, took the early lead with wins over Terence Lindo and Rashade Lungrin.
Curriah is closely followed by tournament favourite National Master Shreyas Smith, Woman International Master Deborah Richards-Porter and another first-timer St. Jago's Michael Christie, each of whom are tied in second place on 1.5 points each.
Five players are tied in fifth place on one point, they include Lungrin, Joshua Christie, Akeem Brown, National Master Stuart James and National Master Kevin Merritt.
The field of twelve is completed by Nathan Hinds on 0.5 and Lindo and Ian Wilkinson who are yet to get on the scoreboard.
So far there have been no upsets, but sparks are expected to fly when the juniors meet more of the senior players later in the tournament.
GRAY LEADS WOMEN'S CHAMPIONSHIP
In the Women's Championship which is taking place concurrently with the main event, 2012 Women's Champion Krishna Gray, carved out wins over Woman Candidate Master (WCM) Ariel Barrett and Aulani Kidd, to take pole position in the Women's event.
Second place is held by St. Jago High's Adani Clarke, who has shown that she will be a force to be reckoned with in her first Women's Championship. Clarke secured a draw against Kidd and big win over the defending and two-time champion WCM Annesha Smith, to hold second place with 1.5 points.
The rest of the standings are: WCM Margoe Williams, Nickaylah Curwin and Melisha Smith tied in third on one point each, Kidd, Ashanti Blackwood and WCM Annesha Smith are each on 0.5 tied in sixth place and rounding out the eight-woman field is Barrett who is yet to score.
Both Championships are sponsored by the Jamaica Olympic Association, the Sports Development Foundation, the Kasparov Chess Foundation and the Magnificent Chess Foundation. The venues will alternate between the Jamaica Olympic Association, Shirley Retreat Hotel and Christar Villas Hotel.
END
2017, January 12
Jamaica Chess Federation