national chess championships 2017
Chess youth vie for National Age Group titles
10 MARCH 2017
Jamaica Observer
http://www.jamaicaobserver.com/sport/Chess-youth-vie-for-National-Age-Group-titles_92015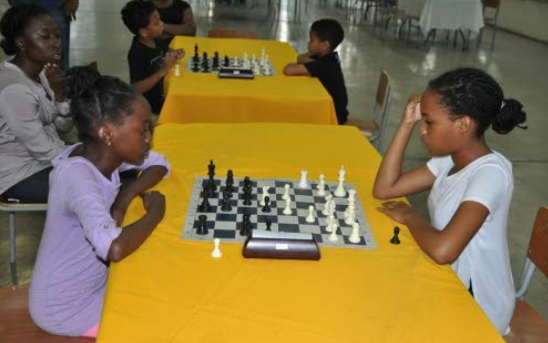 "The race is not for the swift but for those who can endure"
SPORTS NEWS RELEASE FOR IMMEDIATE RELEASE FOR THE JAMAICA CHESS FEDERATION
2 FEBRUARY 2017
Chess youth vie for National Age Group titles
The Serge Island 2017 Age Group Chess Championships was completed over two weekends in February, with more than 400 young players participating in a packed hall at St George's College Auditorium.
In the Under-8 Absolute category, six-year-old Cameron Coe and seven-year-old Christian Rampair never lost a game between each other, and drew in a head-to-head match. The winner of the National title was eventually decided by a high-pressured play-off at the end of the day.
In the end, defending champion Coe prevailed, retaining his National Under-8 title for the second year in a row. With Rampair securing the second spot, Kanye Scarlet, Najae Powell and Matthew Cummings rounded out the top five.
Kishan Clarke was crowned the champion with 5.5 points at the end of the day in the Under-10 Absolute category. There were several ties for second place on five points in this category, and on computer tie-breakJaden Shaw came second, Bryan Smart third, Krish Khemlani fourth, and Anthony Lyn fifth.
The Under-12 Absolute category also had an exciting finish, with CM David Thomas ending the tournament on 5.5 points. In his final round, Nathan Walsh with 4.5 points battled with former Under-10 champion Darren McKennis at the end of the day, to win the final point and meet Thomas in a playoff for the title. The Walsh-McKennis match ended in a draw, leaving Walsh with just five points for second place and Thomas as the undisputed national Under-12 champion. Christopher Udeagha placed third, just ahead of 10-year-old Jaden Shaw and nine-year-old Kishan Clarke, who gave impressive performances for fourth and fifth places, respectively.
END
2017, January 12
Jamaica Chess Federation