National Interschool Grade Chess Championship
National Interschool Grade Chess Championship
31 MARCH 2017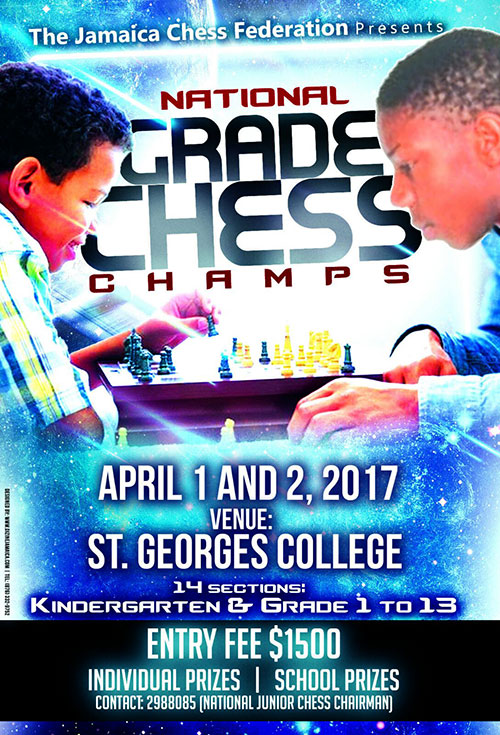 The 2017 National Interschool Grade Chess Championships takes place this weekend at St. Georges College starting at 9am sharp.
The tournament which runs for two days will see the WINNERS OF EACH SECTION being RECOGNIZED AS THE NATIONAL CHAMPION FOR HIS/HER GRADE.
For Students in Kindergarten, grades 1-11 and 6th form *
Venue - St. George's College Auditorium
* Time: - 9:00AM (Opening Ceremony, Announcements and cut off for late registration) * Games start by 10:00AM
* Food - Available for sale on the property (A wide variety of snacks, beverages and cooked lunches etc)
* Registration - Register by sending the following information below to natgradechamps2017@gmail.com *Full name, Age, D.O.B., School, Grade, Parent's Name, Email, and Coach *Make payment using any of the following method and send proof of payment to above email along with the registration details above. Bank of Nova Scotia, Linstead Branch Acc # 817952 Transit #: 70185 , National Commercial Bank, Linstead Branch Acc # 684161849 *Dress - UNIFORM OR SCHOOL SHIRT/P.E SHIRT REGISTRATION CLOSES SUNDAY MARCH 26.
ALL ENTRIES AFTER THIS DATE WILL ATTRACT A $500 LATE FEE. THERE WILL BE NO REGISTRATION FOR ROUND 1 ON GAME DAY. ENTRIES ON GAME DAY WILL ONLY BE ACCOMMODATED FOR ROUND 2 AND ONWARDS.
Parents Workshop
There will be a workshop for parents wanting to learn how to play the game of chess. Registration costs: $1500 (includes free beginner's workbook). Parents can register by making payment using methods above and submitting name and contact number. WORKSHOP WILL BE HELD ON APRIL 1 AFTER THE START OF ROUND 1. NM MIKHAIL SOLOMON CHAIRMAN: JUNIOR CHESS COMMITTEE (JCF)
2017, March 12
Jamaica Chess Federation