2017 HAROLD CHAN CHESS OPEN
NM Shreyas Smith Finishes in Style to win 2017 Harold Chan Open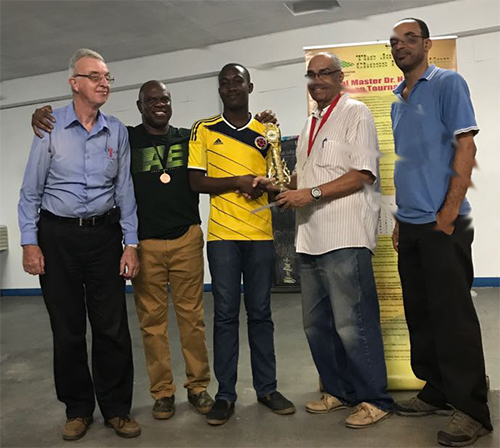 Left-Right – International Arbiter Robert Wheeler, JCF President Ian Wilkinson, NM Shreyas Smith receiving the first-place trophy from former JCF President Frederick Cameron and Tournament Director Terence Lindo.
NEWS RELEASE
FOR IMMEDIATE RELEASE
27 SEPTEMBER 2017
SHREYAS SMITH IS DR. HAROLD CHAN CHESS CHAMPION
The 3rd and penultimate tournament in the Jamaica Chess Grand Prix, the 2017 Harold Chan Chess Open, came to an end at Liberty Academy on Sunday, with National Chess Champion National Master (NM) Shreyas Smith finishing undefeated atop the standings with 5.5 points from 6 games.
After 4 days of intense battle, Smith secured five wins and conceded onlyone draw,which occurred in the final round against FIDE Master (FM) Malaku Lorne. This represents Smith's second grand prix tournament win in the series, having won the John Powell Memorial Open in February.
There was a 3-way tie for second place with each player securing 5 points from 6 games. After tiebrakes were employed, NM Andrew Mellace was adjudged to be in second place, FM Malaku Lorne third and junior upstart Raheem Glaves finished fourth. A 3-way tie also occurred for 5th place with each player securing 4.5 points. NM Stuart James finished 5th, Nathan Hinds 6thand FM elect Joshua Christie 7th after tiebrakes were again used to separate the players.
St. Catherine High student Raheem Glaves was the top junior player, with St. Jago's FM elect Joshua Christie finishing second on 4.5 points while his teammate NM Akeem Brown finished third with 4 points.
Woman International Master (WIM) Deborah Richards Porter took the top female prize after ending on 4 points. She was followed by Woman's Candidate Master (WCM) Ariel Barrett and WCM Margoe Williams, who both finished on 3.5 points.  The Open Section saw the highest turn out ever, with 70 players registered to play.
Tevin Campbell wins Intermediate Section
In the Intermediate Section, Jamaica College's Tevin Campbell finished on a superb 6 points from 6 games to end as the top Intermediate player. Antonic Chung was 2nd with 5 points while Andrew Smart and Ronaldo Thompson finished 3rd and 4th respectively on 4 points each after tiebreaks were utilized. There were 33 players in this section.
Christian Rampair wins Amateur Section
The Amateur Section ended in a 4-way tie for first with each player securing 5 points from 6 games. Christian Rampair came first on tiebreak, Michael Graham 2nd, Akeel Wiggan 3rd and Moneal Richards 4th. Damani Williams ended 5th with 4.5 points out of 6. This section also had 33 players challenging for the top amateur title.
The Harold Chan Open is named after 5-time national champion Harold Chan who passed in 2016 and was one of the first players in Jamaica to be awarded the NM title in the 1970s. 
This 15th staging of the Harold Chan Chess Open was sponsored by the Kasparov Chess Foundation, the Sports Development Foundation and the Liguanea Chess Club.
END