2017 WIM Deborah Richards-Porter Ladies' Chess Festival
Related LiNKS
Ladies Chess Showcased at 2017 WIM Deborah Richards-Porter Ladies' Chess Festival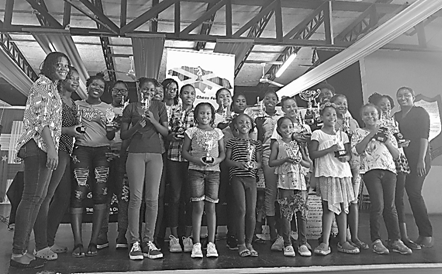 Ladies come together for the 2017 WIM Deborah Richards-Porter Ladies' Chess Festival in above picture

Woman International Master (WIM) Deborah Richards Porter is the most decorated woman in West Indian chess history.  As a coach and player, WIM Richards-Porter is committed to growing the female chess-playing community and developing Jamaica's players for strong performances on the international stage. With this in mind, as one of her many activities, she started an annual women's only chess tournament several years ago.  For the last two years, the tournament has been run under the auspices of the Jamaica Chess Federation (JCF).

The 2017 staging of the WIM DRP Ladies Chess Festival saw many new faces, and further achievements by some of the top rated females in the island over 6 rounds at Campion College on December 2, 2017.   The Under 8 winner of the tournament was Seanna Palmer who with five points was able to edge out Jamaica's Under 8 Female National Champion, Women's Candidate Master (WCM) Zaina O'Connor.  In the merged Under 10 and Under 12 section we saw Arielle McKoy from St Catherine winning the section on a perfect six points. In the High School section we saw 13-year old Jada Gill coming out on top of a tie break with UWI Student Peta-Gay Walker who also ended on five points.  In the FIDE Open section WCM Melisha Smith took home the trophy with 5 points, bettering her performance of last year, where she tied for second place.

WIM Richards Porter commented on the event afterwards "I am particularly pleased with the turn out considering the last minute changes we had to make to the event. We had more than 60 girls registered from more than 20 schools, and all in all the venture was a success." 

While the ratio of men to women playing chess in Jamaica is still unbalanced, the JCF's Chair of Women's Chess Listra Clemetson, reports that "Female participation in tournaments has clearly grown over the last five years…we see more girls at tournaments than ever, and our ladies compete with the men at the highest levels."  She went on to say, "Adding the WIM DRP Ladies' Chess Festival to the JCF's chess tournament calendar checks many boxes for us in terms of showing our commitment to the growth of female chess, and providing recognition to the highest rated female in Jamaica - in fact, in the entire English-speaking Caribbean!" 

The WIM DRP Ladies Chess Festival was hosted at Campion College on December 2, 2017 and was made possible through the support of the Jamaica Chess Federation, The R&D Chess Academy, Emkay Sports and Trophies, and Campion College.

WCM Melisha Smith wins FIDE Open Section of the 2017 WIM Deborah Richards Porter Ladies' Chess Festival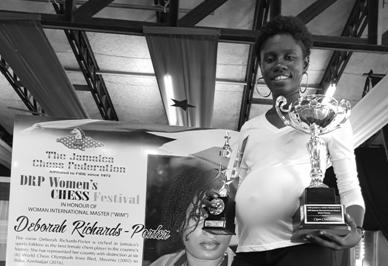 END