2017 Barbados caribbean chess cup
Related LiNKS
Jamaican Chess Stars perform well at The 2017 Caribbean Chess Cup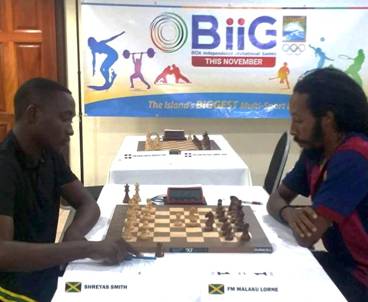 FM Malaku Lorne and SNM SHreyas Smith face off in Round 8 at The Caribbean Cup
Two of Jamaica's Chess stars, Super National Master (SNM) Shreyas Smith (who is currently Jamaica's National Champion) and FIDE Master (FM) Malaku Lorne, finished among the top players and were "in the money" at the recently concluded 2017 Caribbean Cup.  The tournament was held in Bridgetown, Barbados between November 27th and December 4th, 2017, under the auspices of the Barbados Olympic Association, and in collaboration with the Confederacion de Ajedrez para America (CCA) and the organisers of the 43rd World Chess Olympiad in Batumi, Georgia.

After the seventh of nine rounds, SNM Smith, found himself without a single loss and tied for the lead with 5 points alongside FM Ryan Harper, currently Trinidad & Tobago's highest rated player, and the Dominican Republic's FM Jean Carlos Paul Abreu Jean.  Given that SNM Smith had met both of these players earlier in the tournament, and drawn with them in rounds 2 and 6, hopes were high for a strong finish for the National Champion.  In the eighth round, SNM Smith met his compatriot FM Lorne and drew.  This put SNM Smith tied for first place with FM Abreu Jean on 5.5 points, with FM Lorne just half a point behind going into the ninth and final round.

With just a half point between the top players, the heat was on, and the final outcome of the tournament and prize money for the Top 8, was dependent on the result of the ninth round held on Sunday.  FM Lorne on 5 points, met the tournament leader, FM Abreu Jean on Board 1.  The Dominican managed to win his final match against FM Lorne, ending on 6.5 points, without any losses for the tournament (W, D, W, D, W, D, D, D, W). With this loss in the final round, FM Lorne's 5 point total put him in sixth place overall.  Although SNM Smith suffered his first loss for the tournament in that final round, he managed to tie for fourth place, and fifth place overall on tiebreaker. 

The National Champion's trip to the tournament was made possible through the support of the Jamaica Chess Federation.

END