jamaica chess federation 2018 SUB ZONALS
Related Links
Back to Sub Zonal Tournament Page
CM Ramoutar & WCM Hazim Gonzalez Leading Subzonal 2.3.5 at Halfway Point
Report 4

(CM) Alan-Safar Ramoutar(right) and Dominican Republic FM Christopher Guzman in above picture
After 5 intense rounds, Trinidadian Candidate Master (CM) Alan-Safar Ramoutar and Dominican Republic CM elect Leonardo Rafael Estevez Polanco are in clear first place in the Absolute Section of the Subzonal.

Round 4 saw the 14 year old CM Ramoutar and CM elect Estevez Polanco defeat FIDE Master (FM) Christopher Guzman and NM Myers respectively before drawing in the top of the table clash between them in round 5. In their Nc6 Sicillian variation, CM Safoutar wasted no time and after an hour, had 2 more minutes than he started with while Estevez Polanco was down to just 40 minutes in 20 moves.
Estevez Polanco kept his composure and was able to neutralize the position with a draw following soon after. As a result of the draw, Estevez Polanco qualified for the CM title with his 4.5 points accumulated so far. He is tied in first place with CM Ramoutar and Barbadian FM Martyn Del Castilho.

Notable other games from the day's procession included the shocking loss experienced by FM Warren Elliott against Domincan Luis Lorenzo De Los Santos. In his own account, he tried to win a drawn game which cost him dearly since he ended up being down an exchange later on in the game with his knight against Los Santos' rook. CM Shreyas Smith fared no better in the day after losing to St. Jago junior FM Joshua Christie.
After starting out with his special Dutch opening , CM Smith slowly lost control of the game after being unable to develop his queenside pieces and even ending up down the exchange later on in the game. This propelled FM Christie to a solid 4 points which included draws against FM Elliott and FM Shane Matthews. The shortest decisive victory of the day came from the match between CM Equitable Brown and National Master (NM) Akeem Brown. NM Akeem Brown's Queen Indian opening went horribly wrong after he underestimated CM Equitable Brown's attacking potential and resigned at move 22 due to the nature of the lost position.
Women's Section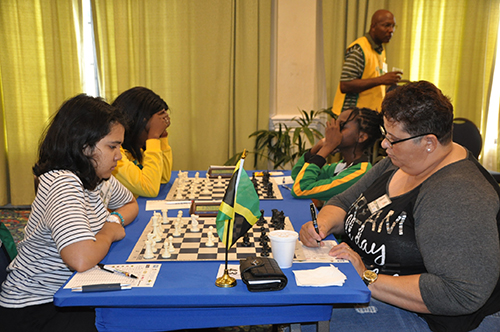 (CM) Rachael Miller (left) and WFM Varona Thomas in above picture

CM Rachel Miller who was leading her section experienced a surprising defeat to the 13th seed WCM Katrina Blackman in round 4. This was the first loss for the young CM so far in the tournament especially in a round that had a 50% draw rate. WCM Blackman maintained this lead by drawing Dominican Republic player WCM Jennifer Maria Almanzar Vasquez in the fifth round to remain in first.
CM Miller didn't allow this loss to deter her and she followed up with a win against Woman's FIDE Master (WFM) Maria Varona-Thomas to move up to 3.5 points. National Junior Girls Champion WCM Adani Clarke also won her game against WCM Ariel Barrett to end up on 3.5 points as well.

Round 6 will see FM Del Castilho versus Estevez Polanco and FM Matthews against CM Ramoutar in the Absolute Section while WCM Blackman will faceWCM Almanzar Vasquez and WCM Clarke plays CM Miller.

The 2018 Subzonal 2.3.5 is a 9-round open Swiss event with an Absolute and Female Section
whereby the top 3 finishers in each section will advance to the Zonals which represent the next
qualifier of the (Absolute) World Chess Championship and Women's World Chess
Championship, respectively. The rate of play is 90 minutes with 30 second increments after each
move. Foreign participants in the event include players from the Dominican Republic, Barbados,
Trinidad and Tobago, Puerto Rico, Suriname, Bahamas, and Guyana.
The sponsors of the event are the Sports Development Foundation, the Jamaica Tourist Board,
the Jamaica Olympic Association, Kasparov Chess Foundation, the Knutsford Court Hotel and
the Magnificent Chess Foundation.