jamaica chess federation player profiles
IM Jomo Pitterson, INATIONAL CHESS MASTER
JOMO PITTERSON, INTERNATIONAL CHESS MASTER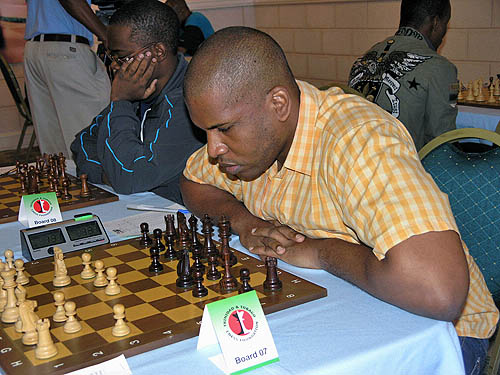 Profile Written by CM Mark Holness, Vice President Jamaica Chess Federation
INTRODUCTION
International Chess Master Jomo Pitterson has the unique distinction of becoming Jamaica's first ever International Master when he gained the title in the 2010 sub zonals in Barbados.
he is also the first Jamaican to win both the Caribbean Junior Chess Championship and Barbadian Open Junior Championship, and is one of only 4 Jamaican players to defeat a Grandmaster in classical play, He has won the JCF Player of the Year and Jamaican Chess Championship 3 times, and has , participated as a player in 6 Olympiads and served on the JCF Council as Treasurer and Vice President.
NM Jomo Pitterson first learned the game while still in 1st form at Campion, in 1985. After being drafted unto the Campion High School team by then Captain NM Holness, he has never looked back. He went on to eventually lead Campion to three straight Workers Bank Chess Titles in 1989, 1990, and 1991. He achieved his National Master Title, while still in High School, in 1992 and won the Jamaica Open of that same year.

PLAYING STYLE
He is without question one of the most "Theoretically prepared" player in Jamaica in terms of Chess Openings and technical, concrete endings. His strongest qualities are his fighting spirit even in inferior positions, his Chess Work ethic, and his great powers of calculation. He is satisfied with slight edges and more comfortable in strategic, predictable positions where he can slowly steer the game towards positions where his ability to calculate will become of paramount importance.
CAREER HIGHLIGHTS
This three time National Champion is the current non playing chess captain for Jamaica's absolute olympiad chess team. He last won the national Championships in 1999, ahead of NM Mark Holness, who placed second, and also won the titles back in 1992 and 1993.
His Chess Career as a Junior was remarkable and he won the National Junior Championships for a record 5 times. he also won the Barbados Open Junior in 1993 as well as the Caribbean Junior Champs in 1994. He holds the distinction of being the first player to win Junior titles in three Caribbean Countries within a single year.
Other highlights of his chess career are as follows;
2010 Winner of the Chess Sub zonals in Bahamas
2007 Frederick Cameron Open; 1st place ahead of GM Maurice Ashley
2001 National Blitz Championships; 1st place ahead of NM Matthews
2000 Masters KO; 1st place ahead of NM Porter
1999 National Champs; 1st place ahead of NM Holness
1996 Masters KO Champion; Placed 1st
1994 Caribbean Junior Champs; Placed 1st.
1993 Barbados Open Junior; Placed 1st
1992 Jamaica Open; Placed 1st
1989-1991 Led Campion to Workers Bank 1st place; 3 times 1st place

National Master Jomo Pitterson is without dispute, one of the greatest chess players Jamaica has ever produced, and without dispute , its most decorated and accomplished Junior chess player. This (5) Five Time Junior champ and three time National Champ takes his chess very seriously. He is living proof that chess is more about hard work than raw talent. The final outcome of his fascinating rivalry with the "Magician" IM Shane Matthews might yet determine his final place in Jamaican chess History.
END