2017 scholastic chess tournament
18th SCHOLASTIC TEAM CHESS CHAMPIONSHIP TOURNAMENT UTECH AUDITORIUM JUNE 3-4TH 2017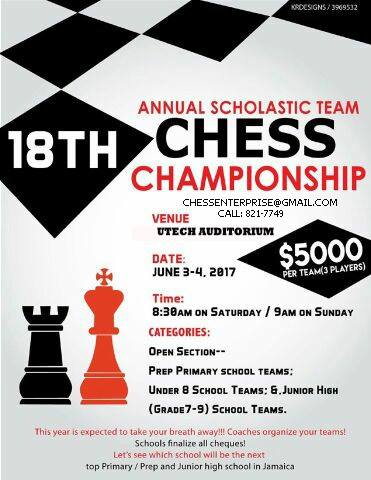 The Nation's youngest and brightest minds faced off  in an ultra-sharp Chess competition this past weekend. Schools from across the metropolitan area and beyond competed in the  18th Annual Scholastic Team Chess Championship, which took place at the University of Technology.
School teams competed in four distinct sections:
Hillel "A"Team win U8 Section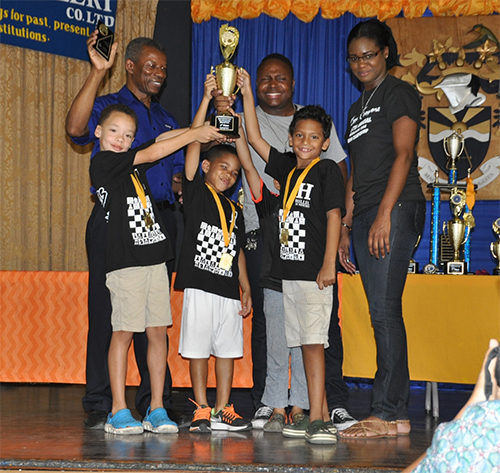 (Hillel "A" Team in above Picture posing with their Trophy)
The U8 team section was Comprised of  eight (8) schools and eleven (11) teams from various primary/prep schools. Defending Champions, Hillel, registered two (2)  teams and successfully defended their lien on the trophy, with their "A" team ending undefeated after 6 rounds. Second and Third place positions went to  Lannaman's Prep and Sts. Peter & Paul Prep, respectively. The Best adjudged players, who were also undefeated on their respective boards were; Cameron Coe (Hillel A, Board 1), Christian Rampair (Hillel A, Board 2), and Nayden Walsh (Sts. Peter & Paul A, Board 3).
St. Andrew Prep "A" successfully defend their Trophy!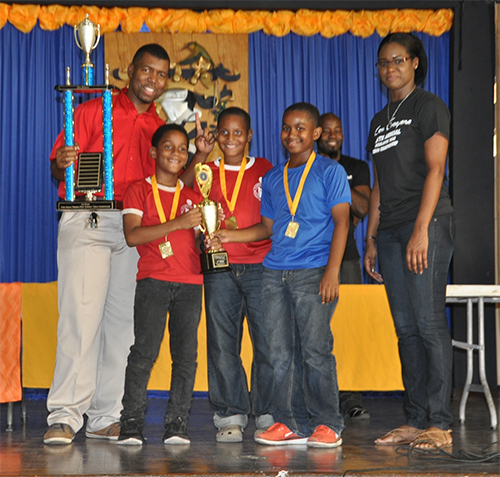 (Members of the St. Andrews Prep "A" Team in above picture posing with their trophy)
Twenty two (22) teams competed in this section. Champions for the last two years running, St. Catherine Primary faced harsh competition from an in-form St. Andrew's Prep A team which had an all-star cast consisting of Darren McKennis (former National U10 Champion), Jaden Shaw (National Grade 4 Champion) and Bryan Smart (runner up National Grade 4 Championship). The team remained undefeated at the end of six rounds, edging out Hillel Academy A into second place, and routing St. Catherine Primary A into third place.
Khatray Cato (St. Catherine Primary B), Jaden Shaw and Bryan Smart were the top players on their respective boards.  Immaculate Conception Prep was the best female team  in the absolute section earning the Top Female team trophy.
Junior High School Section:
St. Catherine High "A" win Junior High School Trophy!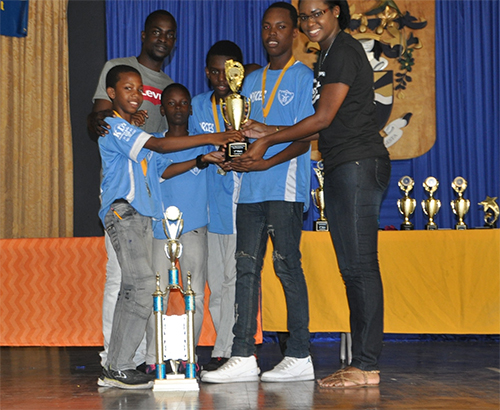 (Members of St. Catherine High "A" in above picture posing with their trophy)
Thirteen (13) teams played in this section. St. Jago High School, Champions for the past 3 years, were pushed aside by the energetic and impassable St. Catherine High School A, with the top board performance by Jhustice-Dimonte  Mcdonald and Angelus-Seren Mcdonald, cemented their team into pole position on the leader board. St. Jago Teams A & B had to be consoled with 2nd and 3rd places respectively. Immaculate High won the top female team.
ALL Girls Team went to undefeated St. Catherine Primary Girls, with runner up podium positions filled by Creative Kids Learning Academy, and Emmanuel Christian Academy.
The tournament was organised by Chess Enterprise. For further information, please contact tournament director Adrian Palmer at 821.7749/432.4916 or email chessenterprise@gmail.com
18th SCHOLASTIC TEAM CHESS CHAMPIONSHIP TOURNAMENT SET FOR UTECH AUDITORIUM JUNE 3-4TH 2017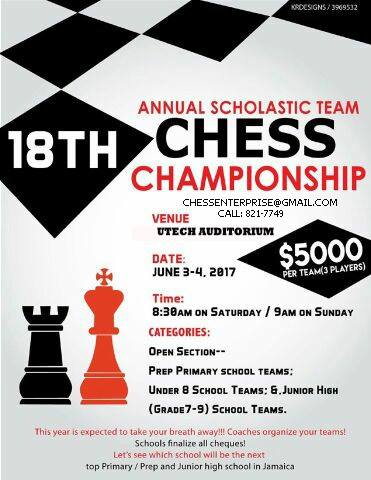 The 18th Scholastic team chess tournamnet for Prep and Primary schools will take place next month June 3-4th at the Utech Auditorium. Contact Mr. Adrian Palmer at 821-7749 or chessenterprise@gmail.com for details.