2017 FREDERICK CAMERON CHESS OPEN TOURNAMENT
Related LiNKS
Frederick Cameron Chess Open Tournament Page
FM ELLIOTT IS BACK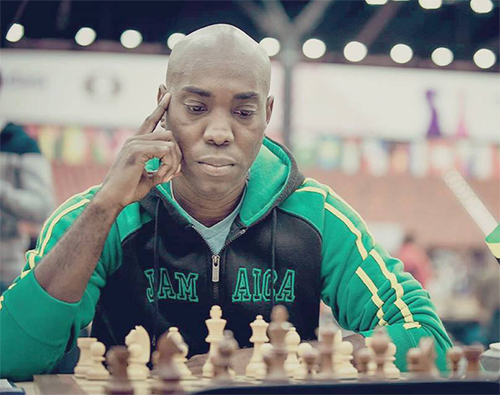 FM Elliott returns to Take first place in 2017 Frederick Cameron Open
Jamaica's highest ranked chess player, Fide Master (FM) Warren Elliott, signaled his return to active play, with an emphatic first place finish at the 2017 edition of the Frederick Cameron Chess Open, which ended last weekend at the Liberty Academy.

Elliott defeated in form National Master (NM) Kevin Merritt in the final round top-of-the-table clash, to finish atop the standings unbeaten with 5.5 points from 6 games. His only blemish was a draw against Chess Olympiad teammate FM Damion Davy in round four.

With this win, Elliott keeps his chances alive for qualification for the next staging of the National Chess Championships, which are scheduled for February 2018.

Second place went to rising junior Nathan Belinfante, who finished on 5 points, losing only to FM Davy in round 3.

There was tie for third place among a slew of four Masters, who each ended on 4.5 points. After tiebreaks were employed NM Kevin Merritt was third, NM Andrew Mellace fourth, FM Joshua Christie fifth and Candidate Master (CM) Russel Porter finished sixth.

Raehanna Brown who finished with 3.5 points, took the awards for being the top junior female and top female overall. Amongst her more notable victories were wins over CM Leighton Barrett and reigning national women's champion Woman Candidate Master (WCM) Annesha Smith.

Intermediate Section
Nicholas Gordon finished with a perfect 6 points from 6 games to take the Intermediate section. Second place went to Shamir Martin who finished on 5.5 points. Two players ended tied on 5 points, however, when tiebreaks were employed, Jordan Scott was awarded the third-place medal while Romaine Walters was placed fourth.

The top girl in this section was Laila Griffiths with 3.5 points while Leah-Ann Chai and Jeshana Vincent finished second and third respectively on 3 points each after tiebreak. Ajani Sutherland was adjudged best new player after finishing tied in fourth with 4.5 points.
Amateur Section
Aayush Jain finished first amongst amateurs after scoring 5.5 points from his 6 games. Second place saw two players tied on 5 points, however Rohit Mahtani was placed second on tiebreak, ahead of Joshua Smikle who was relegated to third.

The Frederick Cameron Chess Open was sponsored by the Kasparov Chess Foundation, the Sports Development Foundation and the Liguanea Chess Club.

FM Warren Elliott has won eight National Chess Championships, the most by any player since they started in 1969 and he has represented Jamaica in eight Chess Olympiads (Elista, Russia 1998, Istanbul, Turkey 2000, Bled, Slovenia 2002, Turin, Italy 2006, Dresden, Germany 2008, Khanty-Mansiysk, Russia 2010, Istanbul, Turkey 2012 and Baku, Azerbaijan 2016).

He was the Technical Director/Coach of Jamaica's 2014 chess Olympiad Team in Tromso, Norway. He is currently the number one ranked player in Jamaica.

Frederick Cameron is a former president of the Jamaica Chess Federation and the only living founding father of the JCF. He was there in 1969 when the first meeting of the Executive Council was convened. To this day he continues to support the sport by offering prizes for tournament from his collection of chess resources.

END

15th FREDRICK CAMERON OPEN
DEC 7, 8, 9 & 10, 2017 at LIBERTY ACADEMY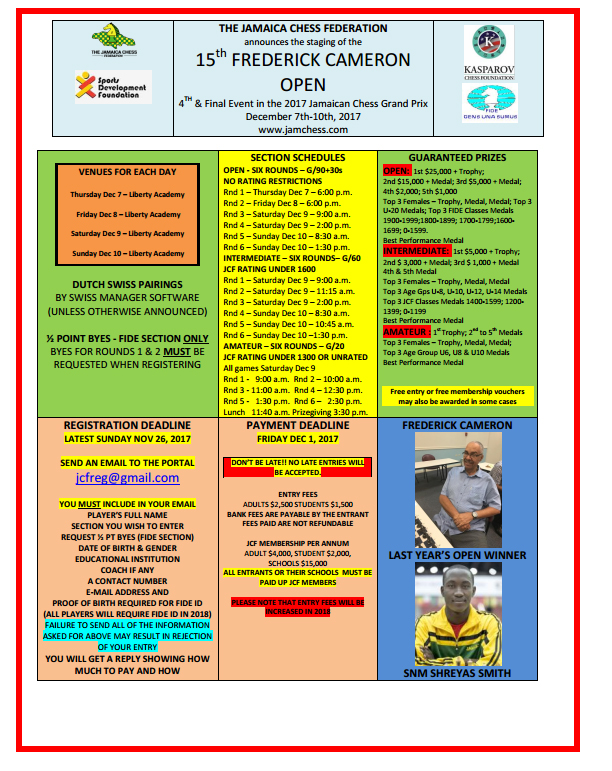 FREDERICK CAMERON CHESS OPEN SET FOR , DEC 7 AT LIBERTY ACADEMY
The Jamaica Chess Federation (JCF) will be staging the 15th edition of the FREDERICK CAMERON CHESS OPEN on Thursday December 7 at the Liberty Academy on 32 Hope Road.
The Tournament is a Six round event spanning four days, with the Open Section starting with the first two rounds being played at the Liberty Academy on Thursday December 7 starting at 6pm , and Friday December 8 starting at 6pm, and culminating with the final four rounds being played on the Weekend,Saturday December 9,2017 and Sunday December 10, also at the Liberty Academy at the Priory, located at 32 Hope Road, beside the Ranny Williams Entertainment Centre.
Round 3 begins on Saturday December 9 at 9 am and round 4 will be played afterwards on the same Saturday. Round 5 begins on Sunday December 10 at 8:30am sharp and then the 6th and final round will be played afterwards.
The Intermediate Section will also be a Six round event for players with a JCF RATING UNDER 1600. The Intermediate section will start on Saturday December 9 at 9 am at Liberty , with the first three rounds being played on the Saturday and the final three rounds being played on Sunday December 10, with Round 4 starting at 8:30am on Sunday.
The Amateur section is also a SIX ROUND event - G/15 for JCF players RATED UNDER 1300 OR UNRATED And all games will be played on Saturday December 10 with Round 1 starting at 9.00 a.m..
GUARANTEED PRIZES INCLUDE for the OPEN SECTION 1st $ 25,000+Trophy; 2nd $ 15,000+Medal; 3rd $ 5,000+Medal;4th $ 2,000; 5th $ 1,000,
Top 3 Females; Top 3 U-20; FIDE Classes 2100-2199; 2000-2099;1800-1999;1600-1799; Best Rank Improvement INTERMEDIATE 1st $5,000+Trophy; 2nd $ 3,000 + Medal 3rd $ 2,000 + Medal; 4th & 5th Mention Top 3 Females; Age Groups U-8, U-10, U-12, U-14; JCF Rated 1400-1599;1200-1399;0-1199; Best New & Best Rural Players AMATEUR 1st Trophy; 2nd & 3rd Medal;
The tournament, which was formerly called the Christmas Open, was renamed 12 years ago in honour of former president of the JCF, Frederick Cameron.
The Tournament is sponsored by The kasparov Chess Foundation, and the Sports Development Foundation.
END