robert wheeler open 2018
Shreyas Smith is Robert Wheeler Open chess champion
Tournament Results/ About NM Robert Wheeler Open / Ratings after NM Robert Wheeler Open / Intermediate Ratings /2016 Wheeler Open /2016 Wheeler open Games

Report 2
The 2018 Robert Wheeler Open chess tournament concluded last weekend with newly titled FIDE Candidate Master (CM) Shreyas Smith winning the championship trophy, in his second open tournament win for the year.
In 2017 CM Smith dominated the Jamaica Chess Federation (JCF) Grand Prix circuit, and with this win he puts himself in pole position for the 2018 series.
Smith won the FIDE Open section with a round to spare, given that going into the last round he was on a solid 5/5 points, while second place was a tie among a slew of players on 3.5 points.
In the final round, Smith fell into a losing position against National Master (NM) Stuart James in a game which lasted over four hours. In the end, CM Smith managed to finish undefeated on 5.5 points from six games.
When asked how he feels about this win leading into the sub-zonals, a World Championship qualifier which Jamaica will host next month, Smith was cautious in his response.
" I am just trying my best right now to 'catch form', so I need as much playing practice as possible, and playing in this tournament was geared towards that. I am very happy that I won, but of course there is still a lot more work to be done if I am to reach the level I need to perform well at the sub-zonals," he said.
Second place was a tie among 4 players who all ended on 4.5 points. After tiebreaks were employed, Trinidadian FIDE Master (FM) Marcus Joseph placed second, FM Malaku Lorne third, NM Paul Brooks fourth, and FM Joshua Christie fifth.
Report 1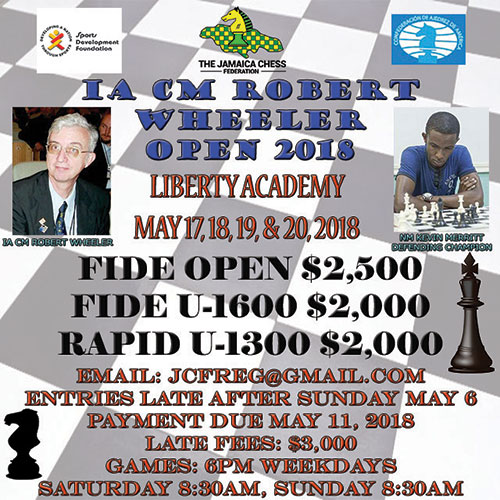 The Jamaica Chess Federation (JCF) will be staging the 2018 edition of the IA/CM Robert Wheeler Chess Open next month at the Liberty Academy on 32 Hope Road at 6:00 pm.
The tournament will have three sections, which includes the Fide Open Section, the Fide Under 1600 section and JCF Rapid Under 1300 section. Both the Fide Open section and the Fide Under 1600 section will be FIDE (Fédération Internationale des Échecs) rated while the JCF Rapid Under 1300 section will be JCF rated. The JCF Under 1300 Section will start and end on May 19th.

For the Open Section, both Round one on Thursday, May 17th and Round 2 Friday, May 18th will be held at the Liberty Academy at 6:00 pm.
The remainder of the tournament will resume on Saturday, May 19 at the Liberty Academy with Round 3 of the Fide Open section starting at 8:30am and Round 4 starting at 2pm.
Round one of The Fide Under 1600 Section and the JCF Rapid U-1300 sections will begin on Saturday at 8:30am.

The Tournament will come to a close on Sunday, May 20, 2017 with the remaining rounds of the
Open Section and Fide Under 1600 section starting at 8:30 am at Liberty Academy.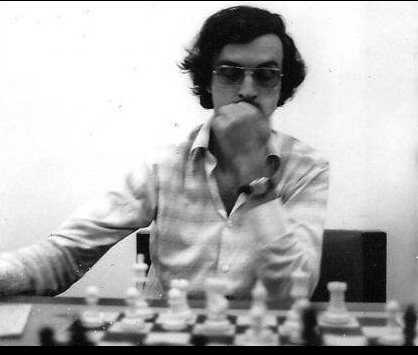 The Robert Wheeler Chess open is a premiere annual event on Jamaica Chess Federation's calendar and is named after National Master Robert Wheeler ,one of Jamaica's Chess Federation founding members. NM Robert Wheeler has has won the National Chess Championships on six occasions since 1975, and is the current acting treasurer of the Jamaica Chess Federation.

The defending champion is National Master Kevin Merritt who won the 2017 edition last year.

Jamaica Chess Federation