2018 HAROLD CHAN CHESS OPEN
2018 HAROLD CHAN CHESS OPEN SET FOR OCT 18th -21st AT EDEN GARDENS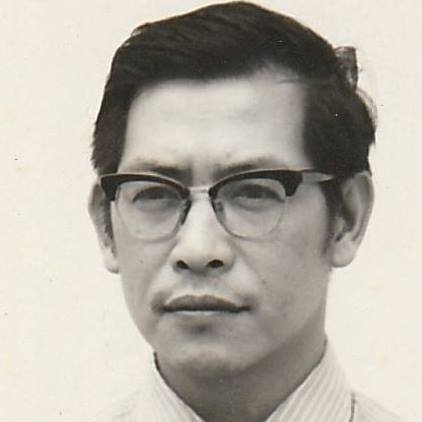 (Dr. Harold Chan ,now deceased, is shown in the above Picture.)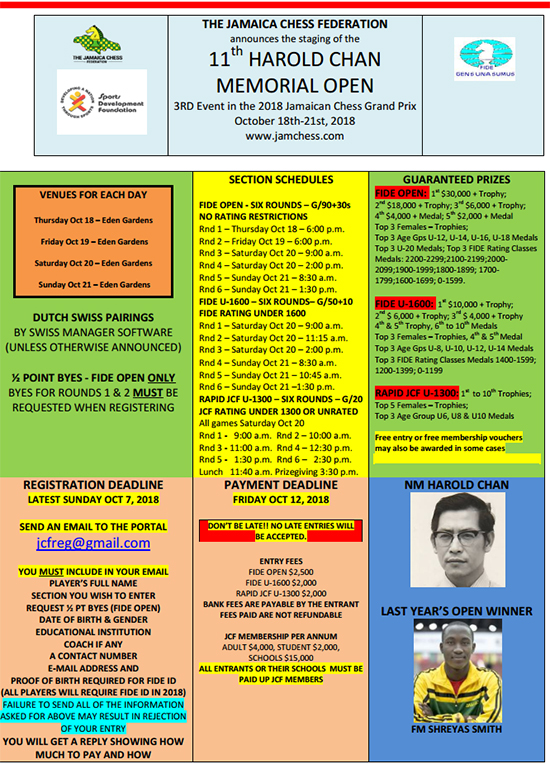 THE Jamaica Chess Federation (JCF) will be staging the 2018 edition of the National Master Dr. Harold Chan Chess Open this month Starting Thursday October 18th, 2018 at the the Eden Gardens on 39 Lady Musgrave Rd Kingston 5, at 6pm.
For the Open Section, Round one will begin at 6pm on Thursday October 18th at Eden Gardens and Round ound 2 will be on Friday October 19th, also at 6pm, and also at the Eden Gardens..
The tournament will resume on the weekend on Saturday October 20th at the Eden Gardens with round 3 of the Open section starting at 9am and Round 4 starting at 2pm.
Round one of The Intermediate and amateur sections will begin on Saturday October 20th at 9am.
The Tournament will come to a close on Sunday October 21st, 2018, with rounds 5 and 6 of the Open Section and the intermediate section being held at the Eden Gardens on 39 Lady Musgrave Rd Kingston 5. Round 5 of the open section will start at 8:30am.
GUARANTEED PRIZES OPEN:
1st $30,000 + Trophy;
2nd $18,000 + Medal;
3rd $6,000 + Medal;
4th $4,000;
5th $2,000
Top 3 Females – Trophy, Medal, Medal;
Top 3 U-20 Medals;
Top 3 FIDE Classes Medals 1900-1999;1800-1899; 1700-1799;1600- 1699; 0-1599.
Fide U-1600:
1st $10,000 + Trophy;
2nd $ 6,000 + Medal;
3rd $ 4,000 + Medal
4th & 5th Medal
Top 3 Females – Trophy, Medal, Medal
Top 3 Age Gps U-8, U-10, U-12, U-14 Medals
Top 3 JCF Classes Medals 1400-1599; 1200- 1399; 0-1199
RAPID U-1300 :
1st Trophy;
2nd to 5th Medals
Top 3 Females – Trophy, Medal, Medal;
Top 3 Age Group U6, U8 & U10 Medals
Free entry or free membership vouchers
REGISTRATION DETAILS
EXTENDED DEADLINE OCTOBER 9 , 2018. SEND AN EMAIL TO THE PORTAL jcfreg@gmail.com YOU MUST INCLUDE IN YOUR EMAIL PLAYER'S FULL NAME SECTION YOU WISH TO ENTER REQUEST ½ PT BYES (FIDE SECTION) DATE OF BIRTH & GENDER EDUCATIONAL INSTITUTION COACH IF ANY A CONTACT NUMBER E-MAIL ADDRESS PROOF OF BIRTH REQUIRED FOR FIDE ID (ALL PLAYERS WILL REQUIRE FIDE ID IN 2018) FAILURE TO SEND ALL OF THE INFORMATION ASKED FOR ABOVE MAY RESULT IN REJECTION OF YOUR ENTRY YOU WILL GET A REPLY SHOWING HOW MUCH TO PAY AND HOW.
The Dr. Harold Chan Open is a premiere annual event on Jamaica Chess Federation's calendar. Formerly called the Summer Open it was renamed in honor of one of Jamaica's chess legends, Dr. Harold Chan, who, along with NM Robert Wheeler and the late NM Thomas Figueroa, achieved the title of National Master in 1975 – the first time the title was conferred locally.
The Guyanese -born Dr. Chan, a pathologist, had a glittering chess career in Jamaica upon arriving from his native Guyana in 1970. He won the title of national champion on five occasions (1972 - 1974, 1978 and 1979) and finished in the top three on seven other occasions. He represented Jamaica abroad in several tournaments (Cuba, Mexico and Venezuela) and is also remembered for teaming with former principal of the Norman Manley Law School William Roper (a chess devotee and one of the founding fathers of Jamaican chess) to win the commonwealth Caribbean team tournament in St. Lucia in 1972.
He also served as chief editor of Chess Bulletin of Jamaica and was also elected Vice-president of the Jamaica Chess Federation in 1977.
The defending champion is National Master Damion Davy who won the 2016 edition of this prestigious Tournament.
The tournament is being sponsored by the RJR Communications Group, the Sports Development Foundation, and the Kasparov Chess Foundation.It is the third Grand Prix event on the local chess calendar.